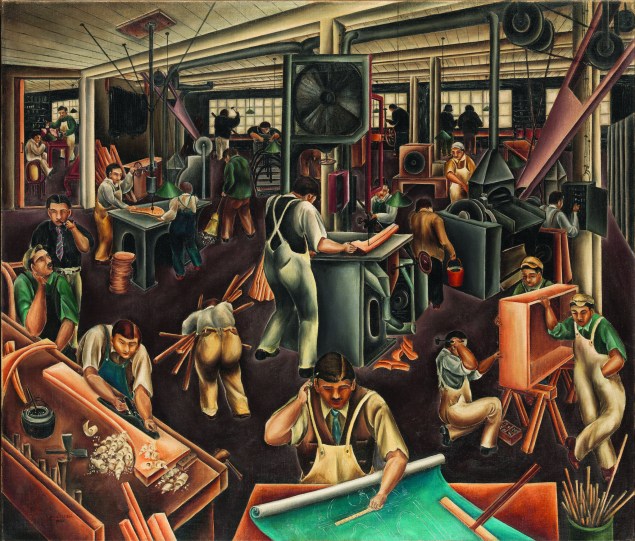 Museum directors and curators are, by nature, hoarders. But the recession reined in the urge to splurge, or at least the ability to, at many cultural institutions across the country. Now, an improving economy and rising stock market appear to be fueling a buying spree at American museums.
"Donors have recovered their sense of financial well-being," said Michael Botwinick, former director of the Brooklyn Museum and currently director of the Hudson River Museum in Yonkers, N.Y. "Museum endowments are healthier," he said, and "donors and museum directors feel freer with money than they had just a few years back."
What's interesting is not only that they are buying again, but exactly what it is they're buying. Most of the pent-up spending attempts to address something of a provincial bias, or a snobbery about what is fine art, in past collecting. Institutions are focusing on adding more photography, more decorative arts, some video art, and more work by black, Islamic, Latin American, Middle-Eastern and Asian artists.
Given the raging art boom, many artworks are still out of reach, of course. According to Susan Taylor, director of the New Orleans Museum of Art and president of the Association of Art Museum Directors, the high prices of artworks at auction, "especially in the area of Modern and Contemporary art, has precluded a number of institutions from participating" in the market. (Pricey masterpieces are still donated, of course, but rarely bought by museums.) But when institutions do buy, they're being more public about it, announcing their new treasures—or their efforts to right past curatorial wrongs. Once hush-hush, the purchases are increasingly being trumpeted.
Here, a look at what's new in the galleries:
New York's Metropolitan Museum of Art spent $12.3 million for the 17th century A Portrait of Everhard Jabach and Family by Charles Le Brun, court painter of King Louis XIV. The portrait of Jabach, a prominent banker and art collector whose holdings formed the basis of the Louvre, had been privately held in England since the late 18th century. The Brits were sorry to see it go, but no British museum could come up with a matching amount of money to keep the painting from leaving.
Additionally, the Met received, in a complicated transaction that was part gift, part purchase, part exchange, an 1836 preliminary painting by Thomas Cole, View from Mount Holyoke, Northampton, Massachusetts, after a Thunderstorm—The Oxbow, and a 1925 oil, The Furniture Factory, by Japanese-born American artist Bumpei Usui.
Museums with sizeable endowments and acquisitions committees (usually composed of moneyed collectors) are few, but the institutions with these can really throw their weight around. Leading the pack in that category is the J. Paul Getty Museum in Los Angeles, Calif., whose endowment reached $6.2 billion as of 2013. Among the things the museum picked up in 2014 were an 1881 painting by Èdouard Manet, Spring, that sold last November for $65.1 million at Christie's auction house.
It's good to have oil money.
At Sotheby's last February, the Getty bought Christ and Mary Magdalene, a 1908 three-and-a-half-foot-tall marble by Auguste Rodin, and Indian Beggar, an 1878-79 drawing by Georges Seurat, which it snapped up for $4 million.
But perhaps its most unusual purchase was the archives (including 5,410 videotapes, more than 600 audio tapes, 131 linear feet of archival materials, and 246 original posters) from The Kitchen, the downtown incubator of avant-garde visual and performance art.
The Solomon R. Guggenheim Museum has been on a mission to acquire Contemporary work by artists on different continents and, in 2014, Latin American artists, particularly those working in sculpture and video, were a high priority. Among the new acquisitions were a 20-minute 2013 digital color video, The Black Cave (La Cueva Negra), by Puerto Rican artist Beatriz Santiago Muñoz, a 2002 sculptural work involving two electric fans titled Yes/No by Cuban-born Wilfredo Prieto, a 2013 canvas
painting, Piñanona 1, by well-known Mexican artist Gabriel Orozco and a 2007 installation of postcards, Mapa-Múndi/BR (Postal), by Bra-zilian Rivane Neuenschwander. The museum purchased a number of these works though two funds, the Guggenheim UBS MAP Global Art Initiative and The Robert H. N. Ho Family Foundation Chinese Art Initiative.
At the Museum of Modern Art, among the notable acquisitions was a 1920 paper work,Tableau Rastadada, by Francis Picabia (part gift, part exchange by Abby Aldrich Rockefeller) and a 2013 enamel on canvas, Flying Carpet with Magic Mirrors for a Distorted Nation,by Lari Pittman (altogether, MoMA has added about two-dozen works by black artists in the last few years). Also added was a 1963 oil by Gerhard Richter, Tote, which is an early example of the German artist's photo-painting technique.
Washington, D.C.'s National Gallery of Art, which recently acquired the entirety of the Corcoran Gallery of Art, purchased both its first work by Carrie Mae Weems, a 2002 photograph, and a series of screenprints by Romare Bearden. Additionally, it bought a 2000 14-foot-long accordion-fold book, Portage, and a 2001 hour-long video by James Nares.
The National Gallery of Art "has a loyal and growing group of donors who give consistently, and their donations are generally unrelated to the vagaries of economics and politics," said a spokeswoman for the institution, who pointed to acquisition totals for 2014 (2,091 objects) as being in line with those of 2009 (2,185), 2012 (2,197) and 2013 (2,164).
Two museums, the Baltimore Museum of Art and the San Francisco Museum of Modern Art, have been conducting collections campaigns, marking, respectively, the Baltimore museum's founding 100 years ago and San Francisco's expanded facility that will open in 2016. San Francisco's expansion will include a Center for Photography, and in preparation the museum has been actively seeking to increase its holdings in this area.
More than 1,000 photographs have been bought or donated in the SFMoMA campaign, which began in 2011, and among the 2014 acquisitions are Stephen Shore's 1974 chromogenic print5th Street and Broadway, Eureka, California, September 2, 1974 and Robert Adams' complete series of 119 black-and-white prints.
By and large, there were not an overwhelming number of purchases reported of works by women artists, but Baroque-era painter Artemisia Gentileschi was an exception. A rare prominent woman artist in her time, the Wadsworth Atheneum Museum of Art in Hartford, Conn., bought at a Christie's auction her circa 1616 Self-Portrait as a Lute Player for something below the low estimate of $3 million.
The Dallas Museum of Art is one of those encyclopedic places that collects from disparate continents and eras. Among its more recent acquisitions are a 1908 jeweled silver Wittgenstein vitrine from Vienna, Austria, an 1890s painting by Spanish artist Ramon Casas, a late 19th or early 20th century Four-horn community power figure in wood, metal and fiber from the Songye peoples of the Democratic Republic of the Congo and a 1970 semi-Abstract painting,Marcia H Travels, by the Guyanese-born British painter Frank Bowling.
A final highlight? A group of area donors chipped in to purchase a 1952 Charles White portrait of the guitarist Leadbelly titled "Goodnight Irene," for the Nelson-Atkins Museum of Art in Kansas City, Mo.
"2014 was pretty business as usual for the big museums," said Mr. Botwinick. "And, the fact is, things are looking up."