Last month, just before Christmas, New York's rock and roll community was shaken when one of the kindest, most talented and all-around best dudes to blow through this town in quite some time passed away after a tragic motorcycle accident. In just four short years of living here, Michael "Mikey" Hodges made enough of an impact that Williamsburg's Black Bear Bar could barely hold everyone who turned up at his NYC memorial to cry, laugh, eat food, get drunk and play music (as Mikey would have wanted).
An Indiana native, Mikey moved to Brooklyn with his buddy Adam Fithers in 2009 to make music and expand his horizons. He released two power-pop EPs under the name Pop Zeus, a solo project for which he played every instrument and made all his own recordings using a second-hand 4-track. A rotating cast of friends, most recently Bob Mann and Adam Fithers from Hector's Pets plus Andrew Maillaird from Paisley's Park Records, joined him live. His preternaturally catchy hooks, un-fussy guitar solos and sincerely sung lyrics about love and heartbreak made him a favorite on the New York garage rock scene and beyond. "Mike Hodges excels at irresistible power pop, writ in miniature," wrote Wondering Sound's J. Edward Keyes in a review of 2014's Tell Me So. "His debut was jam-packed with hooks and heartache, the sound of one man baring his soul as filtered through a standard-issue tape deck. The just-released cassette Tell Me So (via the excellent label Gnar Tapes) ups the ante even further."
Beyond his musical talent, Mikey was loved for who he was 24/7: a big, goofy, "puppy dog of a man" (as Burger Records accurately put it) who was relentlessly positive to everyone he met. His many loves included telling (and laughing loudly at) jokes, picking people up on his shoulders and wearing comically tiny shorts. Even after he moved to Portland and later Los Angeles, he kept in touch with his friends on the east coast. When he couldn't attend Andy Animal's Meltdown this past summer (a yearly rock bacchanal in the woods upstate), someone printed up a bunch of pictures of his face on a stick so that we could pretend an army of Mikeys were there getting wild with us. If only we could be so lucky.
By all accounts, he was one in a million. Here are some words of remembrance from those who knew him.
Andy Animal (Stalkers)
Mikey Hodges was just about the greatest, most passionate and loving man I had ever met. I couldn't be sad when I was around him. Also he could take out a whole crowd of attackers with his bare fists if he had to. It had been done before. He was like a big teddy bear with the power of a kodiak. He chose to use that power to pick people up and put them on his shoulders. Mikey will forever represent love to me. I feel like a much better person with Mikey in my heart.
Adam Fithers (Hector's Pets)
Michael has been my best friend in the world since the day I met him in 2005. I was wearing a Misfits T-shirt at a college party in Bloomington, Ind., and he saw me from across the packed room. He pointed at me and yelled, "DUDE YES!" and we were immediately pals. We quickly became best friends over the years and played music together in (the) Snot Rags and his own proto-Pop Zeus project called Sriracha Shits.
In 2009, I decided it was time to get out of the Midwest and made a plan to move solo to NYC. After a few weeks he decided he was coming with me, and as a skinny hayseed moving to the big city alone I was relieved my gigantic friend would be coming with me. We shared a tiny bedroom in Bed-Stuy for our first month here and he crashed on my couch for another month after I found an apartment. After a rough first year we got our shit together enough, and he introduced me to most of my friends I have here today. For his birthday in 2011 I bought him the Shure 58 vocal microphone he used to record Pop Zeus and after the first short-lived incarnation of the band here and a national tour with (and backed by) Philly's The Tough Shits, Bob Mann and I from Hector's Pets joined him along with our friend Andrew Maillaird of Paisley's Park Records for the last NYC lineup. It's fitting that his first Pop Zeus show in 2011 was at Public Assembly (RIP) and his recent NYC memorial send-off was in the same building (now Black Bear Bar).
I was heartbroken when he told me he was moving to Portland, Ore., but I supported my friend no matter what and knew it was something he had to do. After a wild all night going away party, Chris Lashomb and I drove him the airport in Newark to send him on his way. Despite an entire country between us we still talked almost every day, and I'm still waiting for him to text me back. I love you forever brother Michael. Rip in pop, Zeus
Quinn Walker (Suckers)
He was a beautiful man. If you were having a terrible day and you ran into Mikey, you would automatically feel 10x better. His enthusiasm for life and music was contagious. I had no idea how he remained so positive but I sure appreciated and envied it. I wish we had started that Van Halen-style band we briefly discussed a couple years ago. Rest well, buddy.
Chris Lashomb
He was 29. He was beautiful. And he was my friend.
You could count on Mikey Hodges' smile, hugs, and easy demeanor comforting you in a world of negativity and a night culture of erratic behavior. A man about town of the first order who made the rounds with the best of them, his presence alone made you feel good when he walked in the room. Though I met him from a couple of different groups of people not long after he came to the city, at his memorials I was struck not only by how many he touched in his short time here, but also by the astounding variety—so many people that I don't imagine would've ever been in the same room had it not been for Mikey. He remained a connector even after he left us.
I invited him to judge my dance-off when he moved to Portland, Ore., in 2013 thinking that it would help him meet some people out there—and this was unnecessary as he'd already of course befriended half of the town within a couple of months. His uncommon kindness, enthusiasm, and sharp wit made him easy to love and this very same positive lifeforce makes it so difficult for all of us to accept that his death. His flame burns strong.

Jamie Nelson
Mikey kissed everyone on the lips and made them feel so loved. He conveniently never had a tent every year at the meltdown. I remember him going around to all the girls asking if he could cuddle up with them. Mikey was also the best base for chicken fighting and was always carrying someone on his shoulders.
Sara Baldwin
When I first met Michael Hodges (he was not yet going mostly by "Mikey") I was freshly 18 and new to Bloomington. I was dating one of his friends and I was a few years younger than the rest of their crew. But Michael took me under his wing and never let me feel inferior or out of place. He was my protector. He picked me up when I got knocked down at shows, snuck me into bars, politely kicked people out of my house when they were being too crazy, kept me in check when I was being a shit head, but still had my back if I started trouble.
When I told him I was pregnant last winter, Michael was overjoyed. Anyone will tell you this; that dude loved babies. Last spring, as my due date inched closer, he constantly bugged me, wanting to know when the baby was coming. When he heard I had given birth to baby Oskar, he immediately texted me asking why he wasn't informed when I went into labor. I said, "Because I was in f-ing labor, dude!!" He checked in with me frequently, asking for pictures and referring to my son as his "nephew." He was so proud of us. My biggest regret is that Oskar never got to meet Michael. But he will ALWAYS know about his Uncle Mikey, who loved him even before he was born, and what an irreplaceable and amazing person he was.
Long live Michael "Gimme A Kiss" Hodges; inspirational musician, friend to many, King of the Town wherever he went, and best giver of bear hugs and friend kisses.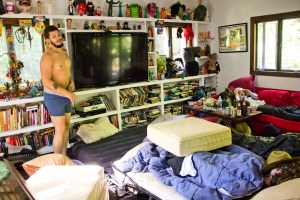 Alexandra Stephens
Two of my favorite Mikey memories:
When I first became friends with him because he started dating my roommate Aurora and was so so happy in the morning and made me and my friend pancakes and it was the first of many mornings where he became part of our home and brought a light into my life. Later when I was dating my ex I found out they were also best friends and my world made perfect sense at that time. I love Mikey.
Jackie Roman, photographer
Mikey's talent, humor and bright friendly disposition had a profound effect on everyone he met.  His memory will be dearly cherished.
Jamie Peck
One time a few years back, a lady got mad at me for locking my bike to her fence and effectively impounded my vehicle by putting an extra lock on it. I wasn't sure what to do, so I went around the corner to Clem's to have a drink and figure it out. When I told Mikey my problem, he left his shift to help me get it off, first by trying to pick the lock and then by hitting it with a hammer until it broke. Then he power-walked back to work so he wouldn't get in trouble!
I didn't spend as much time with Mikey as some, but he always greeted me with a big hug and made me feel like we were old friends. I still can't believe I'm not going to see him at shows and festivals anymore. He will be sorely missed by everyone who was even slightly acquainted with him.
[youtube https://www.youtube.com/watch?v=tRMsbp8p-gk&w=560&h=315]