Just Before New Year's, Sam Shaber was walking down Hanson Place, near the BAM Theatre complex in Fort Greene, Brooklyn, when she felt a giant whack on the back of her head.
"Someone just hits me with the flat of their hand on the back of my head as hard as they can," she recalled after the incident. "It was so shocking. I didn't even know what was happening… It was really violent and completely shocked me."
She turned around to see a teenager laughing and running away with two friends. The situation—young men being violent for seemingly no good reason—might bring to mind the Old New York of the 1970s and 1980s, which many people romanticize. Take it even further, and you might recall the 1979 gang movie The Warriors—a movie, coincidentally, that Ms. Shaber's father wrote.
Directed by Walter Hill and based on Sol Yurick's novel of the same name, The Warriors follows an eponymous gang from Coney Island to a summit in Pelham Bay Park and back over the course of one night.
In The Warriors'  New York, there are 20,000 policemen and 60,000 gang members, spread across different factions such as the Baseball Furies, the Lizzies, the Orphans and the Turnbull ACs. At a summit, Cyrus, the leader of the Gramercy Riffs gang, suggests that all of the gangs band together to truly rule the city; they outnumber the cops, after all.
Then, Luther, the leader of a gang called the Rogues, unforgettably portrayed by David Patrick Kelly, shoots and kills Cyrus. All hell breaks loose, and the Warriors are framed for the crime. This leads to a wild and highly stylized chase all over New York City as the Warriors try to get back to Coney Island in one piece, culminating in the famous scene when Luther clanks bottles together ominously while yelling, "Warriors, come out to play-ayyy!"
It's difficult to imagine the action of The Warriors taking place in present-day New York City. Gang culture is not as ubiquitous as it was in decades past, but attention on clashes between the public and the police is at an all-time high.
Indeed, Ms. Shaber was assaulted just blocks from where Officers Wenjian Liu and Rafael Ramos were killed by a deranged gunman, about a week earlier. This incident, combined with the disappointment and anger resulting from the lack of punishment for the police officer who killed Eric Garner with a chokehold months prior, has contributed to strained relations.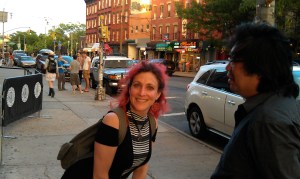 After a few moments of screaming and cursing, Ms. Shaber got her wits about her and realized the delinquents hadn't taken anything—they were likely just bored and trying to entertain themselves. She decided to notify the police, just in case the perps were making the rounds of the usually-busy neighborhood and assaulting everyone unlucky enough to be walking on the darker blocks, as Ms. Shaber was.
She and the police drove around for about an hour looking for the kids, to no avail. They checked the exterior of the Barclay's Center, the Atlantic Avenue Mall—typical places where teenagers would hang out and try to impress each other.
"These guys in the car with me were incredible," Ms. Shaber told the Observer. "I think 99.99 percent of cops are amazing and brave and doing a job nobody wants to do and have all the best intentions. And I think 99.99 percent of people in the streets are amazing and want to live in a good, safe neighborhood."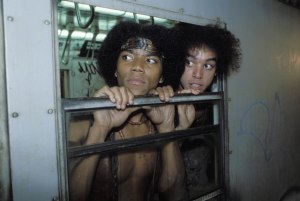 Ms. Shaber and the two policemen got to talking and realized they knew some of the same people. They talked about Ms. Shaber's music (she's in a band) and the changes going on in Brooklyn, where Ms. Shaber moved from the Lower East Side less than one year ago.
Ms. Shaber's situation, and the attitudes surrounding policework in general in the city right now, draw parallels to The Warriors. The movie and the novel on which it was based, Ms. Shaber pointed out, paint gang life not as something that needs to be cured and cleansed from society, but as a lifestyle that exists out of necessity, and out of low morale and dissatisfaction with the status quo.
"It's like smoking cigarettes in high school," she said. "You do it because a lot of kids do it… It doesn't seem like it's this big gang power movement."
The citywide, gang-centric chaos of The Warriors is spurred by the actions of just one bad egg, Ms. Shaber pointed out.
"What's interesting about the movie, and this is what my dad did, there is only one enemy, which is the crazy guy that shoots Cyrus," she said. "Everything that goes wrong in that movie comes down to that one guy. [The movie is] never saying the cops are bad or the gangs are bad. They have their governmental structure and hierarchies, the cops have their thing."
Similarly, the recent shooting of NYPD Officers Wenjiang Liu and Rafael Ramos "was one crazy guy, not a movement," Ms. Shaber said. "What becomes dangerous is if one crazy guy turns into a movement… Hopefully, whatever is going on right now will help things improve, not degenerate over time."
When Ms. Shaber was assaulted, her immediate reaction was not an urge for retribution, but anger that the peace had been disrupted in Fort Greene, close to where she lives in Bed-Stuy.
"Why would you do this right now?" she wondered. "This neighborhood is better than it's ever been. People are enjoying it so much. We can't afford to live there, but we can go to the movies there. Everyone's on the street having a good time. Why would you ruin that?"
Ms. Shaber's father was born in Cleveland, but lived in New York City for most of his life. Many of his scripts—he sold a whopping 39 over his lifetime—dealt with power struggles between police and criminals, she said. The movie he wrote after The Warriors was Nighthawks, a hard-boiled thriller in which Sylvester Stallone plays a cop chasing a serial killer played by Rutger Hauer.
Mr. Shaber also wrote much of The Hunt for Red October, Ms. Shaber said, but his name doesn't appear in the credits because he was brought in to clean up the script while the movie was already in production. Other than that, action movies set in New York City and war movies like Flight of the Intruder were his specialty.
In real life, though, his movement was restricted due to an accident at age seven, which led to his leg being amputated. He must have been traumatized, Ms. Shaber said, after he awoke in the hospital with his leg missing, and with no one by his side.
"He clearly had a dark side," Ms. Shaber said. "He would always say he thought it was funny that all these people were so crazy about The Warriors, and what would they think if they knew it was written by a one-legged Jewish playwright from Cleveland? It might take the wind out of their sails."
Ms. Shaber has lived in New York City her whole life, aside from a brief interlude in Los Angeles. Does she miss the bad old days?
"I get nostalgic," she said. "Not necessarily for the graffiti, but I don't love that 42nd Street has turned into an extension of Disney… Those aren't the shows I go to see. But I don't go to porn theatres, either."
Even with the recent tensions between police and the public, it is unlikely that New York City will backslide into the bad old days any time soon. Movies like The Warriors, Serpico and Saturday Night Fever show how much the city has changed and evolved just as much as they illuminate how it has stayed the same.
"Morale is killed on both sides now, because nobody feels like trying at this point," Ms. Shaber said. "I think on both sides, everybody's gone a little bit crazy now."
Perhaps it would be useful to keep in mind one of the underlying messages of The Warriors: when one person's violent act multiplies into more and more violence, nobody wins.