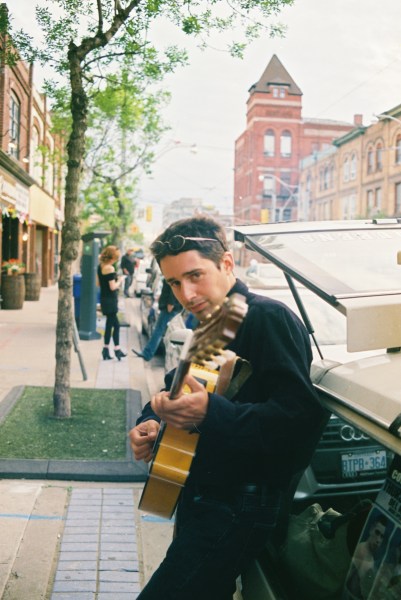 Normcore savant, hipster prince, bandleader, indie visionary—Juan Wauters inhabits diverse identities and sounds with a refreshing, unassuming confidence. Across a string of releases with his band, The Beets, and one solo album, the first-generation Uruguayan-American has established himself as one of the most idiosyncratic and inventive songwriters in New York today. Penning everything from a charmingly off-kilter ode to oversleeping ("Woke Up Feeling Like Sleeping") to sing-a-long-ready, punk-informed folk ("Sanity or Not"), the 30-year-old's songs fall somewhere between the homespun, Old World wholesomeness of a young Jonathan Richman and the garage-pop genius of Daniel Johnston.
It's a formula that's transported Mr. Wauters from his home in Jackson Heights to opportunities he says he never would have imagined just two years ago: A three-record contract with indie label Captured Tracks; a jam-packed touring schedule, and praise from tastemakers including NME; even autograph requests on the subway.
"I've pushed myself to places I wouldn't have gone with the [Beets]; it's very rewarding," Mr. Wauters says via Skype from a café in Zurich, while taking a day-off from his European tour.
With the release of his first solo record, N.A.P. North American Poetry, in 2014, the planets aligned for Mr. Wauters. Where his work with The Beets found him relishing lo-fi production that could distract from his ingenious, enduring melodies and lyrical acrobatics, his bold new songs enchant, confound and lovingly burrow into your skull in equal measure.
"Not the haircut, not the clothes, just the way it is/ You came here to make mold, please just go away/ Don't you wonder how it feels to have someone live in you?/ When I see I you I know well that in your body there's just goo," Mr. Wauters sings on "Goo."
Mr. Wauters traffics in such simple truths, and with such heartfelt, almost child-like curiosity—finding inspiration for his lyrics in the writings of Shel Silverstein, for one thing—his songs need little more than his powerful charisma to work their magic.
The new songs on N.A.P. exemplify the innocence, immediacy, intimacy, and raw purity of the "real," that lighting-in-a-bottle quality we cherish in our most beloved artists like Joey Ramone and Lou Reed.
"I want to sound grand," said Mr. Wauters. "But I also hope to never reach that, because once I reach it then I know what grandness is and I don't have anything else to go for. It's kind of like when people believe in God. They believe in God their whole life but they never get to see God so they keep believing … So in my music I long for grandness … a big set of ideas and feelings that represent freedom and accomplishment."
Juan Wauters will release his second solo album, Who, Me?, May 12 on Captured Tracks. 
[youtube https://www.youtube.com/watch?v=EZ78lrg0k-U&w=420&h=315]