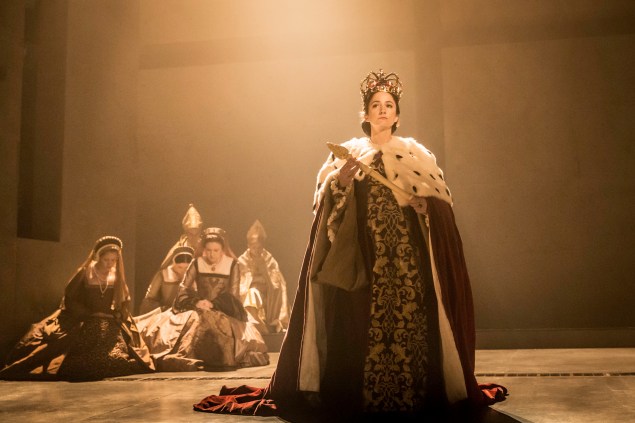 "Now I am indeed a queen!" Anne Boleyn supposedly declared upon hearing of the death of her rival, Catherine of Aragon. Her joy did not last long: Henry VIII's paramour was eventually separated from her head in 1536 when she failed to produce a male heir. "She rolled the best dice she could, but the house won," according to British actress Lydia Leonard.
The story is great history, great theater, and will likely be a great showcase for Ms. Leonard, 33, a first-timer on Broadway set to star in the breakout role of Boleyn this March in Wolf Hall at the Winter Garden Theatre. It's a two-part stage adaptation of the best-selling historical novels by Hilary Mantel. "Anne Boleyn was a warrior forced to use the only tools available to a woman in her position at that time," Ms. Leonard told the Observer recently. "She was bold and ambitious and had she had a son, history would have been very different."
Based on the first two novels in the trilogy, (the second, Bring Up the Bodies, won the 2012 Man Booker Prize), the six-hour production of the Royal Shakespeare Company will be presented in two parts with a dinner break, à la the 1982 Tony-winner for Best Play, Nicholas Nickleby, another RSC literary adaptation. Wolf Hall, which received five stars from most of Britain's dailies, focuses on the role of Henry VIII's top advisor Thomas Cromwell (Ben Miles) in the dangerous political gamesmanship surrounding royal succession in 16th century Britain. Henry VIII is played by Nathaniel Parker of PBS' The Inspector Lynley Mysteries.
Ms. Leonard won rave reviews from the London press last January when Wolf Hall debuted in the West End: The Evening Standard called her "intriguingly volatile," while The (London) Observer dubbed her portrayal "whip-sharp and lethal."
"I don't think I'm intense," said Ms. Leonard taking a break from rehearsals to speak via phone from London. But as well as she's managed to inhabit the treacherous world of the divine right of kings on stage, how does she feel about heading to New York?
"Broadway is one of the big American words," she said. "It's exciting to be given the chance to rattle around in one of the big words. If you're a mountain climber then at some point you'll want to have a crack at Mt. Everest. You want to challenge yourself, to see whether you can do it. Broadway is the actor's Mt. Everest—but with more flattering frocks."
No stranger to the London stage, Ms. Leonard is bound to receive a lot of attention in her Broadway debut, and from Hollywood, too, ever watchful for the next big rising star. Later in 2015, she'll appear in the BBC2 TV miniseries about the London literary set, the Bloomsbury Group, in Life in Squares, playing another intense woman bound by the times in which she lived, Virginia Woolf.
Will she miss London while she's here? She's "not sentimental," she said. "It'll still be there when I get back."