Hark, art lovers: get thee to the far reaches of Chelsea this weekend and immerse yourselves in the strange and sublime world of the Outsider Art Fair. The bright, winding exhibition space at Center548, located at West 22nd Street and Eleventh Avenue, features artwork by some names you already know (Grandma Moses, William S. Burroughs) and some you might not—but will definitely be glad to discover. The show, which runs through February 1, is chock-full of sculpture, drawing, painting, mugshots, flow charts, and beyond.
The artists on view are touted as a hodgepodge of untrained virtuosos who eschewed an MFA for training in the school of life. But looking around the fair at last night's Vernissage, Half Gallery's Bill Powers was spotted milling about the thick crowd chatting up dealers, Thursday's New York Times ran not one, but two, pieces on the fair, and Talking Heads rocker David Byrne is a collector, and exhibiting galleries like Andrew Edlin and Hirschl & Adler have also shown at Art Basel Miami Beach and the Armory Show. There's been a shift. The line between "outsider" and "insider" is getting fuzzy.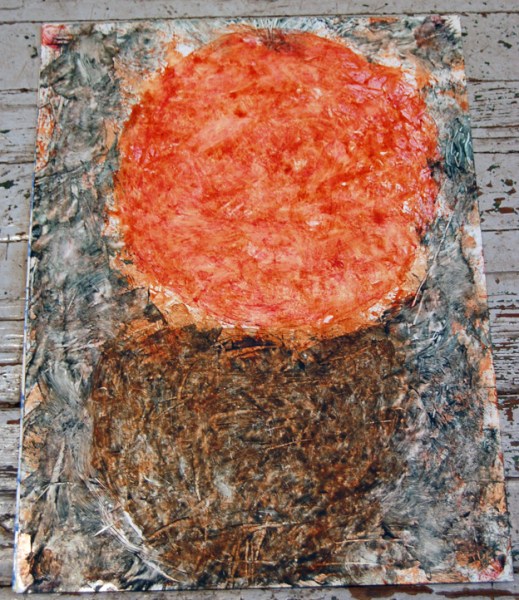 Nevertheless, the fair still offers unique finds. So what sets this bunch apart? Outsider artists' colorful backstories are what make them stand out—and what attracts collectors—Bruce Webb, co-owner of Webb Gallery in Waxahachie, Texas and an exhibitor at the fair, told the Observer when we dropped by his booth.
"It kind of separates them from the average successful artist," he said. "It just adds a whole other dimension, a sincerity to the work."
Mr. Webb and his wife and co-owner Julie founded their gallery in 1987. Since then, he said, they've seen more young people collecting outsider art, particularly from within their local community of tattoo artists.
Webb Gallery, booth 213, is tucked away in a back corner of the fair on the second floor, but it's one you can't miss. The Webbs have filled their space with vivid, offbeat pieces from primarily Texas-based artists, including Hector Alonzo Benavides. There are also standout paintings by visionary Beat writer Burroughs and drawings by Daniel Higgs, the lead singer of Baltimore punk legends Lungfish.
Across the way at Louis B. James, you'll find hunks of sheetrock that artist Matthew Kirk has covered in oil, spray paint, chalk, and tape to create vibrant abstractions. Mr. Kirk, of Navajo descent, doesn't have a college degree or formal artistic training, but 10 years as an art handler at New York museums has given him all the art education he needs, David Fierman, the gallery's co-founder, told the Observer.
The special exhibit "If I Had Possession Over Judgment Day" is one of the first booths visitors will encounter at the fair. Artist and critic Anne Doran and dealer Jay Gorney have curated a tight selection of pieces by Mark Lombardi, who created flow charts that outline Mafia crime networks and explain geopolitical events, and Adolf Wolfli, a Swiss farmhand who lived much of his life in a mental institution. They're all in different media, but "there's a quality of line in all the works that really makes it come together," Mr. Gorney told us.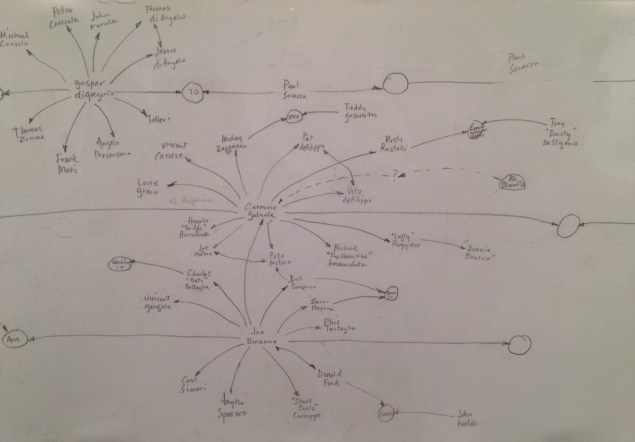 Then there's John Brill, a self-taught photographer represented at the fair by Kent Fine Art who also happens to be a school bus driver in Madison, New Jersey. The artist spoke warmly with visitors to the booth about his photography process and his beloved day job, which he's had for 25 years. He pointed out a drawing one of the students on his bus route made for him when she was six. "It's one of many," he said. "You should see my refrigerator!"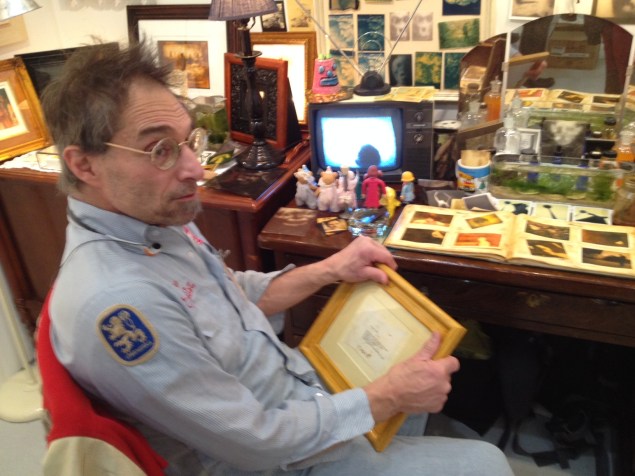 Mr. Brill's most stirring pieces are silver prints of his photos reworked multiple times in the darkroom, or reprinted with bleach, inkjet, and other materials after being developed. His multi-step process creates a ghostly effect, and many of the images are barely recognizable self-portraits. For Mr. Brill, like many of the artists at the fair, the term "outsider" isn't an insult. He said it fits perfectly with his standing in the artistic community.
"It's absolutely natural. I'm like a square peg in a round art world."