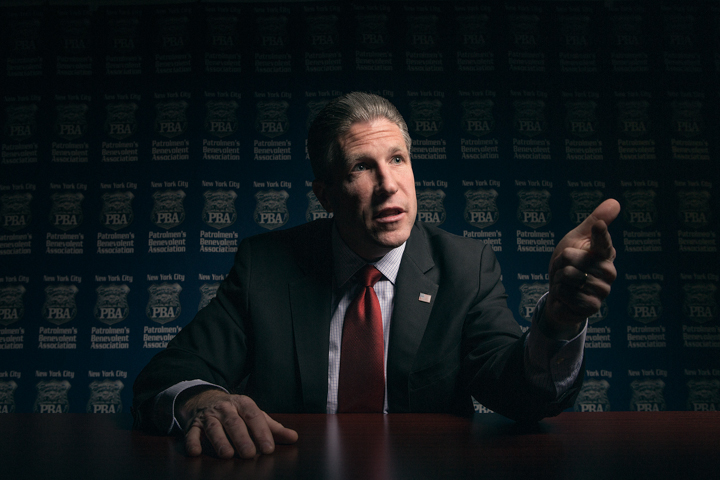 At around 3 p.m. on Saturday, December 20, 2014, Patrolmen's Benevolent Association President Patrick Lynch was leaving an annual union holiday toy giveaway at the Brownsville Community Center in Brooklyn. His phone lit up.
There were calls from a union trustee, from active-duty cops, later from the department.Two of the uniformed, "white shield" police officers his union represented had been shot in their cruiser in Bedford-Stuyvesant, and were being rushed to Woodhull Hospital.
Mr. Lynch raced to the emergency facility in Williamsburg, but Officers Wenjian Liu and Rafael Ramos had already been pronounced dead on arrpival. Their executioner had vowed earlier on Instagram that he was "putting wings on pigs."
Targeted killings of cops, Mr. Lynch noted in a PBA conference room in the Financial District the other day, had historically hit undercover officers on assignment. "This was two police officers sitting in their car and a mope just walked up and shot them. They were having their meal. Is this really where we are now?"
When Mayor Bill de Blasio entered the hospital to pay his respects to the victims' families and address the press at around 7 p.m., Mr. Lynch and other mourning police officers with him staged an impromptu protest—turning their backs.
The act had a ripple effect: across two funerals, where hundreds of cops pointedly pivoted away from the mayor, and across New York City. Mr. Lynch finds himself fast becoming one of the most reviled figures in America for those on the political left.
The liberal blog Balloon Juice posted just the words "Fuck Patrick Lynch" the night of December 20 and elicited more than 200 predominantly enraged comments; one commenter worried for the mayor's life, given that his security detail consists of NYPD officers. The normally cautious New York Times Editorial Board railed that "Rank-and-file officers
deserve a department they can be proud of, not the insular, defiant, toxically politicized constituency that Mr. Lynch seems to want to lead."
It is difficult to reconcile Mr. Lynch's brash, abrasive public persona—the rigid defender of funeral protests, which he characterized to reporters "an organic gesture that started on the streets of New York"—with the warm, genial man you meet one-on-one. He is the kind of cop you picture giving a runaway his jacket, not throwing a perp up against a wall—or publicly insulting the mayor.
Short, stocky, with a gelled helmet of silver hair and a rough-edged accent forged in Bayside, Queens, the 51-year-old Mr. Lynch resembles both the prototypical cop and the prototypical union honcho. His story, too, seems as old as the NYPD and organized labor itself. His father was a New York-born subway motorman, his mother an Irish immigrant. A self-described "lifelong registered Democrat," as a teenager Mr. Lynch skipped school to walk a picket line with his dad during the 1980 transit strike, first stirring his interest in collective bargaining and worker solidarity.
The strike was illegal under the state's Taylor Law, which prohibits public employees from walking off the job en masse or from engaging in slowdowns. The Transport Workers Union and its members later had to absorb heavy fines as a result. But the move proved successful: after 10 days of paralyzing the city the TWU won a significant raise.
"I just saw how standing together, you can get something accomplished," recalled Mr. Lynch, leaning back in his chair.
At 20, he followed an uncle and an older brother into the NYPD. After just five years on the force, Mr. Lynch defeated an establishment incumbent to become a PBA delegate. A decade after that, he won the union presidency.
His two sons have continued the family tradition, with his youngest among the stoic graduates at Madison Square Garden on December 29—when families in the stands booed Mr. de Blasio as he approached the podium.
"I got skin in this game," said Mr. Lynch.
The pugnacious union boss who has become nationally, even internationally, famous (or infamous depending on your perspective) only emerges when he begins talking about how his members are "under siege." His voice raises and his hands slash the air. "We're getting shot. Literally, literally, these past two weeks, we're getting shot," he told the Observer on January 6.
The night before, moments after he returned home—still in Bayside—his phone flared up again. Two more cops had gotten shot in the Bronx, non-fatally this time. The officers had been pursuing a pair of stick-up artists when one of the suspects opened fire.
"It was like, 'fuck, again?' quite frankly," he recalled. "It was just Sunday that we buried our brother Liu. Then it was what, Monday night, and we're under attack again?"
There was no apparent political motive for the Bronx shooting. But Mr. Lynch still laid the blame the same place he had the day Liu and Ramos died, when he said Mr. de Blasio and the protesters who swamped the streets after a grand jury decided not to indict Officer Daniel Pantaleo in the homicide of black Staten Islander Eric Garner had "blood on the hands."
"They're shooting back now. We haven't seen that in a long time," he said. "In the atmosphere we're in now, we're getting disrespected by demonstrators, and the rabble-rousers and, of course, always the perps on the street corner. And they're getting emboldened by the lack of support from City Hall and the rhetoric and the rallies that say 'attack police, kill police.'"
Because of Mr. de Blasio's criticism of the force, and his allegations of racism, Mr. Lynch—growing animated again—argues that low-level offenders feel they can fight with, and even shoot at, cops with utter impunity.
"I've never seen demos where they're saying 'what do we want, dead cops, when do we want them, now?' And that goes unchecked?" he said.
Even Mr. Lynch's critics allege that Mr. de Blasio (whose office did not respond to requests for comment), in the midst of his calls for police reform and criticism of the tactics used on the street, helped create the contentious current atmosphere with police by failing to balance criticism with praise. His expressions of sympathy with anti-police protesters, and his decision to grant them unprecedented access to city streets and highways, worsened the situation by giving the impression of preferential treatment
"There's hundreds of vehicle accidents where [police] save lives, there are hundreds of missing children they help save, there's domestic violence incidents where police officers save people's lives," said Anthony Miranda, former police sergeant and founder of the National Latino Officers Association. "But the mayor and the commissioner don't project the positivity of all the things the police department does. It left a vacuum. And thus you have Pat Lynch."
But Mr. Miranda faulted Mr. Lynch for stoking, not cooling, the situation—and for turning the NYPD into the focus of the national furor over police violence.
"Instead of calming the waters, and finding a channel for communication, he spread the flames," Mr. Miranda said.
If Mr. Lynch feels any pressure in the face of criticism, it does not show. He maintains that every one of his vituperative statements has been justified.
"You can demonize me, or you can demonize the PBA, but my job is to represent police officers. We're not stirring the pot, we're stopping a tide of criticism that's coming our way that's absolutely unfair," he said. "And if no one else is going to stand up for cops, guess what? We're going to do it!"
---

"The mayor and the commissioner don't project the positivity of all the things the police department does. It left a vacuum. And thus you have Pat Lynch."—Anthony Miranda, founder of the National Latino Officers Association

---
Another topic brings out the aggressive, defensive side of Mr. Lynch: his upcoming election in June, and rumblings of an impending challenge.
Last year, delegates from the Bronx arrived to a PBA meeting fuming, still bitter over what they saw as a lackluster union response to the 2011 indictment of 16 officers for fixing traffic tickets for colleagues and family members. The department had long ignored the practice—even former Police Commissioner Raymond Kelly had been rumored to have participated in it when he was a beat cop. And, after all, Mr. de Blasio had just done the same thing for his pal and politcal supporter, Bishop Orlando Findlayter.
"A certain militant section of the PBA thought they should do a citywide action over the indictments in the Bronx," said Dennis Quirk, president of the New York State Court Officers Union and a Lynch ally, noting that such a response would violate the Taylor Law. "What was he supposed to do? Go on strike?"
At the same time, there was underlying anger about the union going four years without a contract from the city and modest raises that keep a cop's salary ahead of inflation.
After a heated discussion, the Bronx delegation walked out. The rumor is that the challenge to the sitting president will come from a union trustee from Brooklyn North, Mr. Lynch's old command, where anger about the contract situation is strong.
"They're upset about the contracts? Well, that's funny," said Mr. Lynch, launching into an anecdote about how local leaders at Brooklyn North were unable to answer new recruits' questions about the contract situation at a recent meeting. "They had to call the president back up to the front of the room to answer questions about the contracts. So if you're going to complain about contracts, you'd better know what the hell you're talking about."
In negotiating retroactive contracts for former Mayor Michael Bloomberg's final four years in office, the de Blasio administration has sought to delay raises as policy. The teachers' union, for example, have agreed to a contract without a salary increase for the first year and a half, while superior officers have assented to keeping their pay flat for 11 months—"zeroes" in public employee parlance, unacceptable to Mr. Lynch, whose members are among the lowest paid big-city cops in the country.
A New York City cop hits the street making $44,744, and picks up a $1,544 increase after six months. Officers in Chicago start at a comparable rate, but get bumped up to $61,530 just one year in. Los Angeles police graduate from the academy earning $60,552, while a rookie New York State Trooper makes just under $67,000 a year.
"I think Patty is a very decent guy in a very bad spot," said the head of another municipal union, who spoke with the Observer on the condition of anonymity. "There's a lot of frustration that Pat is the lightning rod for. And it's nothing he can control."
No one knows better than Mr. Lynch how acceding to a deal with no raises can threaten a PBA president.
In 1997, then-Mayor Rudolph Giuliani cowed the PBA's leadership into accepting a two-year pay freeze. Many officers were so angry about "zeroes for heroes" that they took the then-extraordinary step of signing petitions warning Mr. Giuliani not to attend their funerals if they died on duty.
In the subsequent union election in 1999, insurgent delegates led by Mr. Lynch, then a 35-year-old community affairs officer from Williamsburg's tough 90th Precinct, rode the wave of anti-Giuliani, anti-establishment sentiment to victory over the incumbent president—shattering a decades-old leadership regime.
Mr. Lynch, who demolished his last challenger with 70 percent of the popular vote in 2003, expressed confidence that
he will win re-election. He cited his success fighting the city to a standstill three times at the labor negotiating table and bringing the dispute into arbitration—and each time winning a fatter contract than the department had proffered.
"We're the most responsive and service-oriented organization in the history of the PBA," said Mr. Lynch, sounding like a stumping politician.
Not everyone the Observer spoke to was so sure. And, according to the Daily News, anger at a January 13 PBA meeting boiled over into a shouting and shoving match. But if Mr. Lynch were to lose his perch, it is likely his successor could be even more aggressive and less interested in compromising with the mayor.
Mr. Lynch is largely insulated, however, from another kind challenge: one from the union's increasingly nonwhite membership.
Mr. Lynch proudly highlights that the historically white PBA is now majority minority. The union's second vice president is a black Muslim and its treasurer is Hispanic. But, according to Mr. Miranda, the real power in the union still belongs to the predominantly white delegates.
The Latino leader said that NYPD promotes a monochrome notion of racial unity within the force, one that the unions embrace and promulgate and many nonwhite officers accept.
"That's part of the indoctrination when you come into the police department, that the only color is blue," he said. "I don't think minority officers have come to a point where they recognize that if they act collectively, black, Hispanic and Asian officers, they can act collectively and change things."
For now, the mayor and his nemesis appear locked in a bitterly personal battle with no end, or victor, in sight. The two resemble a pair of movie combatants, grappling in mid-air as they both fall toward the ground in slow motion.
The PBA has again brought the contract dispute before an arbitration panel at the state Public Employee Relations Board. But contracts that come out of arbitration last just two years, in this case, for the period between 2010 and 2012. Meaning that once this dispute is settled, Mr. de Blasio and Mr. Lynch will immediately return to the bargaining table.
---

"We're not stirring the pot, we're stopping a tide of criticism that's coming our way that's absolutely unfair! And if no one else is going to stand up for cops, guess what? We're going to do it!"

---
Mr. Lynch and his loyalists have defied the mayor in public with displays of disrespect and increasingly raw rhetoric. Arrests and summonses were down some 90 percent in the first two weeks of 2015, spurring allegations of the kind of coordinated slowdown the PBA's Bronx delegates demanded. Mr. Lynch, for his part, blames the decline on the diversion of officers from local police precincts to the street protests.
He does not, however, deny telling his members to abide by the NYPD manual to the letter.
"We told our members, it's a safety issue, protect yourself. The department creates those rules to protect yourself, and we're saying, 'follow them,' " said Mr. Lynch.
Mr. de Blasio, a wily former political operative, has—according to the New York Post—sought to undermine the PBA president behind the scenes by encouraging other politicians to denounce him. Both men are watching their public approval ratings slide.
There is a key difference, however: Mr. de Blasio needs the public's support to promote his initiatives and, ultimately, to win re-election. Mr. Lynch requires only the votes of a majority of his union's 24,000 members.
So, for now, Mr. Lynch will probably continue to show the mayor, and New York City, just one side: his back.
Updated to include the Daily News' account of the events of the January 13 PBA meeting.