I met Our Lady Of The East River at St. Ambroeus, the ever-bustling Euro restaurant/coffee bar. We were discussing fund-raising for a venerable institution with which she had been long been involved.
"Galas raise crucial funds," she said, sipping her Earl Grey tea, her pinky finger raised effortlessly skyward.;
"That said, I cannot abide people using charities to publicize their names or second wives trying so obviously to parlay their social status," she sniffed. "Now show people have started descending for red carpet PR."
"It must be galling," I sympathized.
"Don't get me started on the naming opportunities," she said, shaking her immoveable coif, her vintage Seaman Schepps link bracelet lyrical against her English tweed and silk blouse.
"It is a good way to raise much needed funds," I offered.
"Yes. It's just become so much more overt," she declared. "There's a certain vulgarity to everything being sold, named and branded. Or getting up on a stage and making a public display of your giving. It just wasn't done in my day."
"What do you attribute this to?" I leaned in.
"I think everyone wants to see their name in lights. Some institutions have even made the men's and women's lounges available for naming. Can you imagine?" she whispered.
"I did speak to a well-known member of the clergy about it," I revealed.
"And what was his opinion?" she asked.
"He said that people name wings in hospitals not only because it's charitable and they want to immortalize their name in the fame game," I said. "They also think if they name a wing after a certain disease, it's also an insurance policy that they won't get it."
Blonde PR princess is a font of fabulous sound bites herself. And luckily for me she was standing under the Mizner designed coquina stone, Porte Cochere, on New Year's Day, the Florida palms waving in the distance. A business and social dynamo with an impressive roster and overbooked meeting schedule, we exchanged New Year wishes in a New York minute before I asked her if she had witnessed this disturbing trend.
"More and more it's a daily occurrence," she said. "But in my business, it's just not press anymore. The clients now want the whole lifestyle. Marketing and PR is much more personal than ever. They want to get into all the right parties, the best table in all the right restaurants, the editors' sample sales for the wives and girlfriends. They want to live the celebrity lifestyle and the expectation and entitlement is out of control."
"You must see it in your business as well," she said.
"That's why I'm writing about it," I agreed.
"I am getting more and more calls from the ordinary professionals; the investment bankers, the lawyers, private equity, etc. They all want their name out there. Every dermatologist and VP now wants PR.
"I get crazy requests," she continued. "The moment someone closes a deal they want to be famous. Everyone has a jewelry line. Anyone who can string two beads together has a line. Everyone also has the best product idea that's going to be 'the next big thing.' They see one person do well and say, 'They're a loser and getting famous, why not me?' "
"What's the biggest request you get these days?" I asked.
"Everyone wants to get on Page Six for sure. If you don't get on Page Six, you don't exist," she said.
"And let's say someone called you and wanted to make their wife and girlfriend famous," I said.
"Ah, yes … the old pushing the wives and girlfriends agenda," she snickered.
I agreed. "Especially when they're marginally attractive or minimally intelligent. People used to be more discreet but now they come right out and say you have to get my girlfriend or wife into the party pictures. They're incredibly demanding," I said.
"I did have one person who said he would pay anything to get his girlfriend in the Victoria Secret fashion show," she revealed.
"Or the women who use charities to expand their social influence," I chimed in.
"I used to take those clients but at this point in my career there's no amount of money you could pay me," she said as the valet arrived.
"Why do you think this is happening?" I asked after her.
"My theory," she turned, "is that everyone's mother loved them too much."
In days of yore, it was a simple equation; money helped purchase access to power circles. From the Halls of Washington to the screening rooms of Beverly Hills, major donors or studio owners could rub elbows with the rich and famous. But reality stars have leveled the playground. Given the possibility that anyone with money and antics can be famous … the prevailing thought is "why not me?"
It's not enough to be around famous people anymore, but to use one's money and influence for self-aggrandizement, or simply to make oneself famous. As one person told me: If you have everything and more, and the only thing you don't have is fame, then you will try to buy that, too.
And it's done with what I call celeb-u-cash.
"It's turning into a fame free-for-all," the hulking, balding Hollywood producer exclaimed over a low-key lunch at The Hummus Place. (His love of hummus is matched only by his fondness for the casting couch).
"I get calls all the time," he said. "I was offered a solid gold Rolex—and more—if I could make the introduction for my friend's third wife for (one of the biggest reality shows)."
"Did you take it?" I leaned in.
"I don't sell my services that cheaply," he shouted.
"Could I get some more baba ghanoush?" he barked at the waiter, as if he were ordering around a production assistant.
"Now with all the reality programming you have famous real estate brokers, chefs, housewives. Everyone wants their 15 minutes," he groaned, "but they'll settle for five."
"What these people don't realize is that they see the few really successful reality stars but then so many get bounced after a season or two or the show gets canceled. And there's nothing sadder, in my opinion, than a washed up reality star," he said.
"When I first got into the business you used to see big stars and I mean big, who were showing up at casting sessions or the Beverly Hills coffee shop trying to re-ignite their careers," he continued. "They kept up appearances by driving around in a 30-year-old dented Rolls with the hubcaps falling off. That said, they had the fame and the name. Now someone gets one season on a reality show and if they're not good TV, they get canned. So they have two minutes of fame but the problem is the two minutes have redefined their entire lives and they can't get over it."
"That must be very problematic," I sympathized, remembering some very big MGM Studios stars playing cards by the Beverly Hills Hotel pool when I was in my 20s. While living in the past, they were still glamorous and signing autographs with the legendary Sven, the pool manager in attendance.
"Think back in your business, 15 years ago major stars would never, ever do commercials." He operated two iPhones at the same time.
"Only in Japan for the money," I added.
---

"Now everyone wants a campaign, a brand of their own. You have major people who would never consider reality TV pitching their wives, girlfriends, children. I'm telling you, it's a fame free-for-all."


---
"Now everyone wants a campaign, a brand of their own. You have major people who would never consider reality TV pitching their wives, girlfriends, children. I'm telling you, it's a fame free-for-all."
"So who do you help?" I pried, plying him with extra hummus.
"I have a thing for tall brunettes," he confided.
"Single or married?" I asked.
"Both," he whispered over the veggie patty. "But don't print that unless you disguise me."
I was having lunch at Nerai, one of New York's best nouvelle Greek restaurants with an enormously wealthy/high-profile entertainment couple en route to Sun Valley.
"A world-famous party planner told me that this young, exotic couple were planning their wedding and wanted to duplicate the Clooney affairs in Venice," the wife revealed, finishing her cod cakes and clicking open her Edie Parker minaudiere to retrieve her vbeauté lip gloss. "And so the bride's father made it clear there was an unlimited budget."
"Sounds like a fun wedding," I shrugged.
"Here's the catch. The party planner said he could duplicate many elements but they insisted they wanted the same level of press attention. Can you imagine? Of course, the planner said that it was impossible since Clooney was famous."
"You're kidding me," I said, shaking my head in disbelief.
"Well, it is L.A., after all," she shrugged.
"And what happened?" I asked.
"The groom got angry and said that the bride was just as pretty as Amal and that they had as much money and demanded he get them the same level of press attention.
"They had conversation after conversation that it was impossible to duplicate the wedding since they wouldn't have the press attention since no one was a famous movie star. So one idea was to pay celebrities to attend the wedding, which people do all the time and then invite the press," she said, playing with her chic Jennifer Miller long chain necklace.
"That's a solid solution," I said, knowing some of my unreasonable clients often have unreasonable requests.
"Yes, but the bride's father nixed the idea as he didn't want all the attention on the guests, but on his daughter."
"So what aren't they understanding? That he is one of the most famous movie stars in the world?" I laughed.
"Finally, they accepted the fact that they are young and beautiful but just rich," she said.
"They decided to postpone the wedding until they make the bride famous."
"Make her famous?" I asked. "What does that mean?"
"The father has enough money to hire the right people and make a movie and put her in it and make her famous. And he will do it. They are starting to hire major people as we speak. And once she is famous they will get married in Venice and invite some famous guests and the press. By the way it's being done all over Hollywood in film, TV and music," she said.
"My dear, that is very definition of celeb-u-cash!" I said.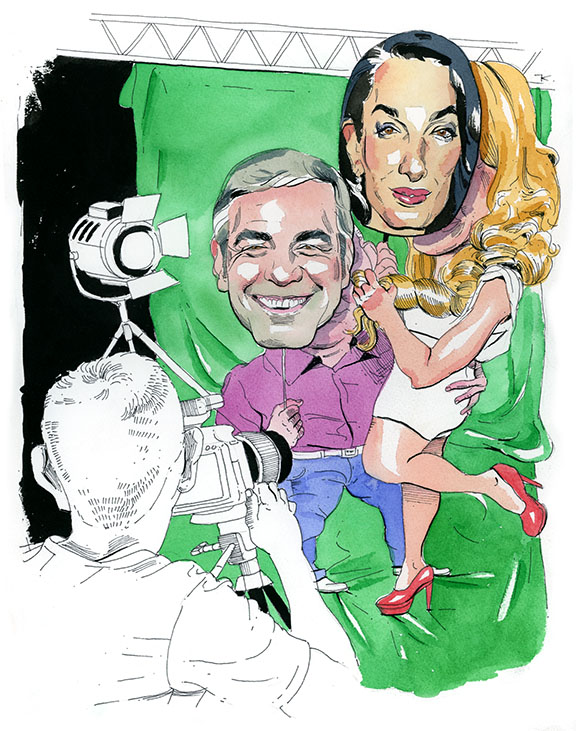 I often describe the auction houses as museums with prices. Auctions can be entertaining with frisson in the sale room when the audience and paddles fill the air.
With this in mind, I decided to take my 10-year-old daughter to an auction as I imagined it would be both fun and educational and I was planning on bidding on a notable Surrealist sculpture. I explained the auction process in a low whisper as the pieces came up for sale and the gavel descended after spirited bidding. Frenetic associates on the phones represented foreign and domestic sellers and those too busy to attend.
"And now we have a (famous Impressionist painting)," the auctioneer hushed the crowd. As the picture had patina and caché it sparked heated bidding. The art consultant urged his client, a hedge fund manager's wife, to bid higher and higher.
Finally, after well exceeding the high estimate, the gavel slammed.
"Sold to…" he said in his custom suit and charming and haughty European accent. The burst of applause from the crowd was spontaneous and deafening. The hedge fund manager's wife turned to the audience and took a bow, her Dior bag clanking and swaying in a breeze of claps. Most notable was her deranged look of self-satisfaction, like she had won an Oscar.
"Daddy, why are they clapping for her?" my daughter asked.
"Because she paid a great deal of money for the painting," I tried to explain.
"So they're clapping for the person who spent the most money?" she asked.
"Yes," I started to rethink the idea of it and scratched my head.
"Why didn't they clap for you?" she asked. "You bought the sculpture."
"Because I didn't overpay for it," I said.
"Shouldn't they be clapping for that?" she said. "I don't understand."
"You're one very smart girl," I said. "They should, but they clapped because the person was in a bidding war and she won."
"Because she spent the most money?" she asked.
"I guess you could say that," I said.
"The lady was acting like when they all come out," she said, referencing the end of a Broadway show. She fingered a verboten Rice Krispies cake. "Shouldn't they be clapping for the artist? The lady didn't paint it, she just bought it."
"I agree darling," I was starting to reconsider the idea of taking my daughter to the auction after all.
"So when I get older, if I spend the most money they'll clap for me?" she asked innocently.
"I have a good idea," I said, hoping she wouldn't ask any more questions for which there was no good answer. "Why don't we leave now and I'll take you to the American Girl Doll store?"
***
Anguilla may already be sunny, but I found a few extra rays this holiday at the Sunshine Shack, the reggae-infused beach bar and restaurant run by Anguilla's coolest, Garvey, who serves up the most delectable barbecue chicken on the isle. (If one is coming by boat, it's to the right of the gleaming Moorish villas at the CuisinArt.)
I was holding court with my wife Dana, The Silver Fox, his paramour L'Actrice and a few reigning members of the Locust Valley Lacrosse set. We were emptying the Sunshine Shack of their supply of Whispering Angel when we spied a truly famous Hollywood director alighting from a tender with his posse in tow.
Unfortunately for them, our party of landlubbers had already nabbed the prime picnic style table, with umbrellas. Garvey was at the grill with his cool shades cooking up the chicken and lobsters and rice and peas.
---

"I want that table." A manicured, fully made-up woman pointed a lacquered fingernail at us.


---
"I want that table." A manicured, fully made-up woman pointed a lacquered fingernail at us, her matchy-matchy Bel Air beach ensemble, headscarf and trove of flashy gold jewelry more attune to St. Barths than to the shack.
"They just sat down," the lovely waitress smiled.
"It's the so-and-so party of 10. We're on that yacht. And you know who he is," she said, pointing to the director in front of the tanker-sized vessel in the distance.
The waitress didn't budge. "That other table is almost finished," she said, pointing to an adjacent group licking their fingers from the barbecue sauce as they perused the bill.
The Hollywood director stood uncomfortably in the shimmering sand, the sun diminishing his stature. It was clear from his posture that he was not used to standing, waiting or not getting the prime table, but alas there was none to be had and he was in shock at not having the prime spot, ready and waiting, like at his usual Hollywood boite.
"We should have sent an advance team," I heard someone exclaim.
"But he's the most famous so-and-so in Hollywood!" she declared for all to hear.
"Your table is being cleared in 10 minutes I should think," she said graciously as she brought them over a complimentary drink. The director stood awkwardly, not knowing what to do as no one was moving. His protégé brought over a wad of cash.
"Here. Do something," he flashed the money like a fan, which the waitress declined.
"Hey Garv, they think they should get our table because he is famous," I laughed.
"All I know," my pal Garvey said from the smoking grill, "is that everyone is famous at the Sunshine Shack, especially my mon Richard."
"Thanks mon," I said.
It was nice to know in a tiny, white-washed, wooden beach shack, blasting reggae in the middle of the sea, that cash couldn't buy you a table, a plaque, pop-star status or your second wife's party pictures, but a smile and good manners could.
And that's why I'm going back next year. That and the chicken.