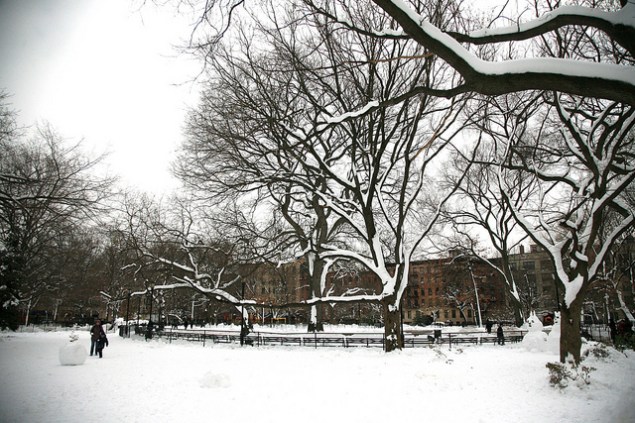 Can Times Square continue to function as a viable workplace with hordes of tourists, asks The New York Times, whose employees are forced to confront the misery of masses of gawping tourists on a daily basis. As the Times puts it, some office workers and corporate clients "complain bitterly of having to navigate thick and sometimes unyielding knots of tourists in various hot spots — including a giant video billboard outside the "Good Morning America" studios and a digital wraparound sign at the Marriott Marquis Hotel — just to get in and out of office buildings. A 30-minute lunch is nearly impossible because restaurants are jammed with visitors."
Speaking of places that are victims of popularity: High Line co-founder Joshua Davis has announced that he is stepping down from his post as president of Friends of the High Line, DNAInfo reports, which is "thrilled" that he will "continue to be involved with the High Line" even though he's leaving.
U.S. Attorney Preet Bharara is investigating the massive tax breaks scored by One57, where in recent days a sale close for $100.4 million, the New York Post reports. That and four other tax breaks given to Manhattan luxury developments had also been under investigation by the Moreland Commission before the governor disbanded it.
Tax breaks are also being demanded by the very wealthy residents of Scarsdale, where a reassessment last year, the first in 45 years, has meant considerably higher tax bills for many residents, according to The Times. One man's taxes on his 8,800-square-foot Tudor, for example, went from $125,000 to $180,000 a year. But towns say reassessments are the best way to make sure that property owners are paying fair rates and also, to fight back against the popular practice of challenging old assessments.
In response to complaints that including affordable housing in Brooklyn Bridge Park violates the official plan for the park, the city is changing the plan, according to The Wall Street Journal.
Several City Councilmembers told Crain's that they weren't opposed to Airbnb before last week's City Council hearing, but that the company's refusal to even track, let alone try to stop, illegal room sharing has hardened them against it.
Also, in addition to shutting down all public transit, last night de Blasio apparently instituted an 11 p.m. curfew banning people from walking outside last night, according to the Daily News, punishable with summons or even arrest.