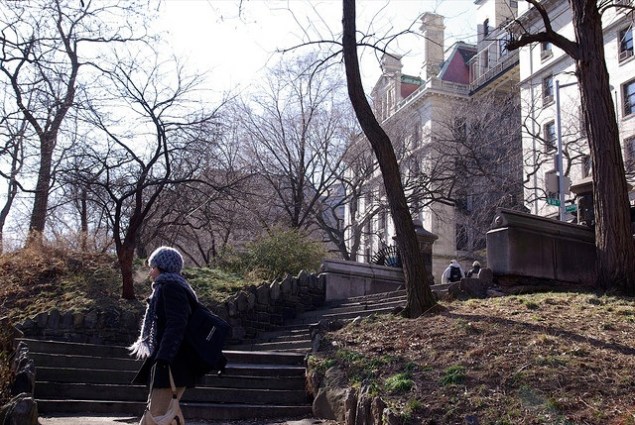 A construction worker died after falling down the elevator shaft of a brownstone undergoing renovation at 130 W. 70th Street when he reached for a safety rail that had been removed and lost his balance, DNAInfo reports. The $10 million townhouse is owned by philanthropist Roy Niederhoffer; the construction company has been hit with a violation for a failure to wear safety equipment, according to a representative of the owner.
In other elevator news: the elevators in the Upper East Side's 34-story Normandy Court (a.k.a. dormandy court) break down so often that it's a safety hazard, residents tell DNAInfo. Three of the complex's 12 elevators—where rents for a one-bedroom are in the low $3,000s—were recently taken out of commission for repair, which puts extra strain on the remaining lifts. At least the youth of the resident population should come in handy  for huffing up 20 flights of stairs.
In happier news, Councilman Mark Levine is planning to introduce a bill today that would keep city pools and beaches open through the beginning of school in September, and on weekends until the end of the month, The New York Daily News reports.
Also good news: Atlantic Cities reports that despite widespread fears of "slumurbia" occasioned by the relocation of lower-income minorities to suburbs where middle income whites once lived, in some suburbs, low-income minorities are faring well.
Workers broke ground on the 52-story Hudson Yards tower on West 33rd and 11th Avenue being developed by Related and Mitsui Fudosan, according to DNAInfo. The tower, 55 Hudson Yards, which its architect A. Eugene Kohn described as "extremely rational" is expected to be completed in 2017.
As happening as Hudson Yards may be, a survey of real estate executives says that, unsurprisingly, the best opportunities in coming years will be found in the boroughs, according to Crain's, particularly Brooklyn. As for the overpriced opportunities in Manhattan, they're betting on Upper Manhattan more than Hudson Yards or the High Line, where a parking lot sold for $800 million.
Though Brooklyn may soon go the way of Manhattan: too overpriced for its, or at least, our, own good. The Wall Street Journal reports that Brooklyn Community Services, a non-profit with roots stretching back to the 19th century, to developer Louis Greco. Mr. Greco will replace the 7-story structure at 285 Schermerhorn Street with a 14-story office and condo tower, with Brooklyn Community Services owning its office condo; the financial details of the deal were not disclosed.
Meanwhile, Halstead claims that fears of a super high-end luxury condo glut are very much overblown, Crain's reports, citing the fact that of the 6,500 high-end condos expected to come to market this year, 3,000 of them are already spoken for. But be that as it may, it does not speak to the depth, or lack thereof, of the ultra high-end condo market.
*A previous version of this post said that a violation for the construction death at 130 W. 70th Street was issued for removing the guard rail, in accordance with the DNAInfo report on the death. However, this violation was for a failure to wear safety equipment, according to a representative of the home's owner.