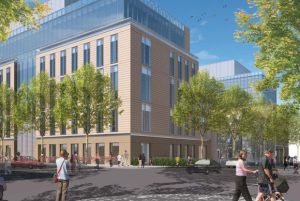 NYCHA policing: the city has reached a tentative settlement in a Bloomberg-era federal class-action lawsuit over police enforcement of trespassing in public housing, which the plaintiffs argued exposes residents to aggressive scrutiny, The New York Times reports. As part of the settlement, the city will need to change the way it polices in public housing, clarifying when trespassing arrests are warranted and when residents talking in hallways, dropping off kids, "lingering" in lobbies or landings as they wait for food delivery and/or engaging in other normal non-criminal activities and should be left alone. (Among the modifications is a lengthy definition of just what constitutes criminal lingering.)
On the topic of legal settlements: Methodist has reached a settlement with the community group that sued to halt the expansion of its Park Slope campus, Crain's reports. The expansion hit a snag after the Board of Standards and Appeals, which had granted approval in the summer, starting reconsidering the variance. The settlement stipulates that Methodist build a squatter outpatient center, form a community advisory group with members of the opposition group and offer more extensive landscaping and traffic management.
Maybe now all those neighborhood activists can work on saving the Old Carriage Inn? The Park Slope dive, the home of Brooklyn's best karaoke nights has been shuttered for non-payment of taxes, allegedly in excess of $100,000, Gothamist reports. The sum is large enough that perhaps the best we can do at this point is to sing a dirge for the Old Carriage Inn and pray not be replaced by just another craft beer bar with a Pandora playlist.
In a city as space-starved as New York, there are more than enough studio-dwellers and clutterbugs to keep professional organizers in business. Crain's reports that with New Yorkers outsourcing more aspects of their lives and the spate of reality TV shows about hoarding, many people feel perfectly comfortable seeking help to purge their possessions. Even if it does cost upwards of $100 per hour.
Space will not be much of an issue for the buyer of the 7,241-square-foot duplex penthouse in the Puck Building (owned by this paper's publisher Jared Kushner), which The Wall Street Journal reports has been listed with Nikki Field of Sotheby's for $66 million, almost $16 million more than the current downtown record set this year by a Walker Tower penthouse. Can 7.5 baths and an outdoor hot tub sell for more than anything ever has before? We'll see…
FC Hanson Office Associates LLC, a company controlled by Forest City Ratner and de Blasio ally Bruce Ratner, is slated to receive $90 million in tax-exempt bonding from the city, and is only one of three for-profit companies to get the break, according to The Wall Street Journal. Issued through the BuildNYC program, the mayor's office griped that "to suggest that politics are at play here is absolutely baseless," though it's unclear how or why Ratner's company, which would use the financing to refinance debt it took on to build a 10-story office building near Barclays Center, was selected for the perk. It is not expected to generate new jobs and will cost the city $911,000 in lost revenue and the state $3.4 million in forgone tax revenue on interest earned by bondholders.
The housing market has more than rebounded in New York City, but nationwide it's a different story; The Times reports that President Obama has a modest proposal to help first-time buyers and minorities: lowering insurance rates on federally issued mortgages. But the problem seems to run far deeper than that: "The younger generation should be surging into the market, bolstering demand, and they're not," a University of Southern California demographer told the Times. "They're underemployed, underpaid, and they have no savings."
Last of all, lock your doors if you don't want people to steal your stuff! DNAInfo reports that burglaries are way up in Williamsburg and Greenpoint and that more than half of those in 2013-2014 were from people leaving their doors and windows open. "It's almost like a dorm atmosphere, where most of the doors are open," griped the precinct's commanding officer at a community board meeting.