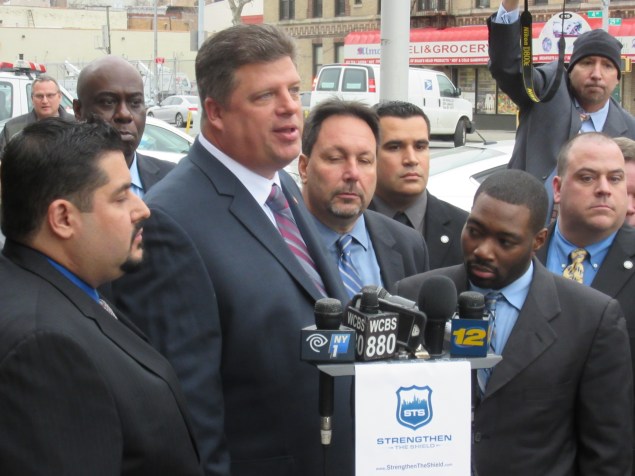 A slate of insurgent Patrolmen's Benevolent Association trustees and delegates—three of them under indictment for their involvement in the 2011 Bronx ticket-fixing scandal—announced their intention to unseat incumbent President Patrick Lynch and his reigning ticket of union officers.
Led by hulking Brooklyn South trustee and Lynch rival Brian Fusco, who is not in any legal trouble, the "Strengthen the Shield" ticket declared their candidacy outside his home base, Brooklyn's 72nd Precinct. Flanking Mr. Fusco were his candidates for Vice President and Second Vice President: Bronx trustees Joseph Anthony and Michael Hernandez—both currently facing criminal charges for helping wipe out traffic and parking tickets for colleagues and their family members. Standing behind him was union delegate Brian McGuckin, seeking a trustee position, who was also indicted in the far-reaching scandal.
Mr. Fusco began the press conference by arguing that the challenge was based on what he claimed were Mr. Lynch's failures to secure a contract from the city since 2010, and to stop former Gov. David Paterson from vetoing a bill that would have allowed new recruits to enter the department under an older, more generous pension plan.
"It's the continuous failures that have been a part of this administration at the New York City Patrolmen's Benevolent Association," said Mr. Fusco, who is not facing any criminal accusations related to the 2011 fiasco. "It's completely unacceptable."
However, outrage over the probe that led to charges against 10 Bronx union officials and the disciplining of more than 600 other officers—and over what they viewed as Mr. Lynch's failure to protect those members—soon boiled over.
"It was an attack on the PBA!" Mr. Fusco angrily declared. "That's a reflection on Patrick Lynch. It was a total failure on his behalf."
Mr. Fusco would not say if he had a back-up plan should the three be convicted before the June election.
"We're very optimistic that these officers were wrongfully accused and it'll be taken care of by then and won't be an issue," he said.
The accused officers echoed their leader's statement.
"Hey, we're innocent till proven guilty," Mr. Anthony said to reporters after the press conference was over.
Mr. Lynch did not remark upon the candidates' indictments in his response, only highlighted his own record while attacking theirs.
"These voices are neither fresh nor do they offer new ideas. These individuals have been coasting as part of the PBA's board for many years and they have brought nothing productive or innovative to the table," he said in a statement. "There is an irony to the lack of originality in their campaign in that they are running on the very issues that my administration has been and is actively pursuing including the restoration of equal disability benefits for officers hired since 2009, restoring staffing levels to Safe Streets/Safe City levels and designating funding for a regular vest renewal program."
"We welcome an open discussion with anyone aspiring to the board of this great union, but we will not tolerate the lies, misinformation and political theater that has been the trademark of their candidacy to date," he continued.
Updated to include comment from Mr. Lynch.