Photographs by Jason Blake 
Shot on location at Beer Culture / Hair and makeup by Anthea King
The inestimable Sir Patrick Stewart draws something of a generational  line in the sand. The actor's a litmus test (like Bill Murray) for where someone is at in this cultural moment. For instance, if you say, "Patrick Stewart" to someone and Star Trek comes to mind, they are usually over 30. X-Men's Professor Charles Xavier is for hipsters and the millennial set. (Those elders who would recall I, Claudius or his 15 years in the Royal Shakespeare Company, I wouldn't likely be talking to.) And if they refer to him as "Ian McKellen's BFFFFFFF Forever," then the person in question probably works at Buzzfeed, where stories and photos of the two British thespians' bromance are lumped into viral posts with headlines like "Patrick Stewart And Ian McKellen's Friendship Is Better Than Yours."
And in my circle of contacts, it seems, there are those who may not even know who Patrick Stewart is. "One person on Facebook said I should tell you 'Live long and prosper, Mr. Spock,' " I admitted, sitting down to meet the actor, ashamed that I know someone who could confuse Star Trek: The Next Generation with the original series, or the man in front of me with Leonard Nimoy.
"That's really dismaying," Sir Patrick chuckled, with the same impish delight you might imagine him having. "I had a guy recently come up to me and say, 'I know you. You played Mr. Spock in Star Wars!' "
Sir Patrick Stewart has leaned forward now. "There was one word in that sentence that was accurate," he said. "The word Star. Everything else was wrong."
We are sitting in a sterile conference room at AMC's New York headquarters near the Empire State building, less than a week before the actor moves to Los Angeles to film a new project. We are there ostensibly to talk about Sir Patrick's latest role in Match, an indie comedy opening on January 14 in limited release, and also about the upcoming sitcom gig (!) for Starz that's luring him West. But before we even get to that: I have brought pizza.
Sir Patrick Stewart picked up his slice of gooey, half-cold pizza and looked at it. Then at me. "No one has ever brought me pizza before. Especially a … well, you know … a journalist." Then, "You know what, I'm going to take a bite of this," said the 74-year-old actor and Officer of the Most Excellent Order of the British Empire, gamely. "Thank you so much."
Sir Patrick—and really, the tongue has no way of making that prefix not sound awkward—smiled as he took a few pointedly small bites before putting the slice down and addressing the real issue at hand. "Nope, didn't happen," he said firmly. "A lot of people got it wrong."
We are talking about the Pizza-Gate controversy of 2013, when Sir Patrick posted a photo on Twitter of himself with a piece of pie: "My first ever pizza 'slice'. Please note: the authentic NY fold." Before you could say, "Make it so," the Internet—along with reputable news outlets—went full #FactCheck with an air of incredulity. Many noted that the knighted actor (@SirPatStew, 1.63 million followers) had lived in Park Slope since 2012, where pizza slices were as bountiful as baby strollers. (Another thing Sir Patrick avoids, but more on that in a moment.)
"They thought I was saying that I'd never eaten pizza before," the actor clarified. "It was more that I didn't understand the concept of the slice itself." This is, immediately, the best thing that any famous person has said about pizza as an abstract concept.
It's the rare actor who can make the leap at 60 years old from one insanely famous and successful sci-fi franchise to another; it's a unique one who can then try, or even wants to, a decade later, to be funny full-time.
In Match, which premiered at the Tribeca Film Festival last year, Sir Patrick stars as a gay Juilliard dance instructor being interviewed by a nosy couple, played by Matthew Lillard and Carla Gugino, as part of a dissertation on dance (although other motives eventually emerge). There's no trace of Picard or Professor Xavier in dancer Tobi Powell, whose apartment/realm includes more knitting than aliens or mutants. Asked how he identified with the character, Sir Patrick relayed an old story about playing Laertes, the friend-yet-murderer of Hamlet, for Ronald Eyre. It was a role he originally didn't want to take because of the "beastliness" of the character, but was persuaded to by the famed director and psychologist. "I learned that no matter how extreme a character, maybe not all of him but aspects of him, are already alive inside one."
"As for Tobi," he continued, "there's a man who is in love with his work. Well, I know how that feels! In love to such a degree that it excludes other things in his life. Well, I know how that feels! A man who had lived very fully. Same here! A man who is afraid. A man who is getting old. A man who didn't know what lay ahead, and who is lonely. All of these things exist in all of us at any time. But one of the advantages of getting older is that your bank account of experiences just keeps getting bigger and bigger. It's just stuffed full, waiting to be tapped."
Nor is Patrick Stewart done tapping his experiential bank account for its dollars: In the upcoming thriller Green Room by Jeremy Saulnier (of last year's exquisite Blue Ruin), out later this year, he'll be starring as the leader of a Neo-Nazi gang. "It scared the wits out of me, reading it," Sir Patrick said. "I was alone in my country house in England." (Of course he has a country house in England.) "And thinking, 'Oh my God, Oh my God.' I was stopping and pouring myself a large whiskey and soda. It was a wonderful experience."
The fact the Green Room's posters show Sir Patrick wearing a hat and a scowl very reminiscent to another pop culture icon is, according to him, pure coincidence. "When I first tweeted a photo of me and my gang, I'd say 60 percent of the reactions of my responses were, 'Oh my God, it's Walter White!' " said Sir Patrick, who has seen the first season of Breaking Bad, so he at least understands the reference.
Of his most famous medium, television's Captain Picard has this early memory: "Here's what someone said to me right after I arrived in Hollywood," Sir Patrick revealed. "They said: 'Here's the thing you need to understand. People do theater here because they can't get into television and film. People do television because they can't get into films.' So the whole objective is film, film, film. And I had never understood that there was a hierarchy. I came from a land of hierarchy. I had grown up surrounded by status symbols, success symbols. It was dismaying to me landing in Hollywood that I had landed in such a rigid, hierarchical profession."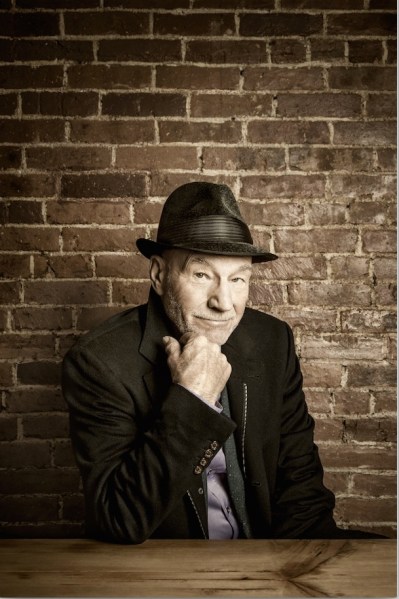 But "I did not see my life being governed by serious TV." And he certainly got his way, not only because the STNG characters made the leap to four successful films but because Sir Patrick is just beginning Blunt Talk. A new comedy series produced by Family Guy's Seth MacFarlane and written by Jonathan Ames, of HBO's Bored to Death, it was picked up for an unprecedented 20-episode order by Starz. (The network is better known for dramas: Outlander, Power, Black Sails, Boss and Magic City.) In it, Sir Patrick plays a British newscaster who moves to America to spread his own brand of unctuous talk show fervor. Imagine Piers Morgan taking over for Will McAvoy on The Newsroom, and you'll be headed in the right direction.
Asked what motivated him to accept this role, Sir Patrick's answer is somewhat perplexing. Apparently, the only place where this man has not gone before is … into making people laugh.
"Many, many years ago, one of my heroes was the stage actor, Sir Laurence Olivier. I heard him giving an interview once, and he said, 'Oh, it's wonderful. To feel an audience roar with emotions … with horror or terror or empathy. It's thrilling to have that power over an audience. But! Making them laugh is the best thing in the world.' "
"I thought what? SIR Laurence Olivier, talking about laughs? But he's right of course. Over the years, as I've been lucky enough to arrive at some bits of comedy, it's given me so much pleasure. And then I began trying to actively look it out."
Sir Patrick found a few ways to showcase his lighthearted sensibilities: as a gay opera director, chatting with Placido and dancing elegantly with Kelsey Grammer, on a memorable episode of Frasier (told by the radio shrink that he's not gay, Sir Patrick's character temptingly asks: "Would three weeks on Capri in Bertolucci's villa change your mind?"); a pre-Star Trek role as one of the mechanicals in the famed Peter Brooks rendition of A Midsummer's Night Dream in 1970 (commonly referred to as The White Box Dream); and, somewhat surprisingly, various voice-over roles in Mr. MacFarlane's animated series, American Dad and Family Guy.
One of the actor's biggest regrets is that he never tried his hand at stand-up comedy during the years he was doing Star Trek. "If only I had been more confident," he sighed. "Back when stand-up wasn't a particularly big thing, the way it is now." Though he might be selling himself a bit short: my two personal favorite roles include him on Saturday Night Live as a baker selling slightly-off erotic cakes, and when he played himself in an episode of Extras, trying to sell Ricky Gervais on his movie idea where he had the powers of Professor X, but only uses his abilities to catch women in various states of undress. "And before they can get their clothes back on, I've seen everything," he purrs with an aristocratic lasciviousness, as only Sir Patrick Stewart can. "I've seen it all."
[youtube https://www.youtube.com/watch?v=Fg_cwI1Xj4M]
But instead of touring the two-drink-minimum clubs, Sir Patrick spent his weekends off from shooting Star Trek writing one-man shows, that he would then take on the road and perform in church basements, community centers and universities. Though the plays ranged in themes—one he titled, Uneasy Lies the Head and focused on the powerful figures he'd played, one was an adaptation of the Arthurian Legend, a third was a dramatic reading of A Christmas Carol that would eventually land him an annual solo gig on Broadway at the Eugene O'Neil Theater—he confessed his motivation was simply to prove that he wasn't Captain Picard in his spare time. "I was fighting off the panic that this was my life and it was never going to change. That this was TV."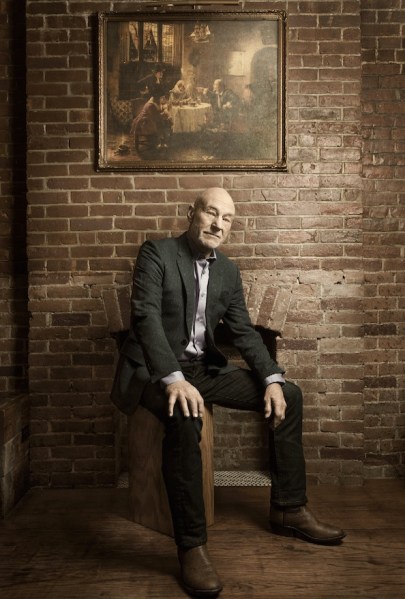 It's unsurprising then, that the actor is still fighting off what he considers institutional repressions, including the Park Slope food co-op—"There were too many rules. It would be like going back to school"—and the neighborhood's baby boom mentality. He has written to Mayor de Blasio (of whom he is a "big fan," for the record) for a proposed bill that would create specific lanes for strollers. "But they will be on the OUTSIDE of the bike lanes," he clarifies. "So you will have traffic, stroller lanes, bike lanes, sidewalk." Sir Patrick has raised this issue before, and to his acting credit (or maybe his burgeoning comic sensibilities,) we're still not sure how seriously to take him.
The pizza is now ice-cold, and soggy, the talk winding down. So, in conclusion, does Sir Patrick Stewart have any tips on how to become a meme sensation like he and Sir McKellan? While he deferred to his wife, Sunny Ozell, on all matters social media, he did leave us with some ground rules. "Never tweet when you've been drinking alcohol. If you're not sure about something, sleep on it. The next morning, we say 'no.' "
Selfies with pizza-toting journalists, we would add, are also a good idea.