When Rick Ross went looking for a go-to bottle of rosé (i.e. Rosay), he had the good sense to settle on Luc Belaire, which is owned by Sovereign Brands, the company that once controlled Jay-Z's reputed favorite Champagne, Armand de Brignac. (Jay-Z acquired Armand de Brignac in November, while Mr. Ross' enthusiasm for Luc Belaire is such that he launched a bubbly fan club, known as "Black Bottle Boys," for the pink wine, driving it to the top of the most-searched-for list at Wine-Searcher.com.) And when the CEO of Sovereign Brands, Brett Berish, and his wife, Alana, went shopping for a new apartment, he had similarly good sense to have a look at 383 West Broadway, where a $26.58 million penthouse narrowly missed a downtown record in April.
Of course, charming as he is, Mr. Ross is no Jay-Z. And Mr. and Ms. Berish are no record-snatchers. But they've done alright, closing on a $7.2 million co-op of their own in the building, according to city records.
The sellers, James and Erika O'Brien are rather on the opposite end of the self-aggrandizement scale from Jay-Z and co. Though that did not prevent them, it seems, from having quite a grand co-op. It's a 5,500 square-foot, full-floor place with a keyed elevator and a massive open living and dining space, according to the listing held by Tanner Garland, of Stribling.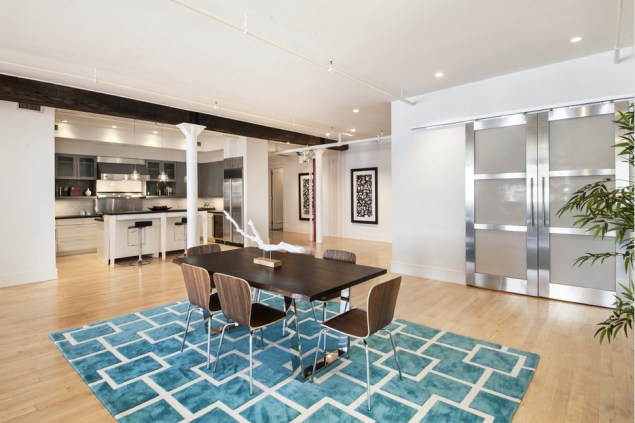 About the suggestion that the "sensational living area puts the great in great room," we have some doubt, mostly because it's perfectly ridiculous. However, we grant the room is lovely, with tall, cast-iron columns, a long line of windows and wooden ceiling beams delineating the point at which the loft transitions to the cooking area. Walls are white and expansive, well-suited to hanging art, of which the former owners appear to have a good deal of the modern variety.
There's also a media room, on the off chance that Mr. Ross stops by to bump Ciroc and Rose.