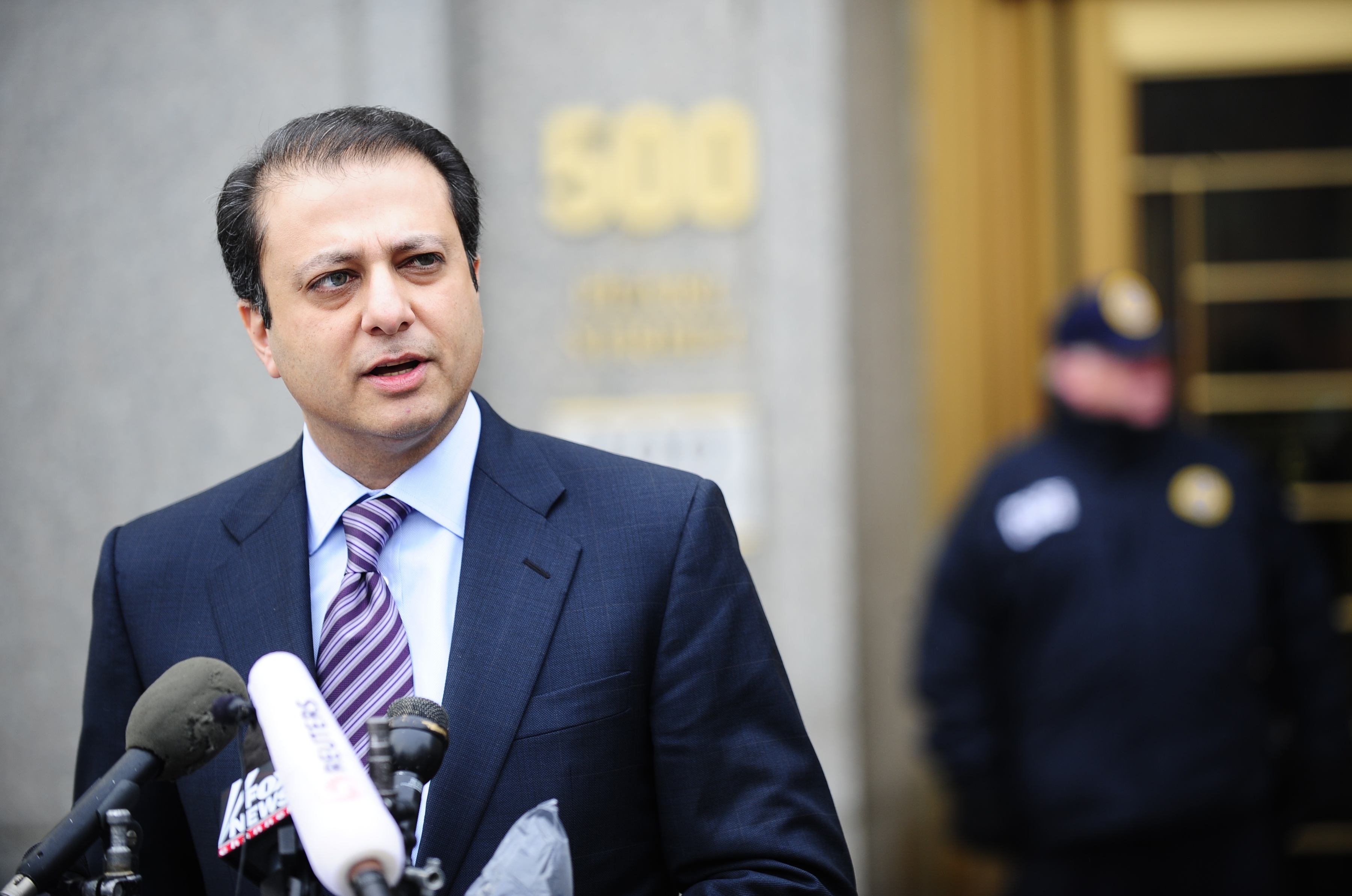 A day after Gov. Andrew Cuomo argued that it was for the best his corruption-busting Moreland Commission disbanded and turned its work over, U.S. Attorney Preet Bharara essentially agreed—saying the work was best left up to him.
"I tend to think not just for parochial reasons and local pride reasons, that the best ability to do public corruption prosecutions in particular, and I think a lot of cases in general, is a U.S. attorney's office—and particularly the Southern District of New York," Mr. Bharara told the crowd at a New York Law School breakfast this morning. "We have a well-deserved reputation for independence. The nickname of our office—some people think it's pejorative, I tend to think not—is the Sovereign District of New York."
Mr. Bharara gave a speech and took questions at the breakfast a day after he rolled out a bombshell 5-count criminal complaint against powerful Democratic Assembly Speaker Sheldon Silver, accusing the lawmaker of disguising millions in bribes and kickbacks as legitimate income from law firms for whom he did no work.
The 35-page complaint repeatedly refers to documents unearthed by the Moreland Commission, which was created by Gov. Andrew Cuomo to root out similar corruption. But the governor shut the commission down abruptly, saying its work was done when lawmakers agreed to ethics reforms. Mr. Bharara didn't quite agree—he stepped in to take over the commission's files and follow its leads, and is said to be investigating why it was shuttered.
Yesterday, Mr. Cuomo told the Daily News that the charges against Mr. Silver "vindicates what happened" with the commission. The Legislature had delayed the investigation with legal challenges to subpoenas, he said—but the U.S. Attorney's office was able to take the information and forge ahead.
Though he essentially agreed his office was better equipped for the case, Mr. Bharara wasn't without a criticism for the governor and his commission.
"I don't know who you're talking about," Mr. Bharara joked when asked obliquely about people who said the commission helped him make the case. "I'm very confused about the Moreland Commission, as I think a lot of people are. And various people have, I think over time, I'll put this delicately: have given maybe 18 or 19 different explanations depending on the time as to what its powers were, what its level of independence was or should be," Mr. Bharara continued, a clear reference to Mr. Cuomo's various explanations.
But the U.S. attorney said he was done analyzing what happened to the commission, and paraphrased a line from the film The Departed in describing his office: "We're the guys who do our jobs." (Though he referenced the entire line earlier, in this reference the rest of the film's famous line was left unsaid: "You must be the other guy.")
The Moreland Commission was chaired by a district attorney, and Mr. Bharara noted they are elected, unlike U.S. Attorneys, who are appointed by the president. Nonetheless, he noted he's often been accused of going after people based on their political affiliation or race.
"It seems to me over time, if you over and over and over again if you take the tough and right position, no matter who the person is, people understand that you're independent. We don't have to be elected. We don't have to curry favor with anybody," he said. "I think there are very, very good prosecutors who are elected, but the structure of the situation for us tends to be I think favorable to bringing tough and hard prosecutions."
Will Bredderman contributed reporting.