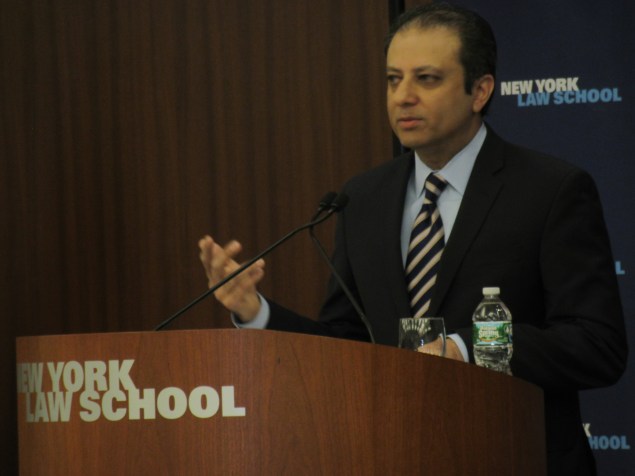 U.S. Attorney Preet Bharara today lashed out at the notorious "three men in a room" arrangement that controls New York State government, claiming it is to blame for Albany becoming a "cauldron of corruption"—and for the alleged crimes that led to Assembly Speaker Sheldon Silver's arrest yesterday.
Speaking to an overflow crowd at New York Law School, Mr. Bharara dismissed the accusations that it was "business as usual" for Mr. Silver to receive millions in kickbacks from law firms in exchange for directing clients with relationships with the state their way. He claimed the core of the problem is the tripartite powers of the the speaker, the governor and the State Senate majority leader, which control almost every aspect of New York State government.
"Allow me the indulgence of speaking a little more as a citizen than as a prosecutor," he said. "It's the concentration of power. Power in New York State, as far as anyone can tell, is concentrated in the hands of just a few men—some would say, just three men."
Mr. Bharara noted that there are 213 state legislators and nearly 20 million people in New York State, and suggested that an essentially triune government represents an imbalance.
"I have a little bit of a hard time getting my head around this concept of three men in a room," he said, jokingly alluding to his own outsider roots as a man born in the Punjab and reared in New Jersey. "Maybe it's just me. I'm an immigrant from India, which is overpopulated, so for me, it's like a billion men in a room."
He then launched into a series of withering questions to highlight what he indicated was the inherent narrowness and seediness of such a situation.
"Why three men? Can there be a woman? Do they always have to be white? How small is the room that they can only fit three men? Is it three men in a closet? Are there cigars? Can they have Cuban cigars now? After a while, doesn't it get a little gamey in that room?" he asked rhetorically.
Mr. Bharara also criticized how elements of the media and political establishment seem to have accepted and embraced the notion of a government by three men—and threw an apparent jab at Gov. Andrew Cuomo, who jokingly referred to himself, Mr. Silver and Senate Majority Leader Dean Skelos as "the Three Amigos" in his State of the State address earlier this week.
"It's weird to me, a little bit, that officials and writers joke about it good-naturedly, like they're talking nostalgically about an old sitcom: coming up after 'Happy Days,' it's 'Three Men in a Room,'" he said, to laughter and applause. "Or like it's a hijinks comic movie involving a baby, with Ted Danson and Tom Selleck and Steve Gutenberg changing diapers. Or maybe, I don't know, the 'Three Amigos.'"
He asserted that the system, ultimately, is nonetheless no laughing matter. Mr. Bharara argued the current structure discourages well-meaning people from running for office, and encourages corruption. He alluded to Mr. Silver's notoriously rigid approach to his role.
"You get swept up in the power and the trappings, because you were never challenged, and because you can easily forget who put you there in the first place. And so I ask again, what kind of a system is that?" he said.
The prosecutor went on to encourage everyday New Yorkers to fight for reform.
"The people of New York should be disappointed. They should be really disappointed. They should maybe be angry. When so many of their leaders can be bought for a few thousand dollars, they should maybe be angry," he said. "Money is often the core of the problem."
Former Mayor David Dinkins, former mayoral candidate Joseph Lhota and former Bronx Assemblyman Michael Benjamin were among a number of political figures in the audience, which Mr. Bharara alluded to in jest.
"I see there are a number of elected officials here. And after yesterday I guess I have two theories as to why that might be. One might be that you knew I was taking attendance. And the other is that there are a lot of folks now looking for immunity," he said
Mr. Silver is the largest target Mr. Bharara has attempted to take down. His record, however, includes the indictment of former State Senator Malcolm Smith and the conviction of former Councilman Dan Halloran for an alleged scheme to bribe Mr. Smith's way onto the 2013 ballot for mayor.
The U.S. Attorney and former aide to Senator Charles Schumer is a rumored potential future candidate for governor, though he has denied any such ambitions.