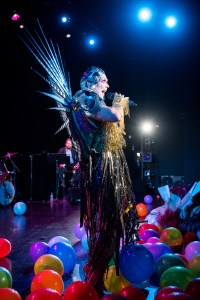 This month, the Public Theater's Under the Radar Festival has brought international theatre artists together from seven countries. A look at three we saw:
Taylor Mac, who uses song and drag as his versions of sturm und drang, is presenting three-hour slices of his evolving and involving history of 240 years of American song. The tranche we saw focused on 1900-1920 Next week, he assays 1930 through 1950 and then on January 25th will do both those sections together in a six-hour chunk.
In A 24-Decade History of Popular Music: 1900-1950s, Mac' s intention is to narrate United States history through a gender-variant lens. Sounds heady, but Mac's winning personality, goofy theatrical stunts and vocal chops make it work.
Although he seemed nervous for the first two hours of the evening, he made clear that comfort wasn't particularly a goal of his, for himself or the audience. He's not an abrasive presence at all, but it felt a little like preaching to the perverted until his renditions of the Irish folk dirge "Danny Boy," Ivor Novello's 1914 WWI anthem "Keep The Home Fires Burning" and, his last number, a wry, moving take on the folk standard "Big Rock Candy Mountain".
The band backing him up, led from the piano by Music Director Matt Ray, sounded terrific, particularly Greg Glassman's Eastern European-inflected trumpet, and Yair Evnine on electric guitar and cello. Amber Gray provided tight backing vocals.
With all the sparkle and wit, particularly evident in Machine Dazzle's spectacularly silly costumes, Mac proves he's got a voice and a heart the size of Manhattan, to match his outsized agenda.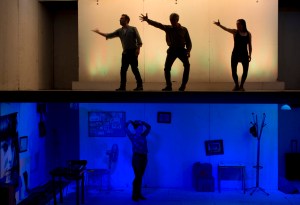 In Argentine writer and director Mariano Pensotti's Cineastas, which finished a limited run, four obsessed filmmakers in Buenos Aires occupy the bottom half of a two-tiered set. The lower half shows the dogged filmmakers struggling to manage the intersections between their cinematic visions and their complex personal lives. The top half of the set shows "scenes" from the films they are making in progress, as they shift and evolve. The whole time these eight stories are playing out, our attention flips from top set to bottom set, from the filmmakers to their fictions. The five actors themselves, indefatigable and expressive, shift in and out of roles and also take turns grabbing a handheld microphone and "narrating" the action, as in a voice over.
Cineastas is a serious and often engaging work, but tracking the stories becomes exhausting, as does watching the the actors rush on and off, up and down the set that comes to feel like a hamster Habitrail.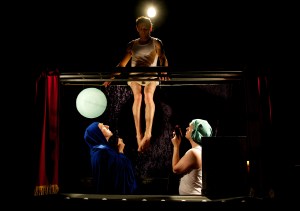 Also clocking in at about 100 minutes was The Cardinals, presented by the Birmingham, England theatre collective, Stans Cafe. It runs through January 18th. The conceit is of three Catholic Cardinals, (Gerald Bell, Graeme Rose and Craig Stephens), presenting a silent puppet-theatre version of Bible stories, decidedly from their own perspective. A little gold fringed curtain sits center stage with all the surrounding backstage theatrical accoutrement in plain view: tables filled with props, racks of costumes, even a harried hijab-wearing Muslim stage manager (Rochi Rampal). In stroll the three Cardinals, wearing both zucchetti and galari, (the scarlet skullcaps and broad brimmed hats worn over that).
We then get both the front of house and backstage viewpoint on their breathless romp through Church history, all leading up to a rather apocalyptic version of current times, complete with a plane exploding from the sky and a suicide bomber detonating bombs lashed to his chest. Although it ends on a darkly chilling note, most of the piece plays out as slapstick: wordless, hectic, and often quite funny. The guys are great clowns and the hajib-ed Rampal a deadpan foil to their mugging. The Cardinals is a balletically graceful exercise in religious satire in a silly Pythonesque mode. But it goes on and on. We were interested in the world they had created, but it became static.