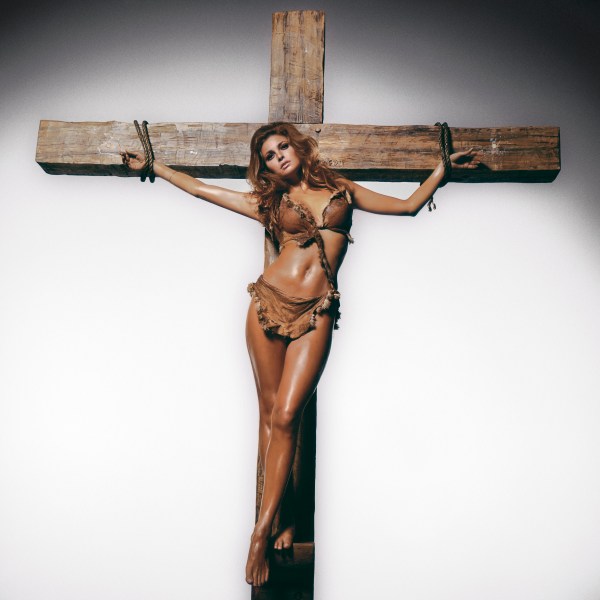 BIG is a new exhibition of groundbreaking images by photographer, Terry O'Neill. Famous, or perhaps maybe not that famous for some of the world's most legendary celebrity photographs, Mr. O'Neill's work constantly smashed through style, taste and decorum barriers from the mid 1960s onwards. Married to Faye Dunaway, it was he who shot her the morning after the Oscars, by the pool at the Beverly Hilton Hotel in 1977, tousled head in hand. BIG, features blown up photographs by Mr. O'Neill, ranging from 6′ x 6′ to 9′ x 6′ works of Mick Jagger, Audrey Hepburn, Frank Sinatra and Ms. Welch to name a tiny few. Of the image of Ms. Welch, he said "It came about because one day she complained to me that she was "being crucified" by feminists for her sex symbol status. They accused her of demeaning women (by) wearing bikinis like that from One Million Years B.C. I thought 'that's the shot I need' and had a set built at 20th Century Fox Studios where she was filming another movie. She went along with it willingly but I lost my nerve and never published the picture until I found it in my archive 30 years later. Even today it makes people angry. They regard it as blasphemous."
Mr O'Neill shared some thoughts with the Observer before BIG hits the road.
Access to stars today is so crazily controlled, do you think the lack of spontaneity is very obvious in modern portraits and fashion photography?
I gave up photography because photographers no longer have any freedom or control. If you are hired or want to photograph anyone famous you are employed as a technician. Managers, publicity people, agents control what you do, own what you produce, then hand it over to people at keyboards who enhance and manipulate. Photography has become a tool of brand management.
Maybe a bad photograph can cost them (the model or celebrity) a movie or a job. But a great photographer can get them the job. But not when every image everyone sees has had 18 hours of Photoshop– actresses in particular, as they get older they get more concerned, more anxious, more fearful about their appearance. A good photographer has to put them at ease and earn their trust. But now of course their managers simply hand the digital files over to someone who uses a computer to make them leaner, cleaner, more toned. I know of one very famous supermodel who has to have hours of computer work before she's fit for a cover.
The interesting thing about beautiful women, the stars we all adore and find alluring is this: they don't think they are beautiful, they don't feel beautiful, a great photograph is re-assuring but they never see themselves as they are portrayed. The most beautiful women I've ever photographed were insecure, many of them just ordinary girls behind the masks.
But I was lucky. As a photographer I built a rapport and trust and invariably their natural allure shone through.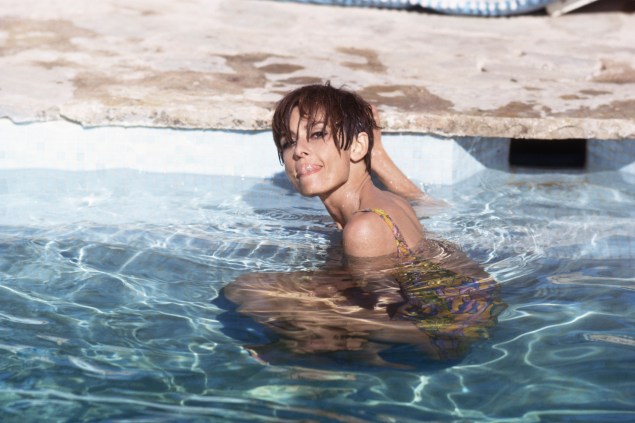 Did you prefer studio or location shoots?
Either. I cut my teeth doing reportage with 35mm out on the streets with the Stones or the Beatles and on film sets too, looking to capture that instant, a magical moment that told a story. But if you're photographing a celebrity you need to be in a studio, to have control of the environment and the lighting – just as long as there's not a gang of technicians, managers and assistants huddled around a video screen inspecting what you're doing. It always ends up with the subject dashing over to see how the work is progressing. It's like design by committee – it never works. And in photography it breaks down that important relationship between the photographer and his subject. It becomes an intimate trusting relationship very quickly and that's when you get your best, freshest and most interesting shots.
Are people more easily shocked now or less than they were in the 1960s, has social media made us all into mini Mary Whitehouses (a British advocate for staunch, conservative moral standards) ?
It's interesting but I think people are increasingly immune to celebrities behaving badly – and yet they are heavily opposed to seeing the world as it really is. 30 or 40 years ago newspapers and magazines were happy to show photo-journalists' work but now the media is heavily censoring images of war, pestilence and disease because parents are increasingly afraid and protective for their children. It means the media has less power to influence public opinion.
It seems easier to fabricate prettiness in women now, has true beauty been lost?
Real beauty shines through naturally. Surprisingly there are women you wouldn't look twice at in the street but whose skin and bone structure makes them totally alluring – and others who capture your imagination in the flesh but somehow lose that on camera. But that's part of the art of photography – to delve behind a mask and find the real person, the real face and capture it truthfully and there's beauty in that.
What has been the most fun aspect of your career?
I look back on my life and I pinch myself. I have been very lucky to be in the right place at the right time with a camera, and I guess I was able to earn trust. Not even Frank Sinatra ever stopped me taking a picture, in private or public. I have met some incredible people. The Beatles and Stones were pals – we virtually grew up together in Swinging London and learned as we went along. I was suddenly being invited onto the film sets of the most beautiful women in the world, from Bardot to Elizabeth Taylor. Rock bands and musicians let me go backstage – in the days when photographers weren't allowed. One minute I'd be on the set of a Bond movie, the next I'd be at a Hollywood studio hanging out with the biggest stars in the world– and many of them became really good friends – like Raquel. And of course I married one – Faye Dunaway, but that's another story.
What do you think imbues a man with style and who would you say of all the guys you have shot, has great style.
You can't define or quantify style – you either have it or you don''t. Keith Richards way back in the 60s was just naturally COOL. He almost invented it. Sinatra had it – and when he walked into a room you felt his presence before you saw him.
If you have try try and look stylish or cool you just end up looking like a mannequin. Taste can be acquired, learned but cool, style, that's in your DNA. Audrey Hepburn had both – she just knew that she could better the wardrobe mistresses of Hollywood when she chose Givenchy for Breakfast at Tiffany's.
For guys it's never what they wear – it hardly matters. They're either cool or they're not.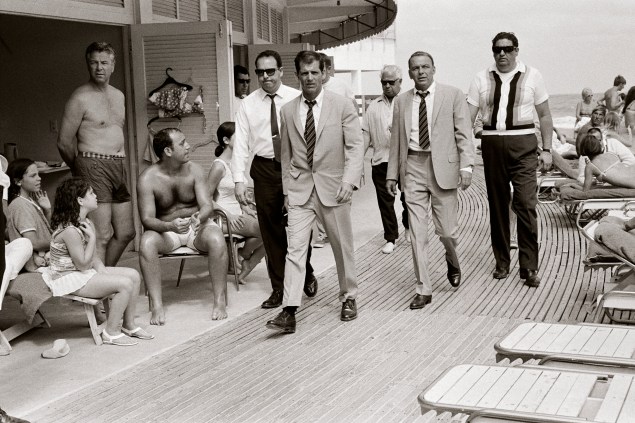 BIG is currently on view in Miami until Feb 15th. Further venues are TBC.