Sotheby's has announced that the top lot in its highly anticipated February 10 London Contemporary Art Evening sale will be Francis Bacon's Two Studies for Self-Portrait (1977), one of only three rare diptychs he painted following the death of one of his most famous subjects, his partner George Dyer. It is the only double self-portrait of the three to be previously be sold at auction, the other two remain in private collections. Originally valued between £300,000 and £400,000 when it was offered at Sotheby's London Contemporary Art sale in 1993, it was bought by its current owner—a British collector—for £353,500. The work is now valued between £13 and £18 million.
The painting not only presents a dark, tumultuous subject, it stands apart from its siblings because of its distinctly dark palette. The other two feature pink and blue backgrounds, respectively. "Sequentially, it's the very last of the three," Sotheby's deputy chairman, Europe Oliver Barker told the Observer. "But this one is by far the most intricate, delicate, and impactful," he said. It has been shown publicly at exhibitions in Tokyo and London, and was loaned for a short time to a Swiss collector.
Two Studies for Self Portrait was completed after the artist's career retrospective exhibition at Paris' Grand Palais in 1971. "He painted it at the absolute commercial high point of his career," Mr. Barker said. It was a tremendous moment for Bacon professionally. He noted that, "He measured himself against French culture—he wanted to be a part of it."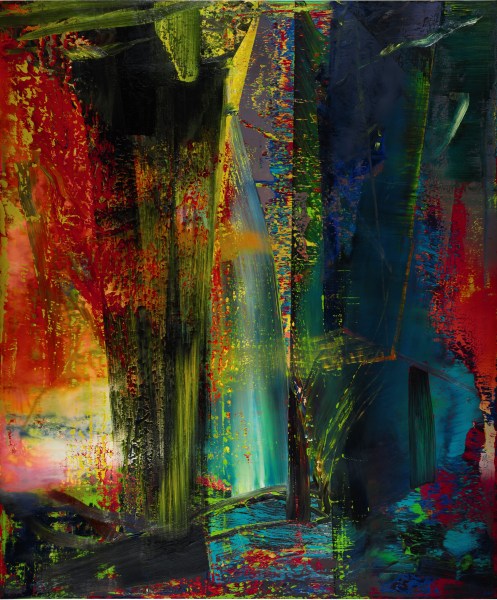 But it was also a deeply dark period in Bacon's personal life. Two days before the Grand Palais show, George Dyer committed suicide, pushing the artist into an intense period of introspection where he reflected on the many deaths that affected him in a short span of time: his friend John Minton in 1957, previous partner Peter Lacy in 1962, and his mother Winnie Bacon, also in 1971. And like Rembrandt and Picasso before him (artists he frequently referenced in his work), self-portraits became a significant part of his oeuvre, and some of his most sought after works. Sotheby's previously sold two such examples, a 1978 self-portrait estimated between £8 and £12 million, sold for £21.6 million in 2007, and one from 1969, sold for $33.1 million that same year.
But what accounts for this work's sky-high price today, compared with first time Two Studies hit the auction block? "Bacon has become a commercially and historically reassessed over the last 10 years," said Mr. Barker. A recent appreciation for Bacon came to a head when Three Studies for Lucien Freud (1969) sold for $142.4 million at Christie's Postwar and Contemporary Art Evening sale in November 2013. The painting shattered records, becoming the most expensive artwork ever sold at auction. And the triptych wasn't a fluke. In February 2014 Christie's broke another record with George Dyer Talking (1966) when it sold for £42.2 million ($70 million).
The painting is the premier highlight of the February 10 sale, and it'll grace the cover of the auction's catalogue. Only one other work in the sale stands comparable in price, a 1986 oil painting Gerhard Richter, titled Abstraktes Bild. Two Studies for Self Portrait is currently on view at Sotheby's in New York before it travels to London at the beginning of next month for the sale.