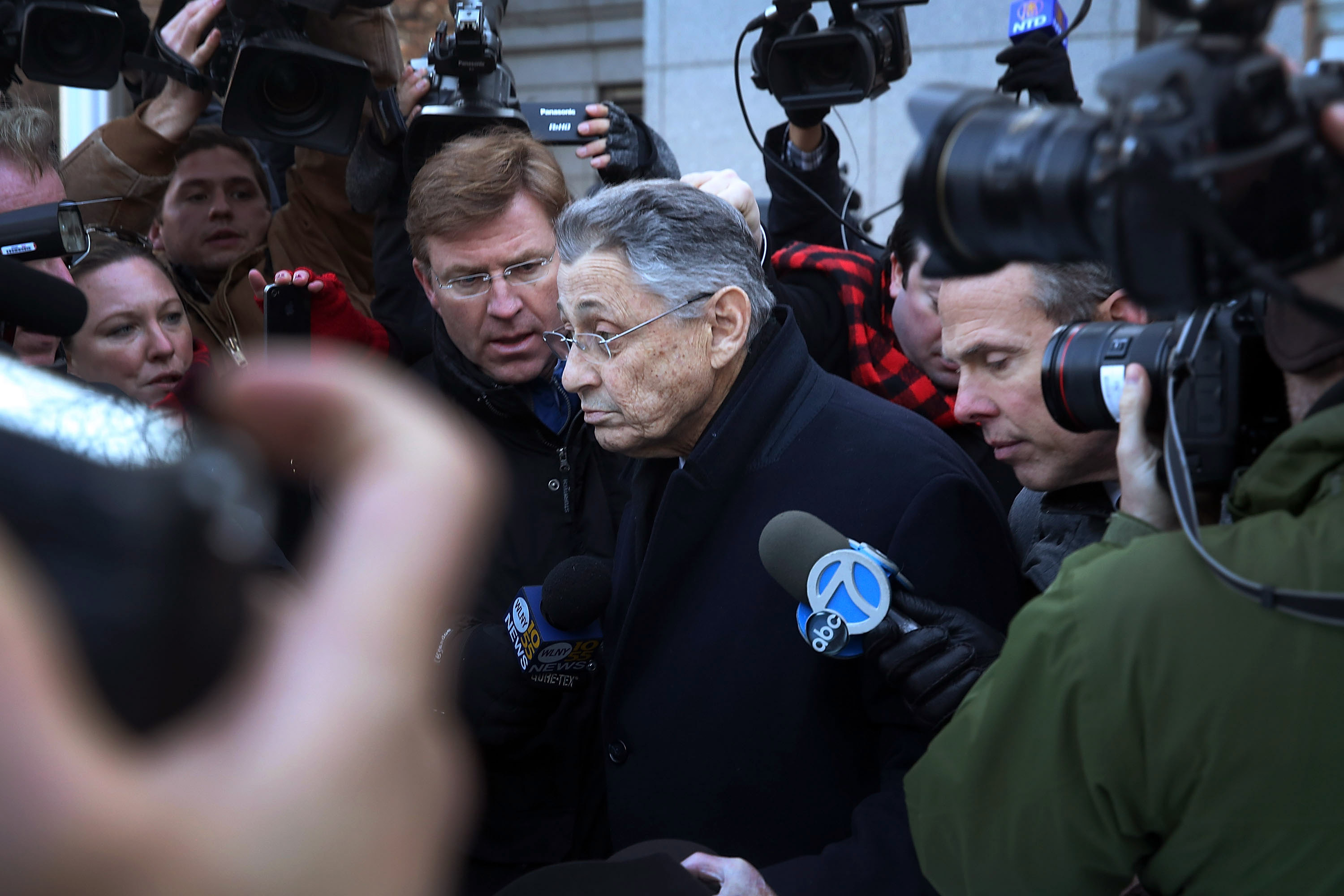 Democratic Assembly Speaker Sheldon Silver was released this afternoon on a $200,000 bond after being arrested for wire fraud, mail fraud and extortion—and told reporters outside a federal courthouse he would be vindicated.
"I am happy the issue is coming to be aired in a legal process," Mr. Silver said in a brief statement from a podium before dozens of reporters. "I am confident that when all the issues are aired I will be vindicated."
The remarks came immediately after a court hearing and shortly after U.S. Attorney Preet Bharara held a press conference outlining the 35-page, 5-count complaint his office had filed against Mr. Silver, one of the most powerful men in state government.
Mr. Silver stands accused of two schemes in which Mr. Bharara alleges he used his position as Assembly speaker to rake in more than $6 million, which he presented as legitimately earned income for representing or referring clients in real estate or asbestos legal dealings.
After his short statement outside the courthouse, the 70-year-old lawmaker and his attorneys headed for a waiting SUV, pushing through a mob of media and television cameras. Reporters crowded him, asking again what he had to say about the charges against him.
"When they're aired I will be vindicated," Mr. Silver repeated.
As reporters pressed further, asking whether he would resign, Mr. Silver's lawyers kept pushing through the crowd with the speaker as he was jostled by photographers and reporters. Finally, they made their way into the SUV and drove away from the crowd.
Inside the courtroom, Mr. Silver said even less during his short appearance before Chief U.S. Magistrate Judge Frank Maas. He uttered a single word, when asked if he understood the terms of his release on bail: "Yes."
Mr. Silver was released on a $200,000 personal recognizance bond, which will be co-signed by two other people. Mr. Silver surrendered his passport, and his travel is restricted to the continental United States with advance notice required for trips anywhere other than in New York, New Jersey and Washington, D.C.
Dressed in a dark gray suit with pinstripes, Mr. Silver no longer wore the hat that was perched atop his head when he was photographed this morning, his hands cuffed behind his back, belted into the backseat of a car next to a federal officer. He later held the hat in his hand as he walked out of the courthouse.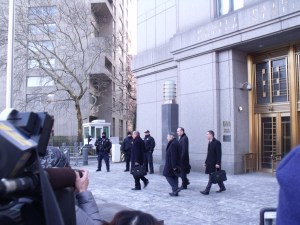 The courtroom was packed full of reporters, and a front row was full of sketch artists drawing pictures of Mr. Silver's brief appearance in federal court, where cameras are not allowed.
At one point, as the judge considered the bail agreement put forward by the government and Mr. Silver, he whispered to his attorneys, cracking a small smile.
The government also asked that Mr. Silver be subject to "regular pre-trial supervision." Mr. Silver's attorney, Joel Cohen, argued that was unnecessary considering Mr. Silver's prominent stature in the community.
"That's probably overkill," Judge Maas said of the request for supervision, "so I'm going to decline that."
Mr. Silver's next appearance in the court was set for February 23.