When Galerie St. Etienne opened in New York in 1939, paintings by Gustav Klimt and Egon Schiele were lucky to bring a few hundred dollars, when they sold at all, to the few people who knew those artists.
It wasn't an easy time to sell brazen nudes (some of them stroking themselves) and brooding cadaverous youths by artists with German-sounding names.
Today, their works can sell for eight figures at auction, and Galerie St. Etienne is still in business, and still on 57th Street.
Last night, friends of the gallery crowded its eighth floor space between 5th and 6th Avenues to view the anniversary show, "Alternate Histories," and to hear about what changed and what stayed the same.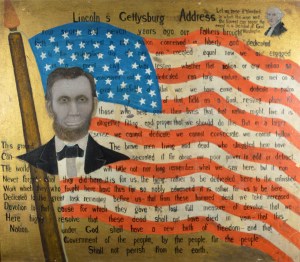 What stayed the same, said Jane Kallir, are many of the artists exhibited (and sold) by her grandfather, Otto Kallir, since 1939. There is Schiele, whose catalog raisonné was first compiled by Kallir, and continued by his grand-daughter, who started there in 1977. Also on the walls were works by Klimt, Oskar Kokoschka, Alfred Kubin and Kathe Kollwitz. The show wasn't big enough to accommodate George Grosz, another mainstay.
"These myths are still alive and they make us understand who we are," said Andrew Robison of the National Gallery as he looked around the room.
Otto Kallir, who died in 1978, didn't take to American modernism, but he was drawn to self-taught artists and was the first to sell works by Grandma Moses. Last night, she was represented by whimsical Vermont landscapes on one wall. Across the room—anticipating what we now call mixed media—was Lincoln's Gettysburg Address by John Kane, with Lincoln's text and portrait on an American flag in oil on cardboard.
Over time, stateside museums and collectors warmed to Klimt and Schiele.
"Our unknown artists were better known," said the gallery's co-director, Hildegard Bachert, who started there in 1940 after fleeing the Nazis.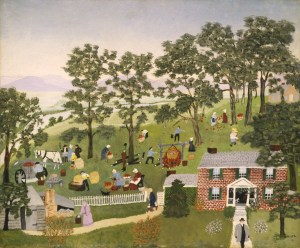 It's a far cry from the 1950s, when Alfred Barr, director of the Museum of Modern Art, turned down the gift of a Schiele painting from Otto Kallir. Schiele was only important as a draftsman, Barr decreed.
Jane Kallir did note that Otto Kallir's gallery in his native Vienna (which Kallir, a Jew, fled in the 1930s) was called the Neue Galerie. Decades later that memory helped inspire the name of the repurposed Fifth Avenue mansion that shows Schielesm owned by the MoMA benefactor and Galerie St. Etienne client, Ronald Lauder.
Much has changed. The dominant force in the art market in the 1950s, Kallir said, was abstraction.  Today, she said, "the contemporary art world has really become part of the fashion world. People are churning the art and flipping it on a six to twelve month turnaround. The more that art comes to resemble fashion, the less it hews to those enduring qualities that give it value—whether it's aesthetic value, or financial value over the long term."
The gallery was showing one living artist, Sue Coe, whose drawing of an apocalyptic monochrome landscape, 9/11, is as provocative in today's politics as a defiant Shiele nude might have been in 1940s America.
"Sue Coe was doing very well in the contemporary scene in the late 1980s, and she came to us because she wanted out," said Kallir. "She's exceptional, as contemporary artists go, for not wanting to be part of that circus."