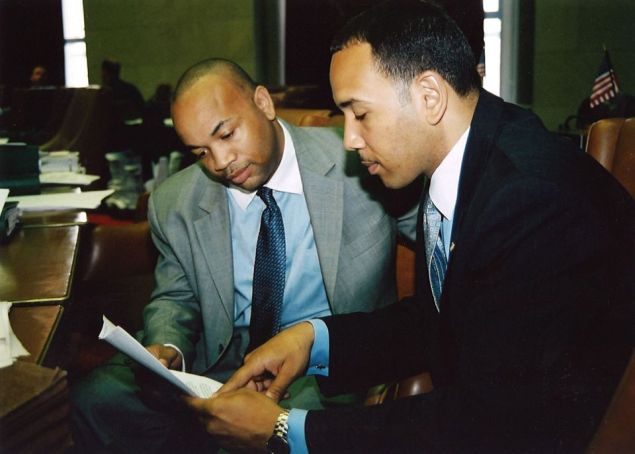 Bronx Borough President Ruben Diaz Jr. took to the airwaves to promote Bronx Assemblyman and County Democratic Party Chairman Carl Heastie's bid to replace Speaker Sheldon Silver.
Mr. Diaz spoke about the fraught contest to take over Mr. Silver's vaunted position on The Ride Home with Pat Kiernan and Rita Cosby on 77 WABC Radio. Asked if he was endorsing Mr. Heastie, a longtime ally, Mr. Diaz—a former assemblyman himself—said the political boss is the standout from the pack of possible candidates.
"While there are many folks who are being spoken of, many of whom I served with, who are talented, I think that Carl Heastie would be a wonderful speaker," he said.
Mr. Diaz highlighted Mr. Heastie's background as an accountant and his experience serving on the Ways and Means Committee, which he argued gave the Bronx legislator incomparable ability to handle the Assembly speaker's responsibility to negotiate the budget with Gov. Andrew Cuomo and State Senate Majority Leader Dean Skelos. He also praised Mr. Heastie's personal qualities.
"When folks are speaking of an individual who is going to understand and hit the ground running during that budget process," Mr. Diaz said. "I think that Carl Heastie has shown a tremendous ability to be fair, to be a coalition builder, to be a peacemaker. He has the political talent and the progressive leadership, and an independent as well."
Mr. Heastie is vying with Harlem Assemblyman Keith Wright, Queens Assemblywoman Catherine Nolan and Brooklyn Assemblyman Joseph Lentol, all of whom have declared their interest in taking over for Mr. Silver. Rochester Assemblyman and Assembly Majority Leader Joseph Morelle, who will serve as interim speaker in Mr. Silver's stead until the February 10 vote, is also regarded as a potential contender, though he has yet to announce if he will seek the role.
Mr. Morelle would be the first legislator from outside New York City to hold the powerful position in recent memory—and Mr. Diaz said such an arrangement would be unfair and unacceptable. The pol pointed out that the both the Republican State Senate majority leadership and the Democratic minority leadership hail from outside the city, and said that an upstate speaker would not be able advocate for liberal, urban issues.
"Education funding, transportation funding, minimum wage increase, the Dream Act, the fact that New York City should get fair share funding," he said. "Who would be there to protect those interests?"
"Almost every region of the state is represented there. If we don't have a member from the city become the speaker, New York City would not have that much representation," he continued.
Mr. Diaz led the "Rainbow Rebel" movement in the Bronx that unseated then Democratic Party Chairman Joel Rivera—an assemblyman seen as serving only Puerto Ricans and members of his own family—and installed Mr. Heastie in his place.
A deal was struck for Mr. Silver to vacate the speakership Tuesday night, following his arrest on corruption charges last week.