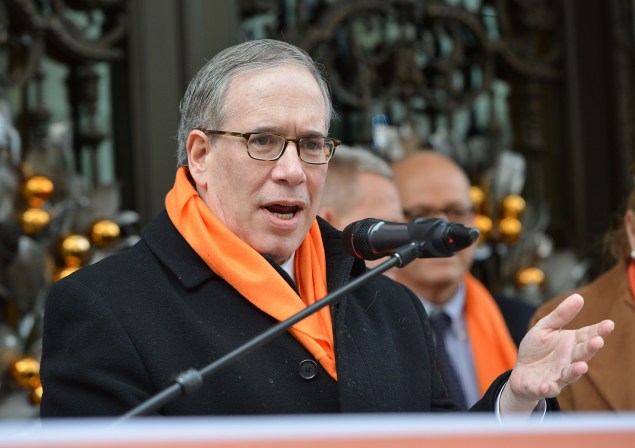 He's managing the city's money–and raking in plenty of cash for his own campaign, too.
Comptroller Scott Stringer has more than a half million dollars in his war chest for a 2017 re-election bid, according to a filing with the city's Campaign Finance Board. The hefty figure was raised in less than four months–a sign that Mr. Stringer, who is said to be eyeing Gracie Mansion someday, is fund-raising very aggressively.
Mr. Stringer, a Democrat, raised a total of $588,706 from late September to early January. He spent $54,829, funneling much of that cash to Tucker Green, a fund-raising consultant. In comparison, Mayor Bill de Blasio only has $3,527 in the bank for 2017.
It's not clear exactly why Mr. Stringer spent the last few months fund-raising so extensively, especially with an election years away and a strong challenge unlikely. The former Manhattan borough president has feuded with Mayor Bill de Blasio, a fellow Democrat, and some insiders have whispered about a potential primary challenge, though most political observers believe one is exceedingly unlikely. A source close to Mr. Stringer's campaign said the money was raised solely for his re-election.
Mr. Stringer received hefty donations from bold-faced names in the city's real estate industry and even John Catsimatidis, the billionaire Republican and former mayoral candidate. Jane Walentas, the wife of real estate developer David Walentas, Ophelia Rudin, the wife of developer William Rudin, and Steven Roth, the founder of Vornado Realty Trust, all donated the maximum $4,950. (Mr. Rudin himself donated $400.)
In addition to large donations from other elites like Richard Wilpon, the brother of New York Mets owner and Sterling Equities Chairman Fred Wilpon, a host of labor union political action committees funneled the maximum $4,950 to Mr. Stringer: Doctors Council SEIU, Mason Tenders District Council and the Uniformed Firefighters FIREPAC all donated. Dorothy Siegel, the treasurer of the Working Families Party and the chair of their South Brooklyn chapter, chipped in $25.
Marc Landis, a former City Council candidate and Upper West Side Democratic district leader close to Mr. Stringer, also gave the maximum amount to the city comptroller.
A Stringer campaign spokeswoman did not immediately return a request for comment.