Even before the Charlie Hebdo shooting, the last 12 months were a Medieval time machine, with the Ebola virus and ISIS beheadings transforming nightly news reports into real-life fantasy fiction. In the U.S.A., the backward slide was led by sporting gods and tech industry executives whose modern variations on primordial misogyny were often caught on video. Dare we hope for better this year? Try to learn from last year's low points, fellas.
February
Baltimore Ravens running back Ray Rice and his then-fiancée were arrested and jailed on simple assault charges after getting into a fight at the Revel Casino in Atlantic City. A snippet of elevator video of the spat showed the 212-pound Mr. Rice dragging Janay Palmer's limp body from an elevator. Cops had already seen the rest of the video, in which the football star was recorded cold-cocking his bride-to-be. In July, the NFL dished out what it deemed appropriate punishment—a two-game suspension. Only after the rest of the video, with the punch in the face, was leaked months later did the Ravens sack Mr. Rice and the NFL give lip service to domestic violence prevention.
March
Home security video surfaced of RadiumOne CEO and tech millionaire Gurbaksh Chahal beating his girlfriend for a half hour—and he would serve no jail time. Mr. Chahal, 31, had once been named one the tech industry's most eligible bachelors. He bailed himself out with $1 million, and his lawyers pleaded him guilty to misdemeanor domestic violence and battery, rescuing him from jail and 45 felony counts. His girlfriend had told arriving officers that she was unable to breathe and that Mr. Chahal had told her four times, "I'm going to kill you." A police officer told reporters: "She stated she was in fear for her life."
April
On Fox News Sunday, former CIA Director Michael Hayden announced that Senate Intelligence Committee Chair Dianne Feinstein was getting too "emotional" over the torture program and had compromised the objectivity of her committee's investigation. Mr. Hayden cited Ms. Feinstein's comments that declassifying the report would "ensure that an un-American, brutal program of detention and interrogation will never again be considered or permitted." Many men have made similar comments over the years but Mr. Hayden blamed hers on feelings, but of course. "That sentence—that motivation for the report—may show deep, emotional feeling on the part of the senator, but I don't think it leads you to an objective report," Mr. Hayden said.
May
On Mary 23, Elliott Rodger killed six people and injured 13 in Santa Barbara before killing himself. He left behind a 141-page misogynistic rant, listing grievances against pretty girls who had spurned him going back to his pre-teen years. A co-founder of the song-annotation website Rap Genius, Mahbod Moghadam, deemed the rant "beautifully written," and published his own annotated version. "Elliot barely mentions his sister Georgia throughout the book! Towards the end, however, he tells us that they did not get along and becomes extremely angry when he hears her having sex with her boyfriend. MY GUESS: his sister is smokin hot." After an outcry, Mr. Moghadam's co-founder sacked him.
July
Florida courts have ruled that the state's Stand Your Ground law excuses white men driving around with guns and nothing to do but hunt down teen African-American males in hoodies. The statute apparently excludes African-American females in fear for their lives from estranged and abusive husbands. Marissa Alexander had been sentenced to 20 years in prison for firing a warning shot—into a wall—to repel her abusive husband in 2010. Ms. Alexander has said she believed firing the weapon was legal under the state's Stand Your Ground Law, which gives people wide discretion to use deadly force to defend themselves. Her conviction was overturned, but her Stand Your Ground statute defense will not apply at the new trial either. In July, a Florida judge denied her request for a new Stand Your Ground hearing.
August
In a show of phenomenal corporate cowardice, Intel pulled ads from the site Gamasutra after freelance journalist Leigh Alexander published an opinion piece critiquing what she called the shallowness of white- and male-dominated gamer culture, calling it "kind of embarrassing—it's not even culture. It's buying things, spackling over memes and in-jokes repeatedly, and it's getting mad on the Internet." Ms. Alexander wrote her opinion piece after the online mobbing of Zoe Quinn, an independent game maker whose former boyfriend provoked a posse of misogynistic goons. The troll attacks were so ferocious and personal that Ms. Alexander was forced to leave her home and take up a nomadic existence because, she told The New York Times, she felt she was not safe in her own home.
September
The world watched in horror as ISIS goons rounded up female members of Iraqi minority groups and herded them into sex slave prisons, dragging them around by their hair and posting it all on YouTube. Amnesty International determined that hundreds if not thousands of girls and women were raped and subjected to other forms of sexual violence, then forcibly married, "sold" or given as "gifts" to IS fighters or their supporters. Often, captives were forced to convert to Islam. "Many of those held as sexual slaves are children—girls aged 14, 15 or even younger. IS fighters are using rape as a weapon in attacks amounting to war crimes and crimes against humanity," said Donatella Rovera, Amnesty International's senior crisis response adviser, who spoke to more than 40 former captives in northern Iraq.
October
Women still make nearly $11,000 less each year than men, according to the U.S. Census Bureau's latest report on income and poverty, and most sociologists and economists agree that entrenched sexism is mainly to blame for the disparity. Now, a CEO has suggested that magical thinking might solve the pay equity problem. Microsoft's chief executive Satya Nadella told a conference of women in tech that they should not ask for a raise, but trust "faith" and "karma" to reward them appropriately.
October
Apparently not satisfied with routinely calling female critics "cunts" and threatening to rape them, and successfully scaring Intel into yanking its online ads, gamer trolls notched up their game when someone threatened mass murder if feminist media critic Anita Sarkeesian gave a talk at Utah State University. The university received a terror threat from someone threatening to commit "the deadliest school shooting in American history" if Ms. Sarkeesian gave her lecture. "I have at my disposal a semi-automatic rifle, multiple pistols, and a collection of pipe bombs," the email stated. Ms. Sarkeesian, who frequently discusses sexist and misogynistic tropes in video games and critiques gamer culture, cancelled her talk.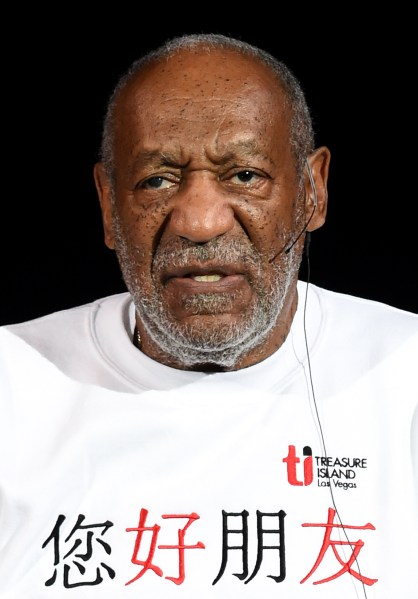 November
Women had been accusing Bill Cosby of being a rapist for years, but Hollywood and the media elite generally ignored them until Hannibal Buress went on an onstage rant in October. Soon more than two dozen women had come forward, with eerily similar tales, and even former Cosby enablers were jumping ship. Former Cosby Show employee Frank Scotti said he was in charge of delivering payoffs to eight women and that he stood guard outside Bill Cosby's dressing room while the comedian conducted "interviews" with young models, all supplied by an agency with whom he had an "arrangement." The star lost his shows, but he's not going easily into the good night of infamy. Mr. Cosby has hired a private investigation team to dig up dirt on the accusers. Because of course, there's something wrong with them.
November
Another female blogger under attack: Pando's Sarah Lacy accused Uber of a culture of "sexism and misogyny" for various incidents ranging from its agreement with a French prostitution ring to its habit of victim-blaming assaulted females. In the tech world, words like "sexism and misogyny" hardly warrant a newsflash, but Uber CEO Emil Michael was so offended that after a few glasses of expensive booze at a dinner at the Waverly (attended by the likes of Arianna Huffington and Edward Norton) Mr. Michael told the room—which included Buzzfeed editor-in-chief Ben Smith—he was ready to unleash Uber's opposition research plan, using its own records of pickups and drop-offs on Ms. Lacy, in order to confirm what BuzzFeed called "a particular and very specific claim about her personal life."
December
Tallahassee cops, the muscle at FSU, college football's Rape Hall of Fame, released the private contact information of ESPN reporter Paula Lavigne on Christmas Eve. Ms. Lavigne had formally asked Tallahassee police in September for all incident reports involving a long list of FSU jocks. Cops waited until just before ESPN broke its story to publicly release info about former player Demonte McAllister, who admitted he picked up a crack-smoking prostitute who later charged he raped her. Responding to Ms. Lavigne's request, the cops discovered they had left the DNA swabs in the case untested for three years, leaving prosecutors without evidence to file a charge. They then spitefully released that story along with a full copy of Ms. Lavigne's public records request to all journalists, essentially tipping off everyone to what she was working on and handing over her personal phone number and email for FSU's scary football troll population to do with what they will. (h/t to Deadspin for first noticing this).