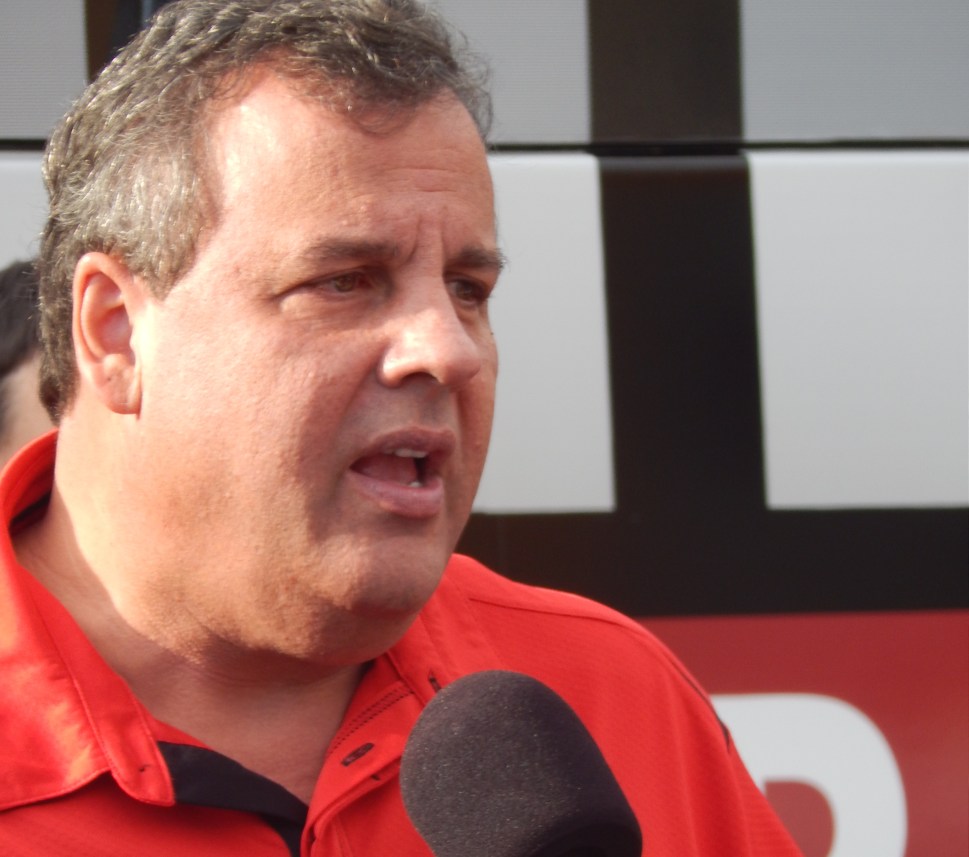 It's difficult to ascribe tragedy to modern personalities, fraught as we are with all those minor demons the Greek masters considered irrelevant – even irrelevantly comic – and outside the strict framework of greatness that defines ancient tragic drama.
But modern icons Arthur Miller and Budd Schulberg had another view, one that we share as part of our American frame of reference as we consider the tragic value inherent in each human being.
With that Death of a Salesman/On the Waterfront model in mind it's no stretch to find elements of Shakespearean tragedy in what is going on in New Jersey right now as Gov. Chris Christie pursues the presidency and flounders at 39%, according to statewide public opinion.
Christie can dance away from criticisms of his national designs. The smaller government is good government viewpoint alone provides a ready escape for someone like the GOP governor, who prizes the opinions of those voters in a Republican presidential primary. If government itself is a vice, then a governor's absence from government can easily be rationalized as a virtue.
But the flaw goes deeper, and if we consider the tragic implications of Christie on a Shakespearean stage, we must go to Rome, and no, not to Julius Caesar, which is tempting – the name New Jersey itself derives from the Latin New Caesarea – but to its sequel, Antony and Cleopatra.
If hubris dogs the title character in the former play, certainly there exists a chance to tie Rome's famous emperor to Christie. But Shakespeare's play, of course, is not really about the historic Caesar; moreover, that character is so thoroughly removed from others that he almost succeeds in being comic to a modern reader. Even the most egotistical modern athlete could find something humorous in Caesar's uber-ego.
No.
The character in Shakespeare whom Christie most resembles right now is Marc Antony – not the younger, politically astute version, but the later, reckless and feckless Antony in the play that bears his name; and if Christie is Antony, the presidency is Cleopatra.
In the play, Antony forsakes his duties to the Roman Empire for the attentions of Cleopatra. Here we have Christie pursuing the presidency as New Jersey unravels under his feet.
Those august elders from the ancient world may be shuddering somewhere at the comparison of New Jersey to Rome, but insofar as the Garden State represents Christie's charge and his duty, his presidential ambition, which continually draws him outside his domain, conceivably stands for that siren song of tragic undoing.
"Let Rome in Tiber melt and the wide arch of the ranged empire fall, this is my space," Antony says famously at the beginning of the play as he clings to the Queen of Egypt.
Translation: Trenton's melting in the Delaware River and the state Transportation Trust Fund's in tatters, the state's biggest city has a homicide problem, and, according to Standard and Poor's, a credit downgraded New Jersey continues to struggle with structural imbalance. But the presidency lies within reach, or so figures Christie.
Again the governor could rationalize his way out of the comparison by laying claim to seeking rule of the larger empire, the country itself – an empire back on its heels and in dire need of a leader, to hear him tell it. But that unsavory scene in Jerry Jones' luxury box and the tentacles of deals surrounding it, smack of indiscipline – to put it mildly – the very fiber of Antony's fall, and the direct opposite of the kind of imperial gravitas embodied in the play by Augustus – whose defeat of the spiraling Antony and shouldering of the empire creates a foundation, incidentally, for another 1,500 years of history.
Undoubtedly devotees of Sharkespeare out there in cyberspace will protest this choice, demanding combinations of Falstaff and Hotspur as better approximations of Christie, or MacBeth, for who on consideration of the former can resist the likeness of rage to this governor in Henry Percy and the physical resemblance of Prince Harry's best friend, or deny Christie's MacBeth-like ambition as U.S. Attorney, removing one barrier after the next as he positioned himself to slay the king on Election Day 2009?
But Antony comes closer – by far.
The campaign of a hapless Jon Corzine spelled it out as they attempted to prop up their doomed candidate with warnings about Christie and his lack of public self-control.
Now, as he casts out the local media in favor of national types inquiring about the presidency, he most resembles that goblet-throwing, tantrum-prone Antony ejecting those Roman legions seeking his ear in his most disengaged and harried moments in Antony and Cleopatra.
Ultimately, the story has tragic resonance not because of Christie, but because of New Jersey; because the state as a compressed and passionate portrait of the country, is great, and anyone who purports to represent such a place as this who slips, falters, or, in this case, gets entangled in some bewitching and bombastic distraction that removes him from the field, wounds us all in an hour of need, and prompts something akin to tragic downfall.