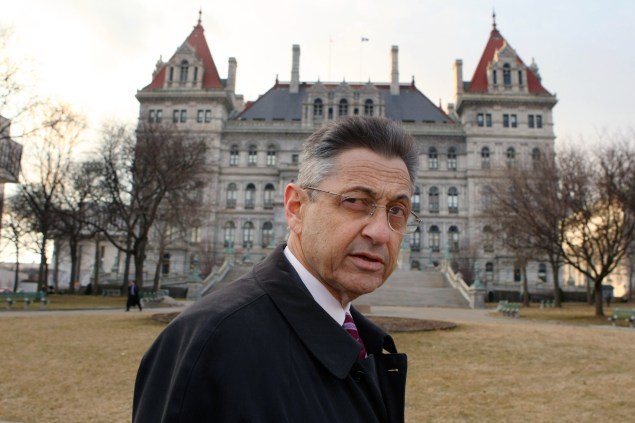 Assembly Speaker Sheldon Silver told reporters today that he believes his fellow Democrats will re-elect him to his powerful perch, despite recent news reports of a federal investigation into payments he received from a Manhattan law firm.
Speaking shortly after Gov. Andrew Cuomo's second inaugural address, Mr. Silver predicted the Democrat-dominated Assembly would re-elect him to the post he has held since 1994. The remarks came in response to questions from reporters about a New York Times story earlier this week which reported that U.S. Attorney Preet Bharara's office is digging into a decade's-worth of payments the legislative leader has received from the real estate tax firm Goldberg & Iryami, P.C.–payments Mr. Silver failed to report on his financial disclosure forms as required.
"Members of my conference have confidence in me, and I don't think it's appropriate to comment on this matter," Mr. Silver said.
The Times story claimed that prosecutors working under Mr. Bharara had uncovered the remittances to Mr. Silver while poring over documents from the anti-corruption Moreland Commission, which Mr. Cuomo set up in 2013 then unceremoniously scuttled last year. The article further asserted that Goldberg & Iryami worked for landlords linked to Mr. Silver, a Manhattan legislator.
Mr. Bharara is also reportedly investigating Mr. Cuomo for his handling of the Moreland Commission.