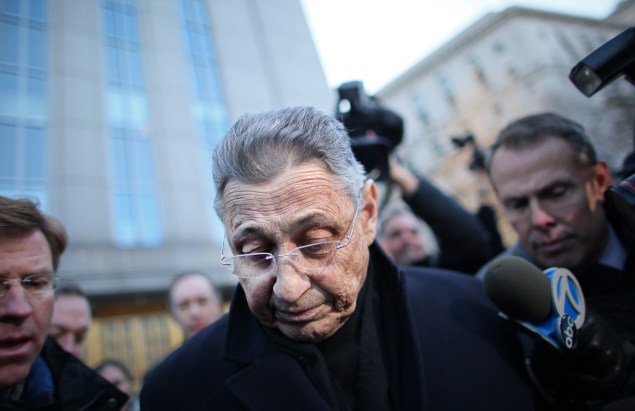 There is no Silver lining.
Assembly Speaker Sheldon Silver will temporarily step aside from his powerful perch on Monday as he battles federal corruption charges, adding a layer of profound uncertainty to a pivotal legislative session.
Five veteran Democrats will now lead the 150-member body that Mr. Silver has dominated since 1994, when he was first elected speaker, the Daily News reported tonight. Majority Leader Joseph Morelle of Rochester, Brooklyn Assemblyman Joseph Lentol, Manhattan Assemblyman Herman Farrell Jr., Queens Assemblywoman Cathleen Nolan and Bronx Assemblyman Carl Heastie will run the chamber jointly.
Mr. Morelle, a close ally of Mr. Silver, and Mr. Farrell will head the Assembly's upcoming budget negotiations with Gov. Andrew Cuomo and the Republican-controlled State Senate, the Daily News also reported. The arrangement is unprecedented; the last time a speaker, Melvin Miller of Brooklyn, faced criminal charges, he led the Assembly until he was found guilty.
Mr. Silver will remain in office, will not "step down" from his title, his spokesman told the New York Times. He would regain the leadership of the Assembly if he's found innocent of the charges, brought last week by U.S. Attorney Preet Bharara. Mr. Silver was accused of disguising millions in bribes and kickbacks as legitimate income from law firms for whom he did no work.
He claimed last week he would be "vindicated."
But Albany sources say the jockeying to replace Mr. Silver will continue, even as some Silver loyalists hold out hope he may be found innocent. Manhattan Assemblyman Keith Wright, along with Mr. Heastie, are said to be floating their candidacies while the Queens Democratic Party is pushing Ms. Nolan.
Mr. Silver could not be immediately reached for comment.
This story has been updated to reflect Mr. Silver is stepping aside temporarily.