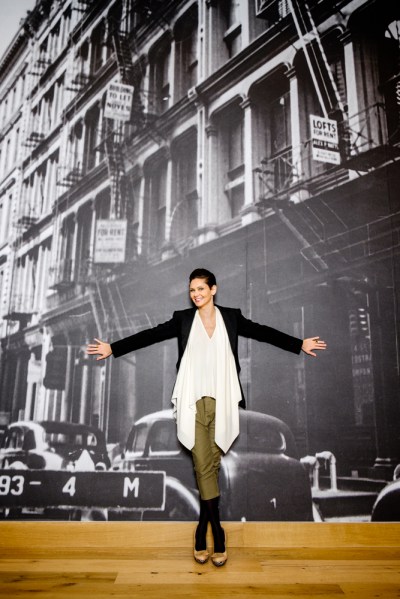 "I think of myself as a canary in the coal mine," said Veronica Mainetti, the unlikely real estate scion of owner and developer The Sorgente Group of America.
The 36-year-old design school graduate was born in Rome, where her firm, which is on its fifth generation of Mainetti rule, is based. When she was 1 and a half years old, she was diagnosed with epilepsy. Years later, after she had moved to New York and begun scouting properties and developments for her family to invest in, she began connecting the frequency of her seizures to her environment.
"Fire retardants, other chemicals, they could trigger a seizure," Ms. Mainetti said. So when she had the chance to redevelop projects herself, she took a radically environmental approach, one that also happens to be very much on point at this current moment. 
One of her sensitivities is to volatile organic compounds (VOCs), chemicals emitted by many indoor substances, from wood glue to printer cartridges. Which is why she eliminated all VOCs in her latest real estate project, a redevelopment of cast-iron mid-rise Tribeca building 60 White, which she has fashioned into spectacularly high-ceilinged residential condominiums.
This was not a minor undertaking, as any kind of synthetic household product will generally have some VOCs.
To avoid them, Ms. Mainetti sourced materials very carefully, including gorgeous, veiny marble and reclaimed wood. She also avoided mainstream manufacturers. And, she figured while she was at it, why not find everything for the building within 100 miles?
For the floors, which all boast radiant heat (not just in the bathroom!), she tapped a custom mill that reclaims waste lumber in the Hudson Valley.
Craig Margolies, a partner at the Pine Plains, N.Y., mill that sourced the wood for 60 White, said Ms. Mainetti was unlike any other real estate magnate he had met or worked with.
"More than any developer, she continued to want the materials to follow her belief system," he said, even though it takes a lot of time and money to de-nail, de-louse, re-saw and then kiln fire wood in the reclamation process. "I think that's why it worked well. There weren't a lot of heavy-handed finishes or something like that. I was appreciative of that on a lot of levels."
Down to her shoes, designed by architect and feng shui consultant Anjie Cho, Ms. Mainetti's a package deal. Starting with the most basic fact—her gender—but also including her tender age and willingness to forgo immediate profit for her ideals, she subverts the real estate developer archetype (i.e. older, staid, male, white and money-minded).
"It is highly unusual," to work with a female developer, said Frances Katzen, a broker with Douglas Elliman who will be marketing the 60 White apartments as soon as the attorney general's office approves the offering plan, expected later this month. "It is thrilling to work with a woman, but more importantly a young, beautiful woman. Still, she does it under the radar."
Tall, elegant and expressively coiffed, Ms. Mainetti was clip-clipping around the construction site of her current project in high-heeled boots when the Observer came to visit, greeting the foreman when she arrived and making sure to bid him "ciao" as she left. Her presence manages to be both utterly commanding and sweetly maternal.
She shares a passion for restoration with her forbearers. Her father, who helmed the family firm before her, "has a passion for columns," she said. "He likes to put them back up." In addition to the redevelopment projects in Tribeca, Sorgente owns the Fine Arts Building in Downtown Los Angeles, a portion of the Flatiron Building, and is mulling additional redevelopment projects in New York City and Los Angeles. Ms. Mainetti lives with her wife, Lorri Shackleford, a former vice president with modeling agency Wilhelmina, and her young son Giulio in Tribeca.
Among the other redevelopments that Sorgente has undertaken was 34 Greene Street, also in Tribeca. Ms. Mainetti considered that project a stepping-stone to 60 White Street.
"Greene Street was not as sustainable or energy efficient and since then I've done a lot of homework," she said.
Douglas Durst, perhaps the city's most visible and large-scale green builder, admits that in the world of environmentally friendly construction, it can be hard to separate the wheat from the chaff. Ms. Mainetti is all wheat, needless to say.
"There is a lot of 'greenwashing' going on," he said. "It's very easy to talk the talk, but walking the walk is different."
More than 80 percent of the materials used in 60 White Street's redevelopment were part of the existing structure and reclaimed somehow. Others came from local purveyors.
"The largest underground marble quarry in the world is right near here," Ms. Mainetti said, speaking of the Vermont Quarries in Danby, Vt., from whence the countertops at 60 White came. Despite her heritage, she would never bring marble all the way from Europe, as many high-end developers do. "Why would I go to Italy?" she asked.
Nor would Ms. Mainetti ever do a teardown, because it's wasteful.
"That is a little bit extreme," Mr. Durst opined, citing the amount of building stock the city will need in coming years to accommodate it's burgeoning population. "Many buildings you cannot [repurpose]." Perhaps Ms. Mainetti is the vegan to Mr. Durst's pescatarian.
There is also the matter of LEED certification, the one attempt to rank a building's environmental friendliness that exists. Many owners, developers and architects, Ms. Mainetti among them, say that LEED is not always a useful metric for many reasons. It also costs money to apply for the certification. She forewent the hoop jumping for the 60 White project.
"Pollutants have nothing to do with energy efficiency," Ms. Mainetti said, so emphasizing eliminating VOCs was a different choice, and one that wouldn't affect something like LEED certification.
It can even be hard to convince New Yorkers—usually so ready to embrace the next Boho trend—that they want the green trappings 60 White has to offer.
"You have to choose your moments," when telling prospective buyers about the green features, said Ms. Katzen. "There is a niche that is desperately seeking this product. They are not interested in cookie cutter fare," she said. While others may find their "eyes glaze over," as the countless quirks and facets that make the building a carbon neutral "passive" structure are listed.
But Ms. Katzen says selling the building is an education for the American public about how passive homes can be luxurious while environmentally conscious (to the tune of a 70 percent savings in energy costs). She analogizes it to exposing us to ballet dancers who are "European-trained vs. American-trained."
"Her whole process is quality over quantity," Ms. Katzen said of Ms. Mainetti.
Her vision may qualify as radical, even—at least in the U.S.
This is as much a result of our facile environmental standards as her fervor. The LEED standards are a sad impersonation of decent regulation and culturally, the U.S., even New York City, cannot compete.
"Europe is way ahead," Ms. Mainetti said. Ms. Katzen agreed. "It's a higher standard in some regards."
Still, Ms. Mainetti's willingness and ability to make a go of it has attracted attention. Daniel Fickle, a director and producer out of Portland, Ore., has begun filming a documentary about her that follows 60 White Street's redevelopment.
"Veronica is paving the way for new high performance building standards that could and should be implemented in every restoration or ground up development project," he told the Observer via email. "What Veronica is doing with 60 White St. isn't easy, but what pioneer had it easy?"
Easy it certainly wasn't. Even seasoned, connected developers whine ad nauseum about the process of fixing up a landmarked building, a process where the Landmarks Preservation Commission must approve even tiny changes to the materials used or appearance of a façade. Of course, the original materials may not even be available. In the case of 60 White Street, the building was constructed in 1869.
"It was bureaucratic to get 60 White done," she said. At one point, the LPC pushed back when she had triple-pane windows slated for the building, because they were not original. They were, of course, better than what was on offer in 1869.
"It took a year to get approval, but if you are a preservationist you want to go through the landmark process," she said. "You want to bring back the façade as it used to be."
We frequently heard Ms. Mainetti's ethos compared to the locavore food movement. And indeed, the opening party for 60 White Street featured food from Blue Hill Stone Barns, an upstate farm with an attached farm-to-table restaurant that serves only food grown on premises.
It seems Ms. Mainetti will be on the right side of history. As this issue went to press, news broke that 2014 was the warmest year on record.
The documentary, which so far has no release date, took Ms. Mainetti and Mr. Fickle all the way to small villages in Greenland, where they saw firsthand the devastating effects of climate change.
"There were never flowers in Greenland," Ms. Mainetti said. "Now there are."