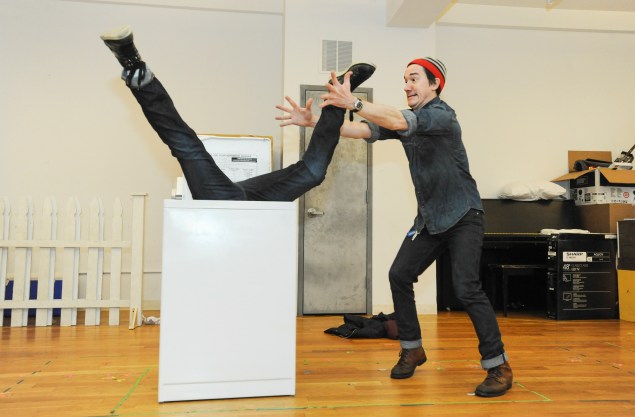 David Ives is one of the more fertile, inventive, eccentrically off-centered comic minds in the American theater today, but he can't tell you how he got there from here. It's all that time spent thinking outside the box, one might surmise.
"I never know where ideas for my plays come from—they're just there," he confessed with shades of sheepishness at a recent publicity event for his newest offering, Lives of the Saints.
Since October, the humorist and playwright has been sitting down with Stephen Sondheim and they've been mentally freefalling into a musical that will merge, of all things, Luis Buñuel movies. (Specifically, the director's two best films—The Exterminating Angel and his Oscar-winner, The Discreet Charm of the Bourgeoisie.)
"They're both about people at dinner, or you may say they're both about people and food in a certain way—at least we have our theme," Mr. Ives said to the Observer. "I talk to him every day. He's writing the music, I'm working on the book, and we just chip away at it. It's the most fun in the world. It's like going over to Mozart's house. Mozart said, 'I had an idea. Let me play you this,' and he plays and he sings what he has come up with."
Of late, Mr. Ives has been spending more time with Saints than with Sondheim since that latest litter of playlets starts previews February 3 for a February 24 premiere at the Duke on 42nd Street. A production of the-well-respected Primary Stages, the show is made-to-order for theatergoers with short attention spans. That's the way the playwright's idol, George S. Kaufman, rustled 'em up for the early Marx Brothers movies. Dashed off in two or three days, each play is skit-sized but plays heftier.
When asked if there's a connecting link to the seven short plays he has hung out to dry this time, he took the (very) high road: "I would say there's more of a theme to this evening than there has been to any of my evenings of my one-acts. It's pretty much summed up by the title—Lives of the Saints. It's an investigation—comedically—of the meaning of life, the existence of God, life, work, death, sex, politics and religion." (Pause. Gulp.) "I would say this is probably the profoundest work of dramatic art since Socrates."
Mr. Ives' primary partner-in-crime is John Rando, the Tony-winning director of Urinetown, who, having led 12 Ives, qualifies as the playwright's foremost interpreter. "I'm a big fan of his …  Between us, we have a kind of shorthand in terms of what needs to be done directorially based on what he has written." He added: "When I'm working with actors such as I have and with David Ives, it's hard to keep from laughing."
Not just any actor can play Mr. Ives' characters. It takes a special risky, frisky, wild-eyed type. Some have taken on his roles just to see if what's crazy on the page can play on the stage. The five actors assembled for Lives of the Saints gleefully carve up among themselves the 36 characters that populate the seven plays. 
Actors Carson Elrod and Liv Rooth were last paired in Mr. Ives' best-known antic—a cautionary comedy called A Sure Thing from All in the Timing. Boy meets girl, and they struggle through treacherous small talk toward a lasting relationship. If the conversation slips into dangerous waters, a bell sounds, and the speaker backs up to begin again. In a day of Interstellar  and Constellations, the device is quaint, but Mr. Ives got there first.
Babel's in Arms, which begins the evening, finds Mr. Elrod as a scrotum-less eunuch and Arnie Burton as his trusted sidekick assigned the job of building the Tower of Babel all by themselves, laying the first stone to that effect and inventing words (mostly the F-word) for things as they go along. In Soap Opera, also from the new collection, a Maytag repairman is in love with a washing machine. The only play to have been seen in New York already is the last one, the title one, in which Ms. Rooth and Kelly Hutchinson play women who are preparing a funeral breakfast for a friend.
"It's going to be a kind of different evening" for Ives fans, predicted Mr. Burton. "There are some plays from 15 or 20 years ago where it's Classic David Ives—great vaudeville rhythms—and then there are some darker pieces. I think they'll be surprised."