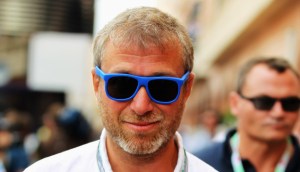 We don't know what exactly Russian billionaire Roman Abramovich is planning to do with his three newly acquired townhouses on East 75th Street, but we hope he's not planning to build a super mansion. The townhouses at 11, 13 and 15 E. 75th Street, which are of varying heights and facades, do not lend themselves to the "mega mansion" that the New York Post claimed Mr. Abramovich is planning to build, being located, rather inconveniently, in the Upper East Side historic district.
"It would be very unusual for the committee to permit a tear-down in a historic district," a spokesperson at the Landmarks Preservation Commission, which has been known to quibble over not only the color of doors, but also the functionality of shutters, told the Observer. "Any house in a landmark district has the same protections as an individual landmark."
The only time such a thing could even be considered, she added, was if the buildings were specifically designated as "no-style,"—i.e. a 1980 office building plopped incongruously in the middle of a turn-of-the-century brownstone block.
None of the three townhouses recently purchased by Mr. Ambramovich were designated as "no-style" and, are, in fact, specifically mentioned in the Upper East Side Historic Designation Report as contributing to the residential character of the block: "An early row to survive is at  Nos.  9-17, built by architect/developers William and Anthony Mowbray in 1887-89. Nos. 13 and 15 are largely intact, displaying the Queen Anne style of architecture."
And as many a property owner and developer could tell Mr. Abramovich, the Landmarks Preservation Commission does not take applications for alterations, modifications or violations lightly. It has, for example, mandated the removal of a discreet penthouse at 145 Hudson because it did not conform to the approved plans and fined a man who installed fake ivy on his Greenwich Village building.
Not to mention that the high-powered neighbors on this particular block, among them the ex-wife of Mort Zuckerman, are not likely to be supportive of a massive demolition and construction project on their enviable, charming street. Let's not forget that Upper East Siders can get downright apoplectic when it comes to historic preservation.
Of course, Mr. Ambramovich could apply for an endless series of landmark approvals necessary to connect the three buildings, which with their varying floor, ceiling and window heights, would be not only a bureaucratic nightmare, but an architectural one. (The LPC said that the most recent applications filed on any of the buildings was in May, and it involved plans first submitted two years prior.) Indeed, doing anything besides picking one of the three townhouses (or ok, maybe the two Queen Anne ones) to move into sounds far more difficult than convincing that wealthy widow to move out of the Berwind mansion. At least he didn't actually buy that rental building at 9 East 75th.