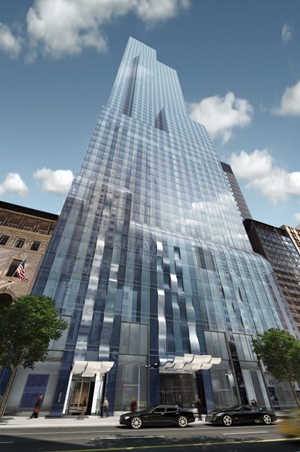 It's about time. These past three years we've been waiting. And waiting. And waiting… for a residential sale to finally break the $88 million high-water mark set by the sale of Sandy Weill's 15 Central Park West penthouse to Russian billionaire Dmitry Rybolovlev. Oh, we're sorry, his college-aged daughter. (Mr. Rybolovlev has held the record so long we don't even need to google his name first to spell it correctly anymore.) A penthouse at One57 has closed for $100.5 million, The Real Deal, which spotted the sale in records, reports.
The just-closed duplex penthouse, which spans the 89th and 90th floors, was reported to have set a new record way back in 2012 when it went into contract for "more than $90 million." At the time, One57 developer Gary Barnett told The Times that the sum was less than $100 million. But everything always costs at least a little bit more than we expect in the end, doesn't it?
Clocking in at 10,923 square feet, the penthouse is one of the tower's whales, located on the tippy top of the building; all said to be in contract for similarly stratospheric sums (though whether or not any will beat this sale remains to be seen). The buyer of this unit is an anonymous LLC who in the past has declined to disclose even his country of origin. Bill Ackman's penthouse is also expected to close soon, though reportedly for something near $90 million, which is really too bad, as real estate writers around the city and the country would no doubt appreciate the ease of referring to the record set by Mr. Ackerman rather than "the record set by an unimaginatively-named LLC." (Mr. Rybolovlev, despite the difficulty of spelling his name, was also a satisfyingly colorful character to write about.)
Besides a more exciting buyer, the 15 CPW penthouse still holds a price per square foot record—approximately $13,000 to the some $8,000 the One57 unit has commanded. We'll always have the square foot record, right?