SOMERVILLE -Even the most sedate GOP surroundings couldn't contain the undercurrent of raw gubernatorial politics that bubbled amid those columns of the rotunda in the Somerset County Courthouse this afternoon at the freeholders' reorganization meeting.
"Obviously Somerset County is one of those places where you're going to need support for the nomination, so it's no coincidence," said Monmouth University political scientist/pollster Patrick Murray, who sat in the packed crowd as Lieutenant Governor Kim Guadagno alighted on the carpet int he well of the chamber.
Recognizable faces hovered in the crowd, among them state Senate Minority Leader Tom Kean, Jr. (R-21) and Senator Kip Bateman (R-16).
Long consigned to the rubber chicken circuit of state politics while Gov. Chris Christie cavorts on a national stage, Guadagno swore in freeholders Peter Palmer and Brian Levine.
"A smooth transition from one government to the next," said the LG.
Smoothness.
It's a common political texture, whether it's Hudson (all Democrats) or Somerset (all Republicans).
Guadagno demonstrated her facility for retaining some of the details gathered on that very well-worn trail of organizational mixing.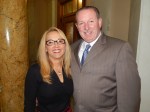 "He'll always be a mayor to me," she said of Levine, who left his position as mayor of Franklin Township for the freeholder gig. (Politics buffs remember Levine for his ill-starred gubernatorial bid in the 2009 Republican Primary. Bogota Mayor Steve Lonegan challenged the legitimacy of Levine's signatures and bumped him out of the race, before Christie dumped Lonegan on Election Day).
But when Guadagno shouted out the names of some of the personages in the crowd, that of Assembly Minority Leader Jon Bramnick (R-21) stuck somewhat in her throat and laughter filled the chamber.
The public collision course to this point has focused on Guadagno and Bramnick girded for 2017 gubernatorial gladiatorial games.
But Somerset sources note the presence of at least a third player in the developing Republican Primary drama: Assemblyman Jack Ciatterelli (R-16), who sat scrunched up with his district mates Bateman and Assemblywoman Donna Simon (R-16) in the audience.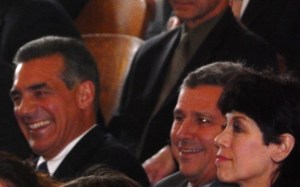 One source told PolitickerNJ that Guadagno has been making Somerset stops with greater frequency not only with an eye to cold-cocking Bramnick but to freeze Ciatterelli in his tracks before the relative newcomer to the legislature has a chance to firm up any home county support.
Guadagno zipped out a back door immediately following her brief remarks, and Bateman and Ciatterelli too broke for the exits and the drive over to Hunterdon for that county freeholder board's reorganization festivities.
Following the swearing-in exercises for Palmer and Levine, the freeholder board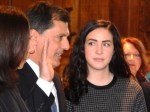 tapped veteran Mark Caliguire to serve as freeholder director and Pat Walsh as vice director.
Kean was typically bland on the subject of politics as he headed for the door and PolitickerNJ asked him what he thought of Jeb Bush getting in the race for the presidency in 2016.
"I'm interested in JB's grandkids," said the senate minority leader, uncomfortably craning his head away from the conversation to catch a view of his district-mate huddled over a Blackberry alongside Republican State Committeewoman Janice Fields.