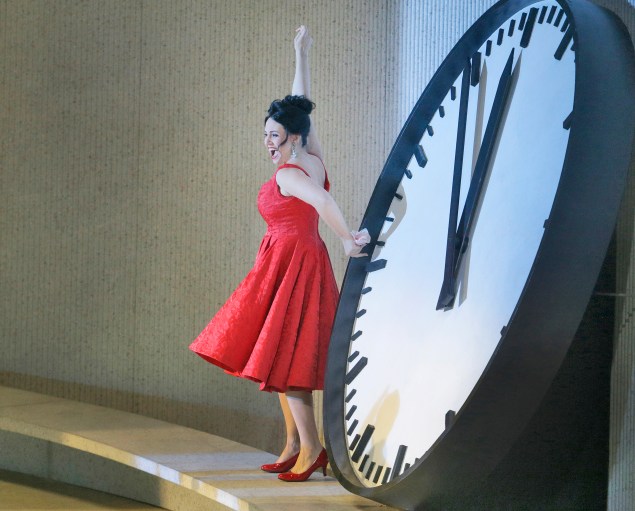 Surprises—or let's say pleasant surprises—are among the chief joys of frequent opera-going. Best, and most precious, of all these impromptu delights is the eagerly anticipated performance that soars beyond even one's most extravagant fantasies. That's what happened when Sonya Yoncheva sang her first Met La Traviata last Wednesday: I expected something lovely, but what I beheld was nothing short of magnificent.
My list of "dream" Violettas, those I found the most complete and compelling interpreters of this complex and protean role, has until now consisted of only two names: Angela Gheorghiu at the Met in 2006 and Diana Soviero three decades ago in New Orleans. As of only a week ago, Ms. Yoncheva has expanded that select group into a triumvirate.
A veteran opera fan—we're talking lining up for hours in a blizzard to hear Zinka Milanov—once told me he can make up his mind about a Violetta by how she sings the opening phrase of the role, "Flora, amici, la notte che resta." Ms. Yoncheva proved his point as her first notes rang out big, rich and complex, followed by a bracing plunge into chest register. In just a few seconds, she established the essence of Verdi's doomed courtesan: impetuous, passionate and determined to live life to the fullest.
Ms. Yoncheva pours out her full, glamorous lyric soprano generously, but never as a mere display of beautiful sound. Her rhythmic attack is so crisp and fleet that at times it feels as if she is actually racing ahead of the music. The pensive aria "Ah fors'e lui" constantly surged forward, and the cabaletta "Sempre libera," though taken at a sensibly moderate tempo, seemed to race without a pause for breath.
Though she did something memorable on practically every page of the score, two moments in particular stood out. In the second act, as she protested that losing her lover Alfredo would kill her, her agitated solo "Non sapete quale affetto" crackled with such desperation that the audience burst into applause mid-scene. Later, in the resigned "Addio, del passato," she refined her tone into a thread of pure silver, as if renouncing worldly sensuality in preparation for death.
Fully inhabiting the eerie world of the demanding Willy Decker staging, she seemed to grasp what has eluded other artists who have performed in it since its debut here in 2010. In Decker's vision, Violetta is irrevocably doomed from the first notes of the prelude; her victory is in how fervently she defies the inevitable. In movement and even in stillness, Ms. Yoncheva never stopped struggling against her fate, a hero, never a victim.
So much has this singer going on that it seems almost unfair she looks the part so perfectly too: youthful yet voluptuous. Even the sleek red cocktail dress Violetta sports in the party scenes seemed to cooperate, its straps slipping off her shoulders seductively.
Returning from earlier in the season were baritone Quinn Kelsey's smoky-voiced, sinister Germont and Francesco Demuro's adorably boyish Alfredo. This time around Mr. Demuro's tenor sounded more easy and consistent, with a particular gleam to his high notes. If conductor Marco Armiliato brought no particular poetry to the score, he remained a marvel of intuitive accompanying, matching Ms. Yoncheva's hectic tempi with self-effacing precision.
A revival of Offenbach's Les Contes d'Hoffmann fell into the "pleasant surprise" category only because it turned out not quite the disaster it looked on paper. The chief source of amazement here was the discovery that Vittorio Grigolo is not the buffoon his slapdash, hyperactive performances of La Bohème and Rigoletto in recent seasons seemed to indicate. Maybe it's just typecasting—Hoffmann, after all, is a needy, self-dramatizing narcissist—but the tenor actually delivered a moving, musical performance, not just a personal appearance.
Though his lyric tenor is a little on the dry side to be classically beautiful, it is an astonishingly reliable instrument. The role's big moments all pound hard at the delicate passaggio area of the voice, but Mr. Grigolo stayed firmly in tune and fresh in timbre until the final curtain. This is a real and rare talent, so it's heartening to see that Mr. Grigolo is willing to turn it to serious purposes—even just occasionally.
Of the poet's trio of doomed ladyloves, most memorable was Hibla Gerzmava as the obsessed singer Antonia, with a creamy soprano and a trill that would make Melba jealous. Certainly she shone like a diamond next to the voiceless Thomas Hampson as the work's various villains. Yves Abel's conducting of the Met's mix-and-match edition of Offenbach's score had an energetic dancing quality, and he was alert to Mr. Grigolo's spontaneous revisions of Offenbach's rhythms. The tatty, unfocused production by Bartlett Sher does not belong on the stage of the Met.