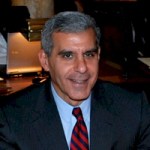 Amid all the rumor mongering over state Senator Joe Kyrillos' (R-13) attendance at a Jeb Bush fundraiser, a source close to the senator today cried poppycock.
Kyrillos will be with Christie in Christie's presidential bid, the source insisted.
Speaking on condition of anonymity, the source said Kyrillos – who ran unsuccessfully for senate in 2012 – received an invite to the dinner and, like a good Republican, went.
But "Joe will be with Chris," the source said. "There's too much history there."