When it comes to value-adding renovations, spa bathrooms, Viking stoves, brass fixtures and soundproofing come to mind. But a stainless steel, comic-book-style slide that spans three floors? Not so much.
But that's exactly what Manhattan-based architect David Hotson was commissioned to design in 2009, in a one-of-a-kind residence inside a converted 19th-century building on Nassau Street.
Hired to design playful interiors on the building's top four floors, which added up to some 6,600 square feet, Mr. Hotson installed "surreal" elements throughout the four-story penthouse, including a seamless 80-foot mirror-polished, stainless steel tubular slide, which begins at the lacquer-painted attic and ends at the library on the main level, with a "local stop" on the third floor.
The estimated cost of the cylindrical helical slide with windows for drive-by vistas: $250,000.
Mr. Hotson also added a climbing wall by installing colorful pegs to a 50-foot steel column that ran through all floors, as well as an integrated ladder between the kitchen and the next level's home office. From start to finish, the project spanned three years.
The place certainly stands out among today's cookie-cutter hotel lobby chic, but there's a downside to traveling so far out of the box: you might want to sell the place at some point.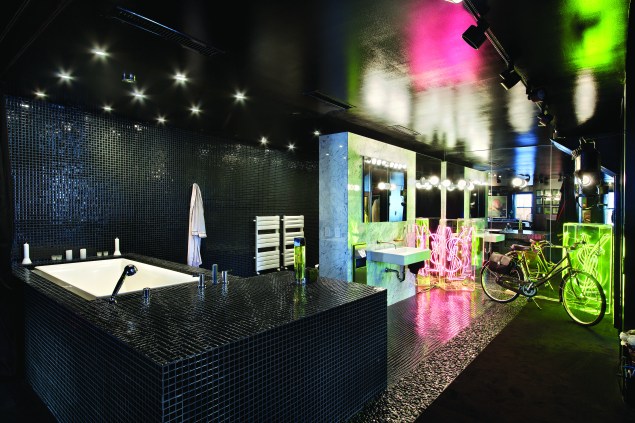 While a new bathroom can add 10 percent to a home's sale price, it's probably best if it's not top-to-bottom black. Walk into Cindy Gallop's 3,750-square-foot loft at 213 West 23rd Street—converted from what was once the YMCA's men's locker room—and you might think you've walked into a trendy bar somewhere in Shanghai, which is exactly what Ms. Gallop was going for.
The walls and ceilings are painted in a glossy noir with the floors covered in a lush black carpeting. Different textures of black, including gravel, were also incorporated throughout.
There are black mosaic tiles, black pebbles and a Limited Edition Gucci Cruiser Bicycle with Gucci leather features, including an oversized messenger bag. Afraid that the $6,300-plus bike might be stolen if she pedals through Chelsea, Ms. Gallop is content to take short spins through the loft.
On each side of the large open bathroom's entry are two Lucite Yves St. Laurent sculptures by Sylvie Fleury. The first was purchased for an unbelievably low price at a silent auction (Ms. Gallop was the only bidder). A few years later, when Ms. Gallop reached out to the New York YSL store in need of a recommendation for repairing the some of the sculpture's neon lights, she was gobsmacked to learn that there was another sculpture in the shop's basement, which the store later presented to her as a gift.
The Notorious B.I.G's "Nasty Girl" music video was shot at this bachelorette pad with guest appearances from the likes of Pharrell, Naomi Campbell and Usher—and the bathroom's enormous bathtub, which fills from a spigot on the ceiling, has been, at various intervals, filled with celebs, too.
Ms. Gallop told the Observer that she instructed her designers Stefan Boublil and Gina Alvarez of The Apartment creative agency to create "something that looked like a sexy nightclub or sex dungeon filled with erotica that would encourage sexual encounters with many of my male visitors.
"They followed my vision right down to the last detail," she said. "I loved it from the start."
A high-powered advertising consultant and founder of the MakeLoveNotPorn movement, who was at one time the chairwoman of Bartle Bogle Hegarty, Ms. Gallop is now listing her loft exclusively with Town Residential for $5.25 million.
"I obviously know my loft is not to everyone's liking, but I am actually willing to adjust the price to include all the furnishings, which could make a big difference," added Ms. Gallop.
Is she overconfident about her prospects? As a cautionary tale, consider the 1,800-square-foot, one-bedroom, zeppelin-themed loft at 120 West 29th Street, initially listed exclusively with CORE in 2011 for $1.75 million.
Known as the "steampunk apartment," it began with a green submarine-style front door that had an honest-to-goodness porthole. Along with other playful elements, there was a 30-foot-long, Technicolor, floating zeppelin-shaped light fixture with an LED system over the enormous kitchen and then some—not to mention the master bedroom that had a rigged-up zeppelin that looked like it had exploded.
By 2012, the listing became exclusive to Nicole Beauchamp, a broker at Warburg Realty. Priced at $1.725 million, Ms. Beauchamp knew the unique design would be a really tough sell.
"After several go-rounds with the owner and would-be buyers, the priced was dropped several times before the owner finally agreed nearly a year later to 'neutralize' the residence," she said. The steampunk touches were stripped away, and the loft finally sold last year for $1.59 million. "Needless to say, the owner's loss was actually more, given the cost of the renovation," Ms. Beauchamp said.
Devil-may-care renovations aren't new. Marjorie Merriweather Post (Mrs. E.F. Hutton) famously created a gown room, a bakery and a silver room in the James Burden Mansion on East 92nd Street, and Frank Sinatra actually used one floor of his apartment on East 72nd Street for a full-blown studio.
But it's possible to go for unusual customizations that don't compromise the price. New York-based designer Kati Curtis is currently working with two 20-something sisters who recently purchased a penthouse on West 21st Street near the High Line. Among their special requests was the creation of an indoor chef's garden wall designed to grow sustainable, organic, fresh herbs and edible greens.
Instead of mounting several "shelves" on a wall, they wanted it customized to fit five shelves inside the kitchen's floor-to-ceiling wine refrigerator. Ms. Curtis began working with architects Mark Alex Maidique and Chuck Wheelock to get the job done.
The sisters are also artists. They set aside a room to be used as a studio, so Ms. Curtis headed off to Bali to purchase an authentic temple door to emphasize what one would find behind the door.
Surely there are some similarly inclined Zen chefs out there should the sisters decide to sell?
Sticking to the theme of unusual, but not necessarily deal-breaking, is a bedroom designed by Jamie Drake, whose clients have included Madonna. Mr. Drake recently designed a $27 million model apartment on the 58th floor of One57 on West 57th Street in Midtown, using a unique wall treatment by Jonathan Kutzin of America Painting in Cresskill, N.J. Every single wall is painted with eye shadow mixed in for a shimmery effect.
"Pounds of iridescent eye shadow imported from Germany were infused into every gallon of paint … and was finished off with multiple coats of clear polyethylene," said Mr. Drake. "What I love about this process is the chameleon-like quality … as one moves about the rooms."
The unit can be purchased with all of the furnishings for $28.5 million—mascara not included.