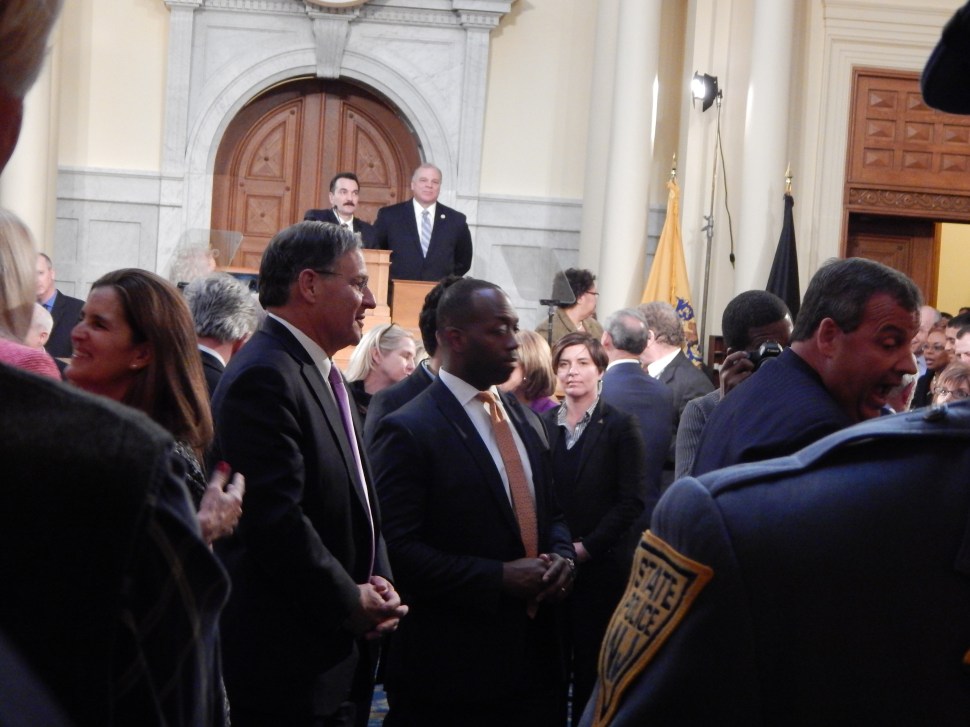 TRENTON — The General Assembly's top Republican this afternoon offered a positive review of Gov. Chris Christie's latest State of the State Address — but did suggest that the content of the governor's speech revealed concern for a wider audience.
"Here's somebody that can deliver a speech really well, and what he's saying is if we don't get more competitive, we'll lose more businesses, we have to make sure that people who have a serious problem, that we try to help them, and the third thing is we really have to work together," Assembly Minority Leader Jon Bramnick (R-21), a longtime ally of the governor's, told PolitickerNJ following Christie's speech. "That's what I drew from it."
Christie's hour-long address, given in front of a packed audience of New Jersey lawmakers and political observers on the Assembly floor this afternoon, has received mixed reviews from lawmakers in the state. Democratic leaders following the speech blasted the Republican governor for glossing over many of the challenges the state faces and playing up his own accomplishments, while Republicans gave it mostly positive reviews, standing as a caucus numerous times during the speech to applaud the governors comments on lower taxes and bringing business back to the state.
Most, however, took the sweeping rhetoric regarding national issues that Christie also snuck into the speech as another sign that he's serious about a presidential campaign in 2016. Christie, a leading figure of the Republican party right now, is widely expected to announce his decision on a run at the end of this month.
For his part, Bramnick suggested the governor's comments about uncovering feelings of "anxiety"  among voters during his cross-country travels as chairman of the Republican Governors Association last year indicates that he may be gearing up for a national campaign.
"Well I don't know, I'm not a good analyst, but I can tell you if you travel throughout the country, he did say that there is that anxiety out there which indicates that he has some concerns about where the country is," Bramnick told PolitickerNJ. "Now whether that means he runs for president — obviously he is thinking about the national picture. What that means politically I can't tell you."