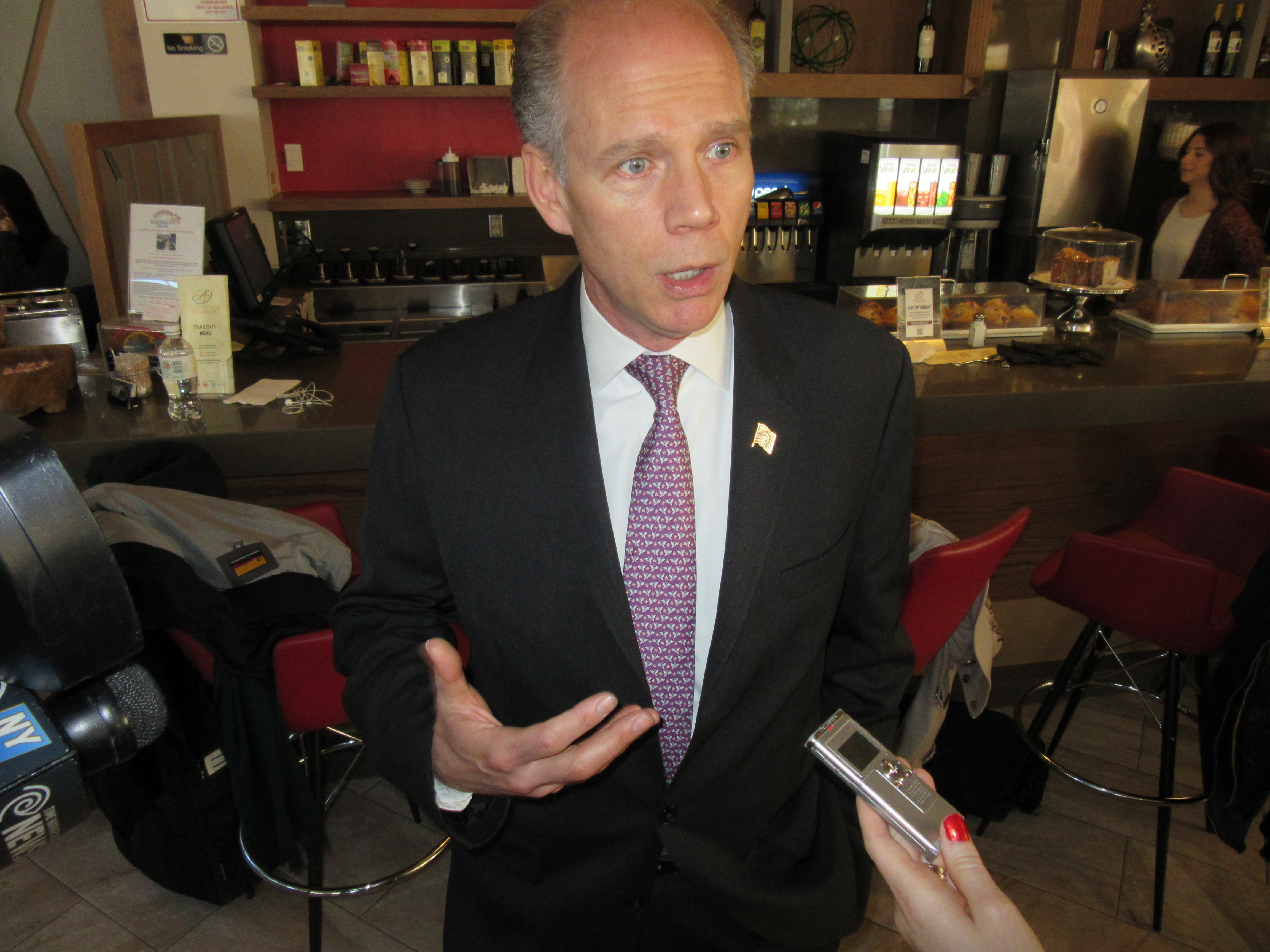 The Staten Island Republican Party today officially selected the borough's district attorney, Daniel Donovan, as its candidate to replace former Congressman Michael Grimm—spurning Assemblywoman Nicole Malliotakis, who also expressed interest in the Staten Island and Brooklyn-based seat.
After an interview meeting with both candidates in the basement of Staten Island's Annandale Terrace Diner, Party Chairman John Antoniello declared the party's executive committee overwhelmingly backed Mr. Donovan—who only officially announced his candidacy last night after "considering" it for weeks. Ms. Malliotakis returned from a trip to Washington, D.C. yesterday after an effort to persuade national Republicans to pressure the local party to support her.
Mr. Antoniello, whom the state party's rules invest with the power to unilaterally select a candidate in a special election, cited Mr. Donovan's 12 years experience as district attorney as well as his history as deputy borough president.
"We had a good interview process, we are very lucky to have two very qualified candidates," said Mr. Antoniello. "But at the end of the day, the committee felt overwhelmingly that Dan Donovan would make the better candidate."
Mr. Donovan said he would push in Congress for more relief for homeowners still reeling from 2012's Hurricane Sandy, and to fight President Barack Obama's executive order granting amnesty to undocumented immigrants.
"There's many issues for the district, and they affect people locally, they affect people regionally, and they affect people nationally," he said. "Government should do for people what they can't do for themselves. People spend their money really well, government doesn't spend money particularly well."
After leaving the meeting, Ms. Malliotakis criticized the executive committee as biased against her—though she would not say why that would be the case—and called for the larger Republican county committee to select the candidate. She maintained that she was a superior candidate because of her experience representing a swing district that spans both Brooklyn and Staten Island, and because of her Cuban and Greek heritage.
"Most of them are appointed by individuals who have already weighed in on this race, or elected officials who have weighed in on this race, and so what we really want is a full and transparent committee vote," she said. "I went in with eyes open, knowing I would only come out of here with a couple of votes."
Mr. Antoniello reiterated that the decision solely had to do with Mr. Donovan's deeper experience, and noted that the rules only give him the power to select a candidate.
"We fall back to the state laws in this election, and in that type of election, it's the call of the chairman," he said.
As such, today's decision was not a vote by the county but simply a "poll," in Mr. Antoniello's words, of the party brass.
Mr. Grimm stepped down from the seat this week after pleading guilty to a single felony tax evasion charge. Gov. Andrew Cuomo has yet to call a special election to fill the vacancy, though federal law requires him to do so at some undefined point.
Mr. Donovan, previously a quiet and little known politician, gained national attention after he failed to persuade a grand jury to indict NYPD Officer Daniel Pantaleo in the homicide of black Staten Islander Eric Garner—which some have argued could become an image problem for the national GOP. However, the decision comes as little surprise, as most of the borough's top Republicans lined up behind Mr. Donovan in the waning days of December.
On the Democratic side, party leaders have told the Observer they want to support Assemblyman Michael Cusick for the seat, though former Congressman Michael McMahon—whom Mr. Grimm defeated in 2010—has also indicated he is interested in returning to Washington. Two Brooklyn Democrats, Assemblyman William Colton and Councilman Vincent Gentile, are also looking to run.