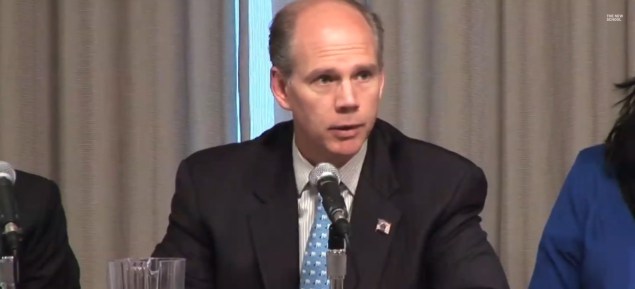 The chairman of the Staten Island Republican Party announced today that he will support Daniel Donovan, the Staten Island district attorney, to run in a special election to replace Congressman Michael Grimm.
John Antoniello, the chair of the borough's GOP organization, said he is endorsing Mr. Donovan, the prosecutor who rose to prominence for not securing an indictment in the Eric Garner case, because of his "experience" and "integrity."
"It is my personal opinion that Dan Donovan's experience, integrity and his decades of public service to the people of this City make him the most qualified," Mr. Antoniello said in a statement. "I am proud to support him and encourage him to make the run."
Mr. Grimm will resign from Congress on January 5 after pleading guilty to a single felony tax evasion charge. The Staten Island Republican and Democratic organizations will each nominate a candidate to run to replace Mr. Grimm, who easily won re-election last November before pleading guilty.
Mr. Donovan has not formerly declared his candidacy but is expected to shortly. His nomination to run would mean Staten Island Republicans will be spurning one of their rising stars, 34-year-old Assemblywoman Nicole Malliotakis.
After Mr. Grimm resigned, several Staten Island elected officials immediately rushed to endorse Mr. Donovan, even as Ms. Malliotakis undertook her own campaign on Twitter to show she had support for the nomination. Today, many of those same elected officials, like Staten Island Borough President James Oddo and Councilman Vincent Ignizio, endorsed Mr. Donovan.
On the Democratic side, former Congressman Michael McMahon and Staten Island Assemblyman Michael Cusick are vying for the nomination. Mr. Cusick is said to be a favorite for the nod.
Ms. Malliotakis did not immediately return a request for comment.