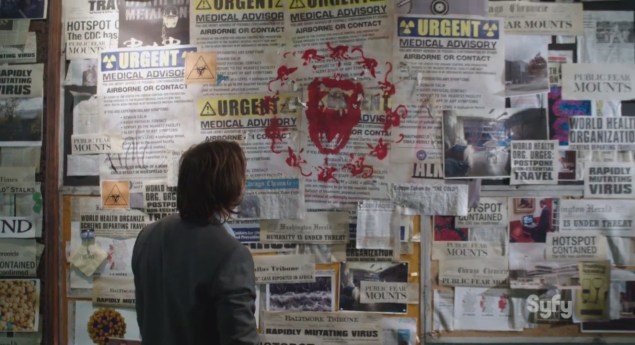 This Friday, Syfy debuts 12 Monkeys, a series which may share the same name as an acclaimed 1995 sci-fi feature film, but as Executive Producer Terry Matalas explains, both fans of the film and those new to the story will find reasons to tune in week after week.
It's film and the series share the same one line setup, says Matalas, "A dangerous man named Cole comes back in time to find the source of a deadly plague that eradicated mankind." But then, he assures, that the series deviates from it just being that simple.
20 years after the film, Matalas and everyone behind the show feel that the time is right for this expansion of the storyline. "We really believe that viewers are ready for a longer serialized time travel story in which a traveler is bouncing from time period to time period, living portions out of synch with other characters who are also out of synch."
He then name checks a few extremely popular series and how those shows influenced the creation of 12 Monkeys. "Dr. Who and Star Trek are all time travel stories and this show has that at its core every week," says Matalas, "but at the same time it's telling a longer story like Breaking Bad or Battlestar Galactica. That's the DNA of the show. This is a character story and I think that's what TV is all about now; having these incredible characters that you can bond with week to week and we have that."
The series follows Cole, a man from a post-apocalyptic future in which a plague has wiped out nearly all of humanity. The pilot picks up 27 years after the virus and kicks off with Cole being sent back to 2013 to stop the plague from ever happening.
In the narrative, Cole is joined on his journey by virologist Dr. Cassandra Railly and his pal, Ramse and scientist/mentor, Jones.
Told in a non-linear format, the series jumps from era to era quickly, a format that was a bit challenging for the series' writers, explains Matalas. "The other EPs, Travis Fickett and Natalie Chaidez, and I, all have the ability to see the story non linearly. When it came to breaking the entire season down into the individual episodes, yes, it requited a lot of blue prints and a lot of making sure everything made sense., but I think everyone will see that since we worked so hard on making sure all of the details relate to each other in a very logical way that the narrative progresses through this season in a very satisfying manner."
Matalas and Fickett are certainly both totally onboard for the show now, but that wasn't exactly the case when they were first approached about the project.
"Travis, who's my production partner, and I had written a time travel spec that ended up the hands of Atlas, the company that made the original 12 Monkeys feature film. Off of that, they called us in and asked if we would be interested in adapting the film into a series. Truthfully, our first thought was no way. 12 Monkeys is one of our favorite movies. It's perfect as it is so we were confused. Why would you do that? Why would you mess with something that good? But then, once we got past that first gut reaction, we talked about how we thought there was an incredible way to tell a really unique serialized time travel story. Then we wrote this on spec because to us that was easier than going in and pitching all of the integral parts of it. So, yes, at first we came at it with some apprehension, but then we all could see where it could go."
Given that the show has a plague motif, one might think that that was a conscious effort on the part of the producers to give the show a timely edge, but Matalas reveals that this is simply not the case.
"When we started working on this project years ago, Ebola was not a word that was heard, ever. People didn't know what it was." Everyone on the show learned very quickly about the reality of the Ebola situation," explains Matalas. "We've been fortunate enough to shoot this in several countries – Haiti, Macedonia, The Dominican Republic. When we went to Macedonia there was an Ebola scare while we were there, so it is close to home. It is unavoidable that this is happening now and we certainly don't take any pleasure in the timing given the gravity of this situation."
Lightening things up a bit, Matalas says, "It's funny, we want this to be the time travel show, not the plague show. You do get those snarky emails from your friends that say, 'is this Ebola news just viral marketing for your show?' I can assure you that it's not. Ebola is really dangerous and scary and it's not the kind of thing you want to just cavalierly turned into a popcorn television show. That's why our plague is different in ways that I can't give away now."
Matalas firmly believes that viewers will look past the grim factor of the plaque and really hook into the time travel aspect of the show, as he explains, "When asked about time travel it's easy for people to say, 'oh I would go back to the 60s and see The Beatles or I'd go to the roaring 20s,' but I think really for most people if they could go back in time it's usually connected to someone they love, whether it's a parent or a child or a significant other, it's always like, 'if I could just go back and have that conversation with that person.' Imagine you could undo some horrible that you've done. Imagine you could save someone. That was the surprising thing in putting this show together – that all of our characters have deep emotional reasons for doing what they do. Which makes for really great, engaging storytelling and that's what we've done here."
12 Monkeys debuts on Syfy Friday, January 16th at 9pm.