"Food fight" is too polite to describe the recent war of words between sports reporters who write about pro football for New York's tabloid newspapers.
The main combatants—but not the only ones—are Mark Cannizzaro of the New York Post and Manish Mehta of the New York Daily News. If it's figurative food they've been throwing, it's the foul byproduct of pre-digested meals.
The issue was who would replace Rex Ryan as head coach of the New York Football Jets. Owner Woody Johnson settled that this week by hiring Todd Bowles to replace Ryan and Mike Maccagnan as his general manager to replace John Idzik.
It looked a lot different two weeks ago when Cannizzaro touted a head-coaching candidate, Doug Marrone, who left Buffalo right after the regular season and is known to be a long-time friend of Cannizzaro's.
On Dec. 31 Cannizzaro began a drumbeat of Tweets with "I can see #Jets hiring Marrone pretty quickly and allowing him to have input in GM search."
Next day, Cannizzaro added "Marrone has jumped to the top of the Jets' list . . . "
Not so fast, said the Daily News. Mehta in particular suggested it was "sleazy" for Jets' consultants Charley Casserly and Ron Wolf to push a favored friend on Johnson so quickly after Marrone opted out of the final two years of his Bills deal.
Mehta implied premature Jets' discussions with Marrone's agent, Jimmy Sexton, while Marrone still coached the Bills. Mehta also skated on thin journalistic ice when he quoted several anonymous sources saying negative things about a man unable to counter them.
"He's never won anywhere," Mehta quoted an anonymous executive. (Marrone was 25-25 at Syracuse and 15-17 with the Bills.)
Mehta found "one league source" who said Marrone "wasn't the most-liked guy by the players."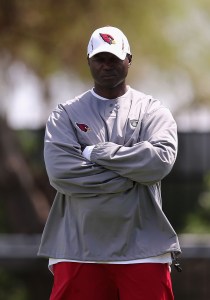 Next, Mehta wrote that Marrone was a "control freak" according to "one person." And "a source' told Mehta that Marrone was all "about power and control. That is why he is a very dangerous person to have in the building."
By then, it turned into a hockey fight. Third man in was columnist Mike Lupica of the Daily News on Jan. 2 suggesting:
"Woody would have been better off staying with Rex Ryan who has had much better results in pro football than Marrone has." Then he ended with his characteristic Big-Town patter. Johnson, Lupica wrote "Looks like a sucker. Or maybe a mark."
According to a Seth Walder piece in the News on Jan 5, a former assistant to Marrone at Syracuse, Bob Casullo, told ESPN radio in Syracuse that Marrone is "Self-centered, selfish, greedy. You're re-shuffling an egomaniac, less than .500 coach."
Next involved was Michael Kay on ESPN Radio in New York who told Mehta, his guest, that Mehta aggressively sought out people with axes to grind in Buffalo and that Mehta was naïve about how coaches play out their leverage.
Post teammate Brian Costello came to the aide of Cannizzaro in a Jan. 9 post: "Two sources said that Marrone did not bomb the interview as has been reported" by the Daily News and others.
Cannizzaro turned what was ostensibly a Boomer Esiason column into an attack on the unnamed Mehta. Esiason is the former Jets' quarterback and broadcasting gadfly.
Cannizzaro wrote: "Esiason cited the 'agenda-driven' smear campaign against Marrone by one New York newspaper as an example of how bad it can get here saying he 'doesn't take anything the paper" (the Daily News) "writes about the Jets seriously at all because it's 100-percent agenda-drive and it's so painfully obvious.'"
Agenda? Hmmmm. Certainly it would be difficult for Mehta, from a competitive standpoint, to work against Cannizzaro if one of Cannizzaro's friends became the head coach. Mehta, and his fellow writers at the Daily News, seemed to be reading the same playbook.
Cannizzaro was out-manned by Daily News snipers, but stuck to his guns.
"There have been rampant erroneous reports that Marrone's interview with the Jets went poorly," Cannizzaro wrote. "To the contrary, according to sources familiar with the proceedings. Marrone's interview with the Jets went well."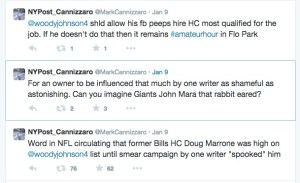 But Marrone's name soon dropped out of media speculation. Seattle defensive coordinator Dan Quinn seemed to be a front runner until Bowles was hired Tuesday from the Arizona Cardinals, where he was defensive coordinator.
Cannizzaro resorted to firing Twitter rockets, the current rage among overworked sports reporters who must serve that platform along with constant internet reporting and also full stories for the printed page.
While Mehta was on Kay's radio show, Cannizzaro tweeted: "MichaelKay1 embarrassing agenda-laced (begin air quotes here) journalism (end air quotes) here."
On Jan. 9, Cannizzaro tweeted: "Word in NFL circulating that former Bills HC Doug Marrone was high on @Woodyjohnson4 list until smear campaign by one writer 'spooked him.'"
On the same day, he also wrote: "For an owner to be influenced that much by one writer is shameful as astonishing. Can you imagine Giants John Mara that rabbit-eared?"
Finally, he added: "Woody Johnson4 shid allow his fb peers hire HC most qualified for the job. If he doesn't do that it remains #amateurhour at Flo Park."
Curiously, for such a verbose profession, the journalists kept silent when asked about the current fracas.
Cannizzaro, in an email exchange, told the Observer: "As a colleague I would be happy to help, but my sports editor has advised that I not participate in the story. Apologies."
From The Daily News, sports editor Teri Thompson wrote in a message to the Observer: "Our stories speak for themselves. We'll respectfully decline to comment, as will Manish."
Joe Lapointe spent 20 years as a sports reporter for The New York Times and worked as a segment producer for Countdown With Keith Olbermann. Recently, he's taught journalism at New York University, Rutgers and Long Island University-Brooklyn.