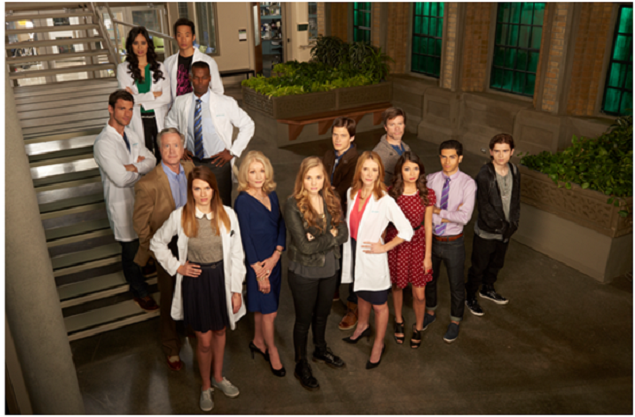 The first few moments of TeenNick's newest show might just give viewers a mild heart attack. This is quite by design and seems appropriate given the fact that this show is entitled Open Heart.
The series centers around 16-year-old Dylan Blake who while volunteering (although not really of her own free will) at Open Heart Memorial, embarks on a search to find her missing father. With strong family ties at the hospital, her mother and sister are doctors, her grandparents are board members and benefactors, it would seem like the place would feel like a second home to Dylan. Only if that home were filled with secrets. The hospital is the last place her father was seen and while most people think he just ran off, Dylan is convinced that this isn't the case and sets out to prove something sinister happened to her father, as she believes that's the only reason he would leave his family.
When she starts looking into her dad's disappearance, Dylan begins to unearth a trail of clues that lead to some very unexpected places.
Open Heart comes from the producers of the hugely popular Degrassi series, with past Degrassi writer, Ramona Barckert serving as Executive Producer.
Barckert explains the genesis of the show, saying, "While I was a writer on Degrassi, the studio behind that show was looking to start a new show that was not centered around a school the way Degrassi is. The idea come up that a hospital might be a great place to set the show, but a hospital might also seem like a weird place to find teens, so we had to work out why would they be there and what would be the trials and tribulations that they'd face in that setting, so when I came onboard the project we sort of had to find what those things would be. Then, the idea for a really intricate family drama with a mystery came out. At that point, we knew we wanted to mesh these ideas together into one show, so we did just that and created this sort of hybrid series that's family drama and mystery all rolled into one."
When developing Open Heart, Barckert called upon some earlier television series that she liked and respected as inspiration. "My favorite show of all time is Buffy the Vampire Slayer. That was a show that played on a bunch of different genres and types of storytelling.  I also liked Veronica Mars and I can see Dylan Blake as a 2015 version of Buffy or Veronica. Both of those women we're complicated people who were just trying to make it in the world, do right by their friends and family and solve problems that were important to them. I think they were very relatable to a lot of people, just like our characters, especially our lead, Dylan, will be."
Given that the mystery Dylan is trying to solve will stretch out throughout the whole of the first season, Barckert had to do some serious work to make sure that that part of the storyline flowed, and was believable as well.
"During the very early stages of the creation of the show, we really discussed and established the greater mythology of the show. The main question in this season of 12 episodes is 'what happened to Richard Blake?' To unravel that, we worked with a story structure that I liken to what happens when you have a set of those Russian dolls – you open one and right inside there there's another and another and another and it goes on and on and you're more and more curious about how long this will go on and what you'll find."
The serialized nature of the series posed some challenges but Barckert's vision of the show never wavered. "I knew when we started looking at episodes one, two and three what the last scene of the season finale was going to be, so then it became a matter of figuring out how we would back into that in the subsequent episodes leading up to the end." To ensure the strength of the narrative, Barckert and her writing staff completed eight scripts before production on the series began which she says helped secure the framework of the series. "Having those eight scripts completed before we started shooting really helped us be able to focus and see what the strengths and weaknesses were and really shape those last four episodes based on those strengths."
In addition to the episodes airing on TeenNick, the show will have an elaborate interactive digital element as well. "I think every show tries to find a digital niche, a 'second screen' experience," explains Barckert. "It's a half hour show and between episodes is a long time to wait for the next piece of content. So we built an app to bridge that gap between episodes. The app is called Open Heart Unlocked and through it you get access to Dylan's phone. So you get to see clues that she's gathering, texts from her friends, pictures that she's taken and little videos that she's made. It's all building a narrative and it's a very immersive experience."
Barckert goes on to say that the show doesn't take a slow approach to unraveling the mystery of what happened to Richard Blake. "It moves fast. There is no filler. I describe it as a ride. You buckle up and you just go. You have to pay attention because it moves fast and nothing is what it seems. The minute you decide who a character is and what they're about, something is revealed about them or they make a decision that's surprising or something happens to them. You're not looking at a show that has that formula every week. In fact, the first few days that we were shooting we felt like we were shooting a different show every day – we were shooting a romantic comedy one day and the next we were in a psych ward and on day three we were on a medical procedural show. And, that's how the ride of this show goes, it zigs and it zags, a lot. It's really an exciting new kind of show that mixes genres and really challenges people to fall in love with the characters and spend time with them. I think it's exciting to try something new like this."
One fear that Barckert has is that people will write off Open Heart simply because it airs on TeenNick, assuming that it's a show specifically for young people. To this notion she says, "I think people are wrong to simply choose to bypass a show just because it's on TeenNick. There are adults watching Pretty Little Liars and Teen Wolf and shows like that. Some element of these shows is attracting older viewers and I think this show has that element. I think it's really hard to watch the first few episodes and not be drawn in and once people are in, I'm fairly certain that they'll stay onboard for this journey."
Open Heart premieres on TeenNick Tuesday, January 20th at 9pm et.