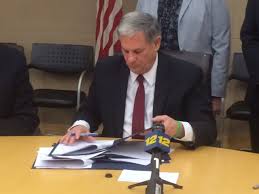 HACKENSACK – Bergen County Executive Jim Tedesco submitted a stipulation of dismissal to the New Jersey Supreme Court on Monday, ending a prolonged legal battle that began with former County Executive Kathleen Donovan pitted against the union that represents the Bergen County Sheriff's Office.
"The people of Bergen County do not want elected officials legislating through litigation. The courtrooms should be our last resort, not our first response," said Tedesco in a written statement. "I am committed to establishing and encouraging a collegial, collaborative relationship between the County Executive's office and [the Bergen County] Sheriff's office. As such, Sheriff [Michael] Saudino has committed to engaging in open dialogue with my administration throughout the collective bargaining process."
Tedesco's move specifically withdraws the appeal filed by Donovan to the Supreme Court after PBA Local 134, which represents the sheriff's officers, won a court ruling that backed the 2011 collective bargaining agreement negotiated with the county by Sheriff Saudino. The agreement included pay raises.
After Donovan refused to implement the contract, the union and the sheriff sued her. Donovan lost that case at both the Superior Court and Appellate Court levels. The state Supreme Court refused in September 2014 to grant her a stay, which means Donovan would be compelled to pay the raises called for in the contract while continuing her appeal.
The protracted legal struggle served to mobilize members of the sheriff's office, headed by Saudino, a Republican, in favor of Tedesco, a Democrat, in his successful campaign to oust Donovan, a Republican, from office in November 2014. Hours after being sworn in on Jan. 1, Tedesco signed a memorandum of agreement that began the process of realigning the Bergen County Police Department with the Bergen County Sheriff's Office, an issue that played a key role in his November 2014 election victory.
"County Executive Tedesco's action affirms his support for my constitutional authority to negotiate contracts with Bergen County Sheriff's Officers," said Saudino in a written statement. "This litigation was a profound waste of taxpayer dollars. It also created an unnecessarily adversarial relationship between the Sheriff's Office and the County Executive. I look forward to working with the County Executive on all matters concerning the safety and well-being of Bergen County residents."