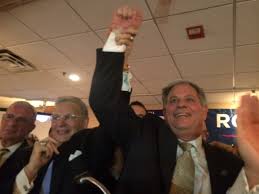 The political decision by James Tedesco to get sworn in by former Senate President Dick Codey makes an unavoidable and potent political statement in a developing power game.
Codey lost his job to sitting Senate President Steve Sweeney (D-3), who now wants to be governor and requires the burgeoning of key alliances up north.
Allies of Bergen County Democratic Chairman Lou Stellato might laugh off symbolic political deductions of Codey's presence as simply the fact that Stellato and Codey are long in the funeral business – professional pals cut from the same funereal – as it were – cloth.
They also insist on a history here that the Bergen County executive has with Codey.
In 2002 when Tedesco won his mayor's seat, Codey was the senate president and administered the oath. When re-elected in 2006, Codey did the job again as senate president and former governor. They have had a close and strong political relationship, sources emphasize.

Don't over-think it, one source said, noting that Sweeney has a speaking role at Sunday's swearing-in event.
But in this intense political climate where everything must be examined for its theatrical implications, Codey's presence sends one message and one message only, and it's an anti Sweeney, anti-South Jersey message.
Sweeney deposed Codey.
South Jersey not only slung Codey off his nest of senate power, but did so with relish, later combining redistricting forces with Essex County Executive Joe DiVincenzo to further complicate life for the former governor by pushing LD27 west into Morris County.
Why resuscitate him and place him on a power stage like this?
In political terms, the answer is simple: to make a very precise point about Codey's importance as an ally.
Sweeney donated money to Tedesco, in the vicinity of the same money his gubernatorial rivals gave.
But South Jersey and George Norcross III as an engine of power were not engaged on behalf of Tedesco.
Codey affirming Tedesco in public reasserts Northern power and the power of the north to select from its own stable of symbolic presences – an especially delectable procedure when such a presence is Codey, a man dedicated to undoing that Southern-based power structure that hardened when Sweeney deposed him.
Certainly, either of Sweeney's rivals Jersey City Mayor Steven Fulop or former U.S. Ambassador Phil Murphy would want to be the man swearing in Tedesco in politically vital Bergen.
By slapping at Sweeney but rewarding neither of his rivals, Tedesco and Stellato leave open their ultimate choice – which – if we read his presence here as more than simply antagonistic symbolism – could be the long-teasing Codey, if ever he were to run.