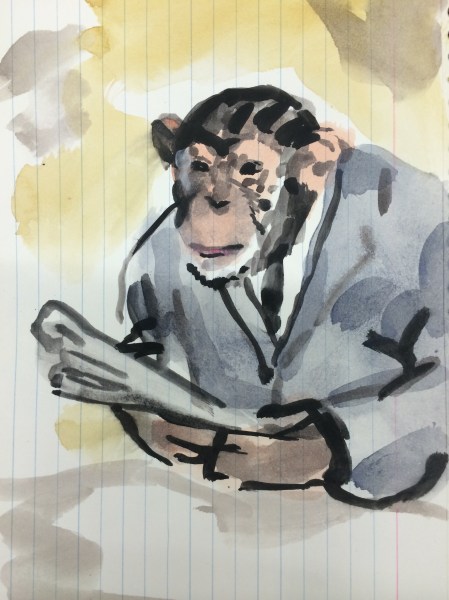 As an artist, you know you're lucky when you can make a long list of all the people who have helped to keep your career alive. The art business—the idea of getting your work "out there," to be "in play" one way or another—is a collaborative process, one that puts the artist at the mercy of critics, curators, collectors, dealers, other artists and the public. In the abstract, the artist is cherished and coddled, like a golden child surrounded by an admiring family. In this regard, for me, 2014 was a pretty good year, largely because of all the things these kinds of people did for me.
My 2014 got an illustrious start thanks to the artist John Miller, who I've known for a long time, and who has included my work in shows that he has organized in the past. Last January, he did it again, putting me in "Bad Conscience," a group exhibition held at Metro Pictures gallery in Chelsea. Perhaps out of a sense of propriety, or perhaps intimidated by the illustrious roster of artists—Lyle Ashton Harris, Leigh Ledare, Marilyn Minter, Wangechi Mutu, etc.—I never got around to asking just what John meant by "Bad Conscience." Something brainy and rather disreputable, I would assume.
Now that I've googled, I see that "bad conscience" is a central term in Nietzsche's Genealogy of Morals (1887), where it has something to do with producing individuality, the ascetic ideal, and even beauty. Too cool! John selected a few of my paintings from the 1980s of my daughter's dolls, and some more recent ones of brand-name spirits lined up on a liquor-store shelf. They must have something to do with the theme. One of the paintings, painted large on a gray pinstriped bedsheet, was a portrait of a cuddly plush toy of a white bunny. I was gratified to see at the opening two young fans of kawaii posing for pictures in front of it.
Next, during the so-called Armory Arts Week in March, I got a hand from the curatorial couple Ambre Kelly and Andrew Gori, who are artists and cultural impresarios and who organize the annual "Spring/Break" art show, which in 2014 was held for the third (and last) time in the four-story Old School in Little Italy. It's quite a DIY extravaganza, and Ambre and Andrew put a bunch of my romance paintings in one of the schoolhouse rooms. They had a theme, "public/private," and more or less discovered it in my paintings, a surprise to me, since I hadn't even noticed it. In the world of pulp romance, it turns out, people are constantly being surprised in compromising positions, their intimacies and secrets suddenly exposed to the viewer. It's a kind of primal scene. Plus, the discovery of the unknown is a nice metaphor for art in general.
"Spring/Break" also had some erotica, paintings of the self-portraits that massage therapists use to advertise their services on the Backpage.com website, a subject that fit nicely into the "public/private" theme. These works were ingeniously displayed inside a kind of built-in coat closet in a corner of the room. The paintings are totally soft-core, but visitors to the show still had to peek into the cabinet to see them.
In June, my patrons were the young art dealers Florence Lynch and Bee Tham, who had recently opened their new gallery in a storefront way over on Rivington Street, smack dab between a pawn shop and a tattoo parlor. I've known Florence since she had worked for Salvatore Ala, who had a huge gallery in SoHo in the 1990s. This year I had sent her an email saying that I had some paintings of fashion models, copied from Macy's newspaper inserts and emails from J. Crew and Lands' End, that I needed to show, and could she help me out. She went for it. The sudden popularity of the notion of normcore was perfectly serendipitous. I called the show "Figure Studies," and it was mentioned in W, and even received an enthusiastic tweet from Lands' End itself, a relief in this litigious age. A couple of smart critics, Sarah Schmerler at Art in America, and Stephanie Strasnick in ARTnews, reviewed the show. I promptly friended them both on Facebook.
In October, it was the turn of museum director Barry Blinderman to help me out. Barry ran a commercial gallery in New York in the '80s, but has served as director of the University Galleries at Illinois State University in Normal, Ill., about 130 miles southwest of Chicago. Immensely energetic and passionate about East Village art, Barry had given Keith Haring his first monographic museum show and done the David Wojnarowicz retrospective, as well as bringing dozens of other New York artists out to the Great Plains. This year it was my turn, and with a beautiful new space in "uptown" Normal, Barry put together a survey of more than 90 of my paintings, dating from 1979 to the present. I went out there, of course, and made the same dumb joke that everyone makes: "After this, I'll never get back to Normal."
It was a pretty good year for me, then. But what about the rest of the art world? I think it had a great year.
There was the Whitney Biennial, which made a lot of people mad, because they thought the artist Joe Scanlan had snuck in by pretending to be a black female artist named Donelle Woolford. There was the Jeff Koons retrospective, which upset people because he perfectly aligned the avant-garde with mass-market consumerism, show how both are on a mission to discover for "the new." And there was Kara Walker's 75-foot-long sphinx-mammy made of sugar, which, despite being a Brobdingnagian project to rival any by a male artist, still drew complaints because, well, white people liked it too much.
With stuff like this, how could we go wrong? The art world is afflicted with what you might call Aesthetic ADD—every few months it needs some new sensation to engage its passions, ie to bitch about. And in that regard, 2014 was a rip-roaring success.