Tailoring has always been important. But in the last few years, as the preferred fit of men's jackets, shirts and trousers has become slimmer and slimmer, buzz about tailoring seems to be at an all-time high.
Lucky for the discerning men of the world, three fledgling companies are taking the guesswork and hassle out of securing a suit with the perfect fit. Gone are the days of buying a jacket and pants off the rack and pushing off the tailoring process because you're too  busy. Now, you can order your suits through these companies and receive them in perfect shape, never to wear your trousers too baggy again.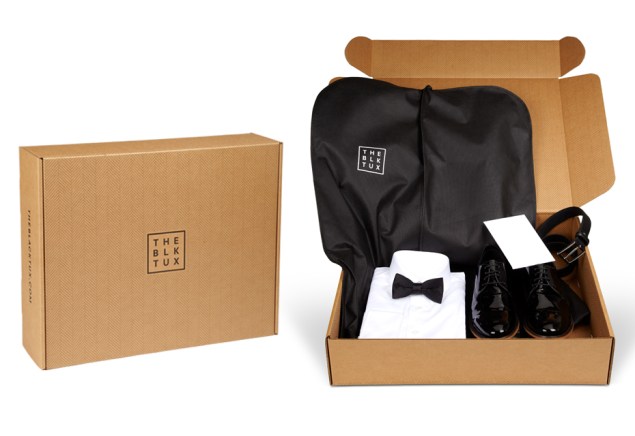 If you need to rent a tuxedo or suit and you're low on cash, the Black Tux is for you. Their tuxes go for $95 and up, and arrive at your door tailored to fit your measurements. You can either measure yourself or visit a local tailor who participates in the Black Tux's measurement program.
Their prices are lower because they've "cut out the middleman," the company says, and they swear their $95 tux is better than a $220 tux at a national rental chain. Rentals will arrive at your door one week before the event. This is basically the closest thing to a male equivalent of Rent the Runway.
2. Hugh & Crye
This predominantly online startup has developed a whole new sizing system for men, based on 12 body types according to a man's build—skinny, slim, athletic or broad—and height. Dress shirts range in price from $85 to $125. Blazers, ties, pocket squares and vintage lapel pins are also available.
Founded in 2009 by Pranav Vora and Philip Soriano, Hugh & Crye is based in Washington, DC, where they have one brick-and-mortar store.
3. Suitsupply
If online shopping isn't your thing, Suitsupply definitely will be. This international chain of 50 suiting stores has locations in Singapore, Moscow, Johannesburg — and SoHo, New York, on Broome Street. A suit here goes for $399 through $999, shirt and tie not included. The real difference between Suitsupply and a regular retail store, though, is in the tailoring. Suitsupply has tailors on-site to ensure your suit fits you perfectly, without necessitating a trip to a tailor. Plus, the salesmen know how to dress men according to skin tone and build.
Several days after you pick your suit and have your measurements taken, it will be ready for pickup at the store. Between that option and the on-demand suits online, there's no excuse these days not to keep things tailored.