The end of the year prompted the normally all-too-kind art-writing industry to bite back a bit with some trenchant criticism, or witty cheap shots, depending upon tone, and whether or not you were a target.
Here, a selection of the welcome acerbic wit. More, please.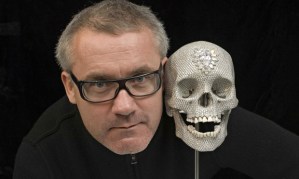 Scott Indrisek gave us a delightful "10 Terrible Art World Moments" of 2014 over at Blouin, and found fault with the ubiquitousness of Marina Abramovic, the "half-baked" analysis, in his words, of Sarah Thornton (his cat reviewed her new book) and he names, with glee, "The gold standard of awfulness for 2014: Peter Marino."
Caravaggio, Breugel, van Dyck and van Gogh all made studies of the poor, the homeless, the shoeless despite having rich patrons, points out the Guardian. So where are the poor in art today?, asks Jonathan Jones perceptively, challenging artists to fill in the gaps. He calls this current era, dismissively, "The age of the diamond skull" and concludes "Perhaps [Banksy's Maid ] will be remembered when Hirst is forgotten, just as we have forgotten all the stuffy portraits of Victorian capitalists but crowd and queue to see The Potato Eaters."
Kenny Schachter, writing from London on Artnews, offers this tart bit of wisdom: "It continues to snow art advisers, and the forecast calls for a blizzard of epic proportions. But don't expect it to be cold; as usual, there will be no shortage of hot air emanating from their mouths. These are soi-disant specialists, but much of what they do resembles a blindfolded game of darts." We are particularly curious about that "snow" metaphor…
As the year begins, Lee Rosenbaum, a.k.a noted CultureGrrl blogger, chats with John Elderfield by email about his new position at Princeton University's art museum, juxtaposes it with his recurring gig as a Gagosian consultant/curator/designated hitter, and makes a good case that he should sever commercial ties.  
We were forwarded a vintage round-up, from one of the more unlikely sources (Reader's Digest magazine), of the seven funniest paintings ever made. The designation is arguable, but Decamps 1837 simian answer to his fault-finding art critics, The Experts, is a highlight.
Paper Magazine, in a look back at 2014 highlights from its interviews, tells us one of Cindy Sherman's chief regrets and exactly how John Waters defines success. (Hint: freedom from a-holes).
Best wishes for the same in 2015.