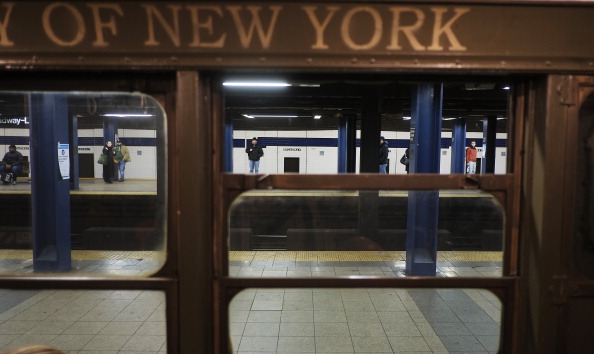 It's an embarrassment that the world's best subway system has the world's worst safety/etiquette posters. Japan's are awesome. Paris's are hilarious. Australia's are nicely tongue-in-cheek. Ours, are idiotic. For years now the campaign has featured colored avatars to represent people, probably to avoid lawsuits. Red=Goofus. Green=Gallant. Blue= Captain MTA, superhero. Gray=unimportant extra.
And ALL the Goofuses are and have been men. Every single one of them. That's bullshit, and a potential frivolous lawsuit (take noteMRM). Women, of course, are always sparkling underground angels who are never ill-mannered.
Anyway, I, like you, have stared at these posters repeatedly, mouth agape, until my head starts to hurt. I hate them with every corpuscle in my body. Completely unhelpfully, I've dissected what exactly might be going on in the ads.
1. PLEASE DON'T HOLD THE DOORS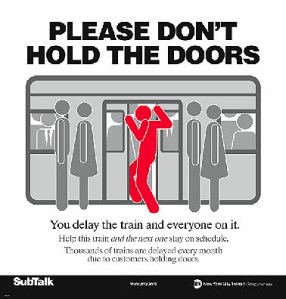 Red man: "Don't glare at me fuckfaces, I'm been waiting over half an hour for this (makes air quotes) 'every 4 to 6 minutes F train. MAKE ROOM!"
Gray man #1: "I'm glad you're holding the doors, angry red man. Now I can get on, too."
Gray woman #1: "Me too."
Gray man #2: "Me too."
Gray woman #2: "Me too."
(NEVER go down onto the tracks, for any reason.)
Green woman: "MY BABY!!!"
Blue MTA man: "Leave it."
Green woman: "She's not an it! Oh GOD, HELP! HELLLLLLP!!!!!"
Blue MTA man: "Leave it."
Green woman: "Help me get her, you braindead psychotic fucking asshole!"
Blue MTA man: "Sorry, I'm not allowed, for any reason. You can always have another baby and then buy another stroller. Here comes your A train, right on time. Please step back from the edge of the platform before I call the police (waggles his walkie-talkie)."
3. DON'T BECOME A STATISTIC. STAND BACK!

Red man: "Don't worry ma'am, I'll get your baby."
Green woman: Oh my God, thank you thank you thank you, you're a goddamn hero."
NOTE: Only 55 out of 141? That's pretty damn good odds. And how many of those deaths were suicides?
4. SEE SOMEONE AT RISK? GET HELP.


Green woman: "I think that puking red man needs help."
Blue MTA man: "Our pole seems to be aiding him adequately, and he's behind the yellow line.
Red man: "I think I'm having a stroke…"
Blue MTA man: "Please don't fall on the tracks because I won't be able to help you then. (talking into walkie talkie) 'Maintenance? need a mop north end of uptown 6, Union Square.'"
Blue MTA man: Are you really sick? Cause I'm only going to stop the train if you're really sick.
Chartreuse man (note: since he may be one of the pain-in-ass 10,000 "delays," the MTA didn't make him fully green): (moves right arm to reveal stab wound) "No, I'm fine. No cops."
Blue MTA man: "OK. Don't get any blood on the floor."
Red man: "Rats gotta eat, too."
Green man: (note: He's not staying to the right, hogging the whole staircase. He just got done eating some crap cart food and stunk up a whole subway car. There are trash cans right there on the platform. So, where the fuck is he's taking his garbage?)
7. SURF THE TRAIN, AND YOU COULD GET WIPED OUT—FOREVER.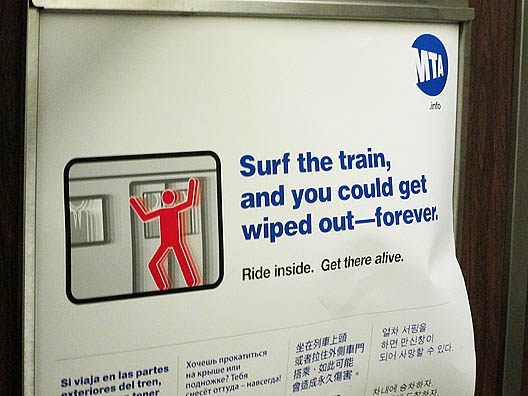 Red man (screaming): MARCIA! MARCIA! I LOVE YOU! PLEASE DON'T LEAVE ME! GIVE ME ANOTHER CHANCE! I CAN'T QUIT YOU, BABY! MARRRRCIAAAA!!!
NOTE: "wiped out —forever" is such stupid language.
Gray man: (thinking) "Fucking Hell. Now I have get up and get away from this snot-filled woman thus drawing attention to myself, which is something I fear more than death."
Gray woman: "Why are we gray? We're doing the right thing, we should be green, dammit."
Gray man: "Right? It wasn't to save money: they already paid for the extra color for the recycling logo."
Gray woman: (yelling) HEY DOUCHEBAG, STOP RUNNING!
Red man: "What did you call m… "(trips, falls, fractures skull)
NOTE: I run on platforms all the time to get to "my" car. I'm not stopping, MTA. I REFUSE.
11. UNWANTED SEXUAL CONTACT…
(sorry for the blurry image, blame the MTA website)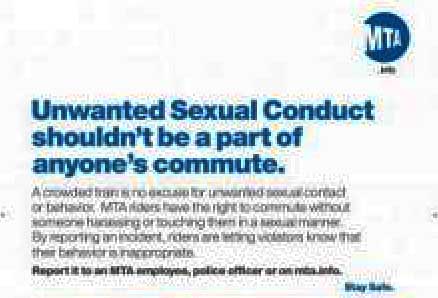 Where's the Red Man grinding on a Green Woman?
Anyway, how about that strongly-worded headline? Ya sure, MTA?
The copy reads:
A crowded train is no excuse for unwanted sexual contact or behavior. MTA riders have the right to commute without someone harassing or touching them in a sexual manner. By reporting an incident, riders are letting violators know that their behavior is inappropriate.
Inappropriate? How about: unlawful? This is what happens when weaselly lawyers, probably with bad combovers, write ad copy.
And now, new this month, the MTA is putting up new "etiquette" posters that are again stupid and again solely attack men because women never eat on trains or are discourteous.
12. IT'S A SUBWAY CAR, NOT A DINING CAR.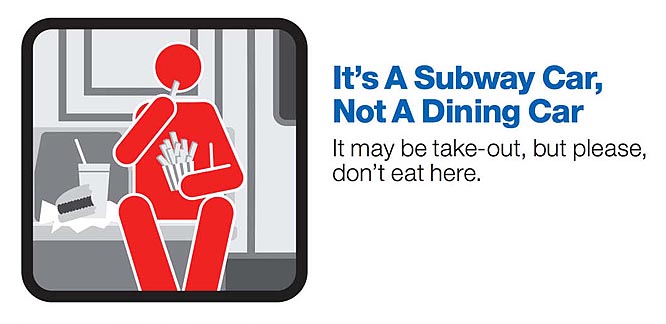 Red man: "What the FUCK are you looking at? Three stops from now, I'll be turning into a Gallant Green Man, walking up the stairs with my smelly food trash…"
Green man: (smiling) "Would you like a seat?"
Gray woman: "I'm fine."
Green man: (smiling) "Please, I insist."
Gray woman: (sternly) "No no thank you."
Green man (turning red, cursing under breath, sits down, unsmiling)
TIP: offer the seat while still sitting—with a neutral face—don't make a spectacle of it.
14. DUDE…STOP THE SPREAD, PLEASE.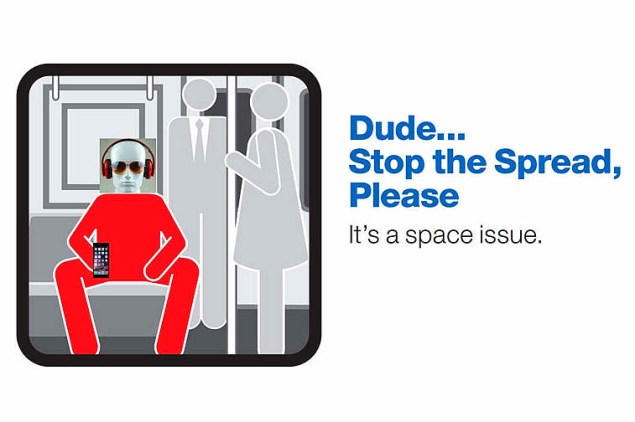 Red man: (singing, loudly) "I've got big balls. They're such big balls. And they're dirty big balls…"
NOTE: I adjusted the poster artwork a bit. But why isn't the headline: "Dude Don't Be Rude"?—that line's a fucking copywriter's layup. I'm not a leg-spreader. But, If the MTA is going to to take the effort and money to put up this poster, then where's the "If you have a 200-pound ass, please consider not plopping down heavily in a middle seat you don't fit in, squashing two helpless commuters in the process" poster? Huh? HUH?
What the MTA should do is…bring back ETTI-CAT!