The Bachelor is so good, it's frustrating that we have to cap it off at a measly two hours per week. That's why each Tuesday, we'll be having a Bachelor morning-after rose ceremony to celebrate the people, places and moments that really made the previous night's episode shine.
No roses to Kimberly, for whom the sanctity of the first night's Rose Ceremony evidently means nothing. After getting the boot, Kimberly begs Chris to let her come back on the show, and after a quick conference with Chris Harrison ("This is your life, brah, there are no rules to that"), Chris gives Kimberly a second shot.
This is just fab for Kimberly, but honestly, does she realize what kind of precedent she's set? How is this sweet spineless farm boy supposed to make anybody go home this season?!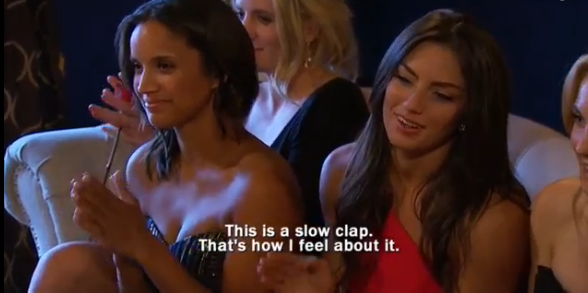 A rose to Chris's rigorous morning routine, which apparently goes as follows: Step 1, have a bro-to-bro chat with Chris Harrison about how ~totes crazy~ the Rose Ceremony was last night; Step 2, grab a coffee mug and stroll through some fancy-looking gates, preferably while wearing a slightly-unbuttoned linen shirt; Step 3, survey your kingdom like you're God's gift to America's desperate single women.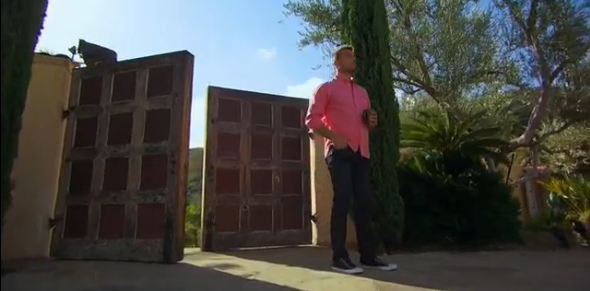 A rose to the total number of rules this season has, which is ZERO, APPARENTLY. First Kimberly gets to come back, and now, as Chris Harrison explains to the ladies, Chris will be living in a house conveniently located directly next door to the Bachelor mansion. (It also has an outdoor shower, in case you hadn't noticed the 17 outdoor shower shots so far this season.)
Girls, Chris Harrison isn't saying you have to sneak down to Chris's house, but you should proooobably sneak down to Chris's house. And hey, if you're really lucky, Chris'll be like Juan Pablo and blame you for making him have sex with you #NightInTheOcean.
Um, no roses at all to Chris's group date outfit, a.k.a. the blue zip-up hoodie with nothing underneath. This is worse than when the guys on Andi's season all randomly started wearing scarves. Honestly, how did Chris even come up with this get-up? Why do I feel like he Googled "cool things to wear when not on farm"?
Dear God, a rose to every woman forced to walk down a very public street in her bikini and then participate in the most boring tractor race known to mankind. (Is there such thing as a non-boring tractor race? Discuss.) As pathetic as the whole scene is, what makes this group date extra sad is that it's probably not so different from farm life in Iowa, except Iowa has less laughter and is 28937420983 times lonelier. Wow, that took a bit of a dark turn.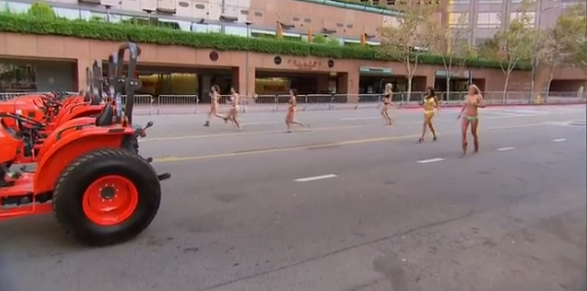 No roses to Chris's super weird mini-date at the bar with Mackenzie. Want to know a fun fact? The number of years that Mackenzie has legally been allowed to drink alcohol is less than one. Want to know another fun fact? Mackenzie apparently worked right up until the day she gave birth to her baby. "That says a lot about who you are as a person," Chris says, his eyes glowing at the prospect of how much farm work she'll be capable of doing. Mackenzie gets a rose.
After their beers, Chris and Mackenzie have a father-daughter slow dance in an awkwardly-empty room, and kiss.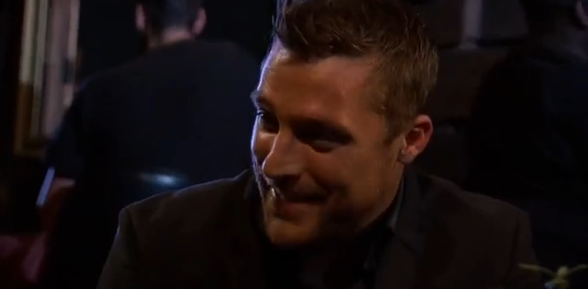 A rose to the highly strategic way in which Megan holds Chris's hand in the limo on the way to the private jet on the way to the helicopter on the way to the Grand Canyon (I could not even make this stuff up).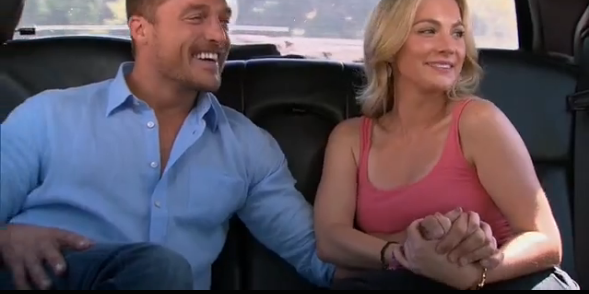 After the obligatory confession of a super sad story (Megan's dad died right before the show started filming), Chris rewards Megan with a rose.
A rose to all the people who had to dress up as zombies and let a screaming crowd of drunk girls shoot paintballs at them. How much are these people paid to do this? Who are they? Are they the girls who got kicked off at the first night's Rose Ceremony?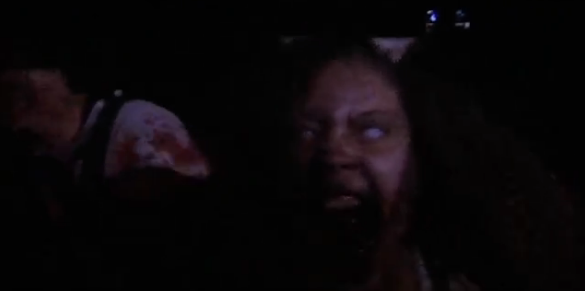 But mostly, a rose to Ashley S. (A.K.A. Onion Girl) for being a TOTAL PSYCHO from the start to finish of this group date. It's hard to  describe every moment of craziness, so here's a list of highlights: 1) Leaving the group to go back and independently execute every already-shot zombie; 2) Asking Chris what his greatest fear is, and then, before he can answer, asking him whether they're in a "dome"; 3) Crawling under a fence to talk to a cat.
"People watch the show and see crazy people and say, 'Is that staged?'" Kaitlyn says to the camera. "I'm here to tell everybody that Ashley is full-blown a crazy girl on the Bachelor." Well, there you have it, folks. (Also, Kaitlyn gets the group date rose.)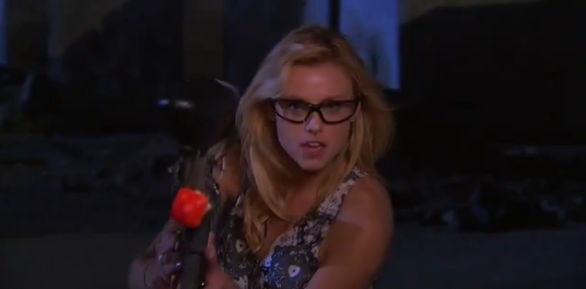 A rose to Mackenzie's young son, Kale, who will one day grow up and have to watch his mom tell Ashley I. how jealous she is that Ashley I. is still a virgin.
Speaking of Ashley I., a rose to every Bachelor viewer forced to witness the most uncomfortable make-out—nay, perhaps the most uncomfortable single thing—to ever happen in Bachelor history: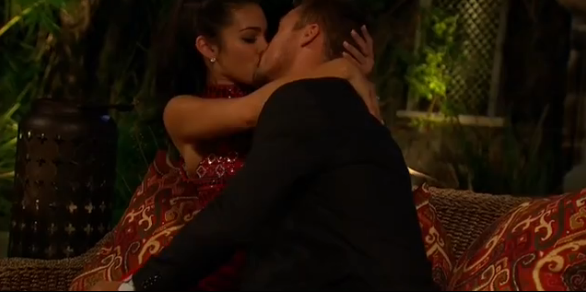 A rose to Farmer Chris, who I must admit is being way less boring than I expected; unlike Sean "I'm a Virgin" Lowe and Juan Pablo "My Daughter Is Watching This, You Skank" Galavais, Chris has no qualms about making out with all the girls. He even makes out with Amber, the girl who's been toting a Teddy Bear around the Bachelor mansion.
Unfortunately, Chris's pleasantly loose morals don't extend to kissing Jordan, who charmingly refers to making out as "going in for the kill."
Remember when I said Chris and Ashley I.'s make-out was the most uncomfortable thing in Bachelor history? I lied. In fact, the most uncomfortable thing in Bachelor history happened when Jillian mistakenly thought Chris called her name at the Rose Ceremony, and then, upon realizing her error, TRIPPED ON THE RUG AND FELL.
Also, has anyone else noticed Chris's high-pitched nervous laughter? For reference, please see: Mackenzie talking about aliens; Onion Girl's psychotic breakdown; Jillian tripping on rug.
Ultimately, resident drunkards Tara and Jordan get the boot. So do Kimberly (ouch), Tandra and Alyssa. You know who doesn't get kicked off? ONION GIRL!!!!
Stay tuned for next week's episode, which basically just looks like an ad for Jimmy Kimmel.