The Bachelor is so good, it's frustrating that we have to cap it off at a measly two hours per week. That's why each Tuesday, we'll be having a Bachelor morning-after rose ceremony to celebrate the people, places and moments that really made the previous night's episode shine.
I'll start by awarding negative seven bajillion roses to Jimmy Kimmel, whose presence on last night's episode of the Bachelor was completely unfunny, unnecessary, and unexplained. It'd be one thing if Jimmy Kimmel were on the Bachelorette, and could joke around with all the dudes. But Jimmy Kimmel mocking the women on the set of the Bachelor felt uncomfortable and patronizing—particularly when the women felt obligated to laugh at his lame, degrading sex jokes, or when they had to pretend to enjoy having him crash their dates and eat disgusting chicken wings and ask disgusting questions about the Fantasy Suite and just be so disgusting in every imaginable way. Okay, I am done now.
Just kidding! I'm actually not done. A rose to the following text messages from my dad, who was watching the show back home in Canada: "Hating the fact Jimmy Kimmel is on tonight. Makes mockery of Bachelor franchise"; "They're on a date and this f***ing idiot is crashing it. He's not one bit funny"; "Please tell me he's only on this episode?"; and, lastly, "I hate this. So bad."
A rose to the innocent lives forever traumatized by Chris and Kaitlyn's terrible Jimmy Kimmel-inspired trip to Costco, namely a) the children who had to pretend it was fun to push two full-grown, possibly intoxicated adults around in a giant inflatable ball, and b) all the starving kids who wanted to eat ketchup and mayonnaise tonight but instead they ate NOTHING because Jimmy Kimmel needed to ~be funny~.
"I don't think there's many other girls that I know that could handle a date like this with such class," says Chris, putting subtle, angry emphasis—or so I'm convincing myself—on the words "date like this."
No roses to the grossest scene in Bachelor history, not only because there are chicken wings in a hot tub, but because what could have been a very nice make-out sesh was tarnished by an annoying guy trying and failing to be funny. Honestly, can someone explain to me how Jimmy Kimmel actually added anything to Chris and Kaitlyn's hot tub scene?  WHO AMONG US WATCHES THE BACHELOR FOR 'COMEDY'?! God, I hate this episode. Kaitlyn gets a rose, BTW.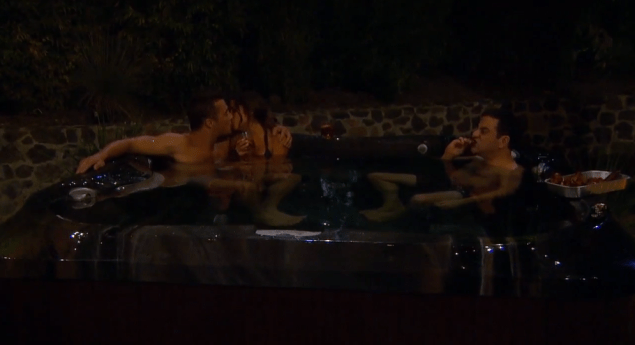 Roses to the chickens, goats and pigs that were unquestionably harmed in the making of this unprecedentedly terrible episode. Additionally, roses to every viewer who cringed harder than they've ever cringed before at Chris's use of the phrase "drinking goat milk right off the teat." I get that you're a Farmer, but like, can u not?
A rose to Farmer Chris, who I thought was going to be really boring, primarily due to the copious grain-shoveling footage we saw on the first episode. But nay, it looks like all those years alone in Iowa have made Farmer Chris the opposite of boring; in other words, the man will ferociously make out with anything that isn't a soybean.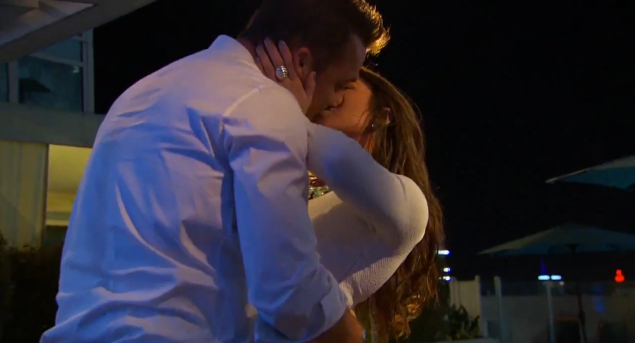 And yet of course—because an Iowan farm wife ought to be chaste—No-Kiss Becca snags the group date rose (sorry Carly).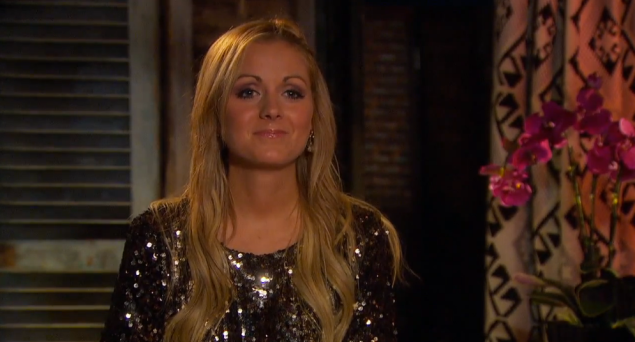 A rose to Chris and Whitney's wedding crashing date, which was super spontaneous, despite the fact that they'd clearly packed evening wear, expertly wrapped a rather large wedding gift, and had a casual conversation about how attractive it is to Chris "when a girl can be in a crowd and randomly talk to strangers."
Anyway, Chris is super turned on by the way Whitney confidently tricks and lies to all of Nick and Shannon's wedding guests, so he gives her a rose.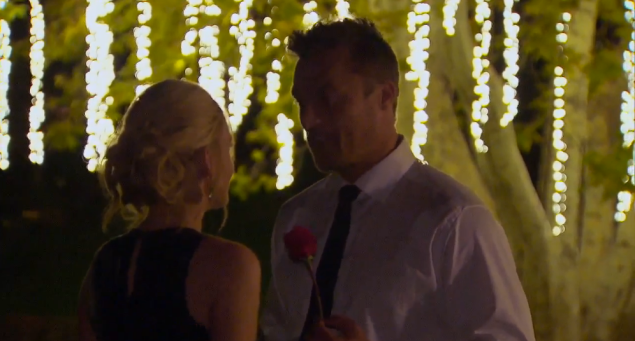 A rose to the most interesting love story playing out on this show—not between Chris and any of the women, but between Britt and Jillian. May Britt, Jillian, and Jillian's potential bum hair escape this joke of a show and go pursue their love somewhere else. Like a gym.
Not buying my theory? Please observe the following highly scientific evidence: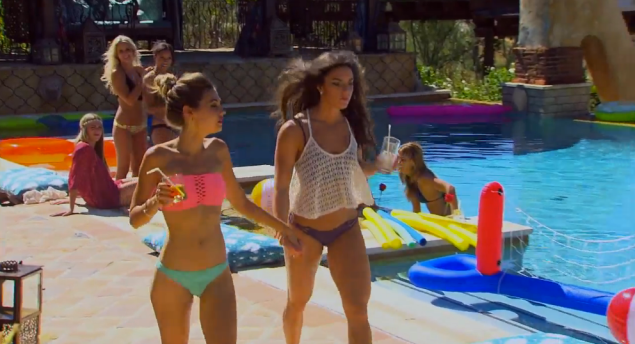 No roses to Juelia, who I suspect probably could have chosen a more appropriate time—like, literally any time other than a pool party—to tell Chris about that time her husband fatally shot himself in the head, leaving her a single mother to a newborn baby.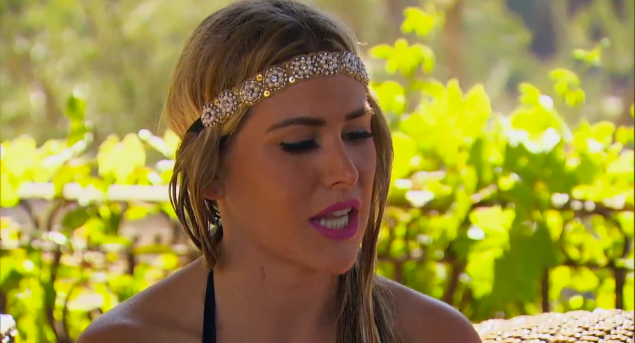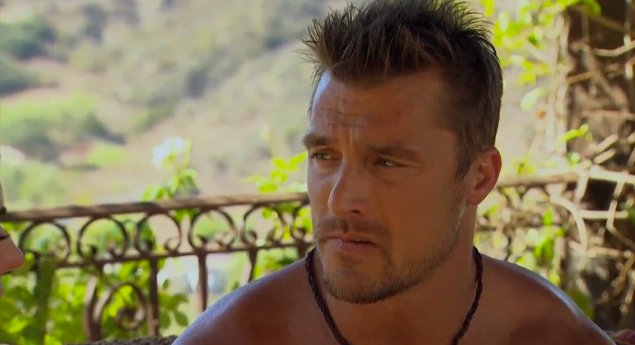 A rose to Jade, who, at the last minute, emerges from relative obscurity to ask Chris for a tour of his place, and proceeds to nearly takes his virginity make-out with him in his bed. Somewhere, Chris Harrison is gleefully tapping his fingertips together and applauding himself on this season's marked lack of rules. "YOLO," he whispers softly.
A rose to resident virgin Ashley I., who somehow defied the four cardinal rules of Bachelor-dom: don't complain about drama with the other girls; don't cry when you complain about drama with the other girls; don't drunkenly make out while teetering on the edge of a roof; and, most importantly, avoid "head jewelry" at all costs. Somehow, Virginal Ashley commits all of these offenses, and yet still scores a rose.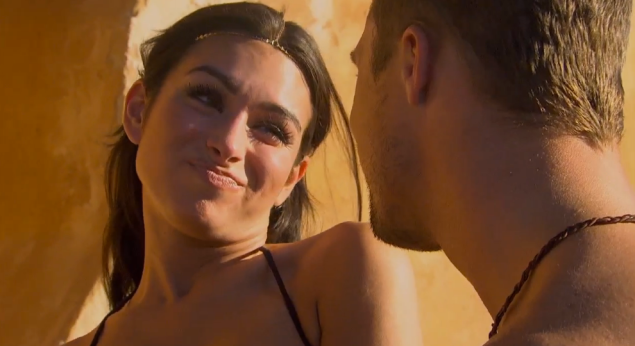 But most of all, a rose to the Onion Girl. She literally had zero screen time this week but she still scores a rose, proving that despite Jimmy Kimmel's horrible guest appearance, there is, in fact, still magic on this show.