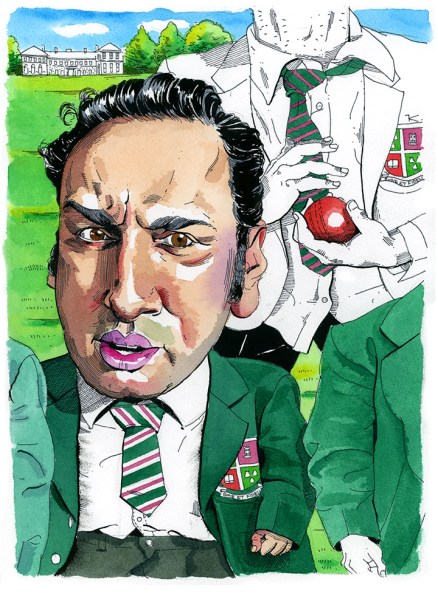 Aasif Mandvi is doing quite well, thank you. His résumé includes a star turn in an Ismail Merchant film, a role on arguably the country's most influential television show, and, now, an acclaimed memoir, No Land's Man. But readers expecting a literary laugh track from The Daily Show's "Senior Muslim Correspondent" might be disappointed. Rather, the Bombay-born Mr. Mandvi has written a thoughtful book about growing up working class in Northern England, immigrating to Tampa, Fla., as a teenager and then moving to New York to study acting. "I am a combination of all of those places," Mr. Mandvi said the other morning over scrambled egg whites at an Upper West Side diner, appropriately named Utopia.
You recount in the book how your father arrived in America and was astounded by the concept of turducken. Have you tried the dish? I have never tried turducken. It just beautifully symbolizes American excess. The idea that a turkey is not good enough. We should stuff it with a chicken. That's not good enough. We should stuff it with a duck. You know what? That's not good enough. Let's stuff it with a sausage. Things like that have always impressed me—things like hotdogs covered in cookie dough. In New York you get some of the best excess. I'd order a corned beef sandwich and it would literally come with the entire cow.
You coped with bullies at boarding school who once forced you to spend a night on a window ledge. Did suffering make you a better comedian, a better person? It does make you relate to the underdog. Also, it drove me to want to become successful and famous, because I wanted to rise above the things that defined me. I was seen as someone who—partially because of my ethnicity and partially because of my own lack of experience with girls—that couldn't get a date.
You can get dates now? I can get dates. Finally. Only one.
Who was your bully? A prefect in boarding school. And this guy, he was a sadist. He was like 16, 17 years old, and I was 13 or 14. He made me and my buddies line up against the wall. And then he stood behind us and he had a cricket ball and we knew he was going to throw [it at us], but we couldn't see. He would take the cricket ball and lob it from one hand to the other so that we could hear the cricket ball.
Name him. I don't know if I should. I mean he is probably 50 years old.
And still a prick. He probably is still a prick.
The "Senior Muslim Correspondent" studied the Bible. What tale sticks in your mind? I had a really good divinity professor. When I wasn't carving images of naked girls into my wooden desk, I would actually pay attention. We did study the Gospel According to Mark word for word. In the Garden of Gethsemane, when Jesus is about to be taken away by Roman soldiers, before he is crucified, Mark talks of a man hiding in the bushes watching this thing going on. I remember our professor telling us that it is the only Gospel that mentions this figure in the bushes. Many theologians have concluded that that is Mark speaking of himself. That has just stuck with me.
What was he doing in the bushes though? Sort of creepy! It is kind of weird. He was just standing in the bushes. As long as he didn't have a trench coat on, I think it is fine.
"Profanity," you write, "is the chili pepper of language." What's the spiciest curse you've heard? The best insult didn't even use profanity. It was Ismail Merchant talking to the PA on set. It was: "You are half a man." The more eloquent the curse, the more delicious it is.